Extended Learning offers Free Noncredit Certificates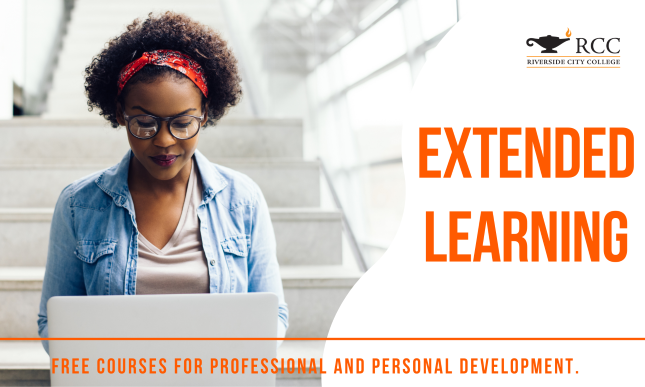 Riverside City College's Extended Learning program is offering six tuition-free noncredit certificates in the winter semester! These courses are open to all current and new students. Whether you are looking to gain professional development, learn foundational skills to enter a CTE pathway, or augment your educational experience while taking credit courses, Extended Learning programs provide a pathway to success!
The Extended Learning program offers multiple information sessions every week, so sign up today!
Financial Literacy
Personal Finance (PDS-816-40171)
Financial Future (PDS-817-40172)
Business Skill Boot Camp
Business Skills: Professional Communication Basics (BUS-814-40158)
Business Skills: Professional Online Presence (BUS-815-40159)
Business Skills: Managing the Customer Experience (BUS-816-40160)
Business Skills: Professional Self-Management (BUS-817-40161)
Business Skills: MOSPrep – Microsoft Office Specialist Master Certification Preparation
MOS Prep- Microsoft Office Word Expert Exam Preparation (CAT-841-40142)
MOS Prep- Microsoft Office Excel Expert Exam Preparation (CAT-842-40143)
MOS Prep- Microsoft Office PowerPoint Core Exam Preparation (CAT-843-40144)
MOS Prep- Microsoft Office Access Core Exam Preparation (CAT-844-40145)
MOS Prep- Microsoft Office Outlook Core Exam Preparation (CAT-845-40146)
Customer Relations
The Art of Negotiating and Collaborating (PDS-806-40199)
Personality Styles & Difficult Relationships (PDS-807-40200)
Best Practices in Customer Service (PDS-813-40162)
Workplace Essentials
Critical Thinking, Prob. Solving & Decision-Making (PDS-808-40163)
Business Writing in the Technological World (PDS-809)
Time Management (PDS-810-40165)
Workplace Communication Studies (PDS-812-40166)
Enterprise Communication
Business Writing in a Technological World (PDS-809-40164)
Workplace Communication and Strategies (PDS-812)
Choose two of the following:

Difficult Conversations (PDS-805-40198)
The Art of Negotiating and Collaborating (PDS-806-40199)
Personality Styles and Difficult Relationships (PDS-807-40200)
Best Practices in Customer Service (PDS-813-40162)
Individual Courses
Cyber Skills - Intro to Cybersecurity (CIS-825-40190)

The two remaining course in The Information Systems: Cyber-Skills certificate will be offered in Spring 2021

Intro to Python Programming: Part 1 (CIS-830-40191)

The two remaining course in the Introduction to Python Programming certificate will be offered in Spring 2021

Volunteer Income Tax Assistance Training (ACC-819-40154)

Menu Planning (CUL-825-40174)

​Winter 2021 - Extended Learning Information Sessions

Learn about Extended Learning programs and courses!

​Date

Time​

​Registration​ Link:

Friday, December 4, 2020

​​10:00 - 11:00 AM

​Monday, December 7, 2020

​5:30 - 6:30 PM

​Wednesday, December 9, 2020

​5:30 - 6:30 PM

​Friday, December 11, 2020

​10:00 - 11:00 AM

​Tuesday, December 15, 2020

​9:00 - 10:00 AM

​Thursday, December 17, 2020

​4:00 - 5:00 PM

​Monday, December 21, 2020

5:30 - 6:30 PM​

​Wednesday, December 23, 2020

​5:30 - 6:30 PM