Music
Certificates & Degrees - AA680/AA680B/AA680C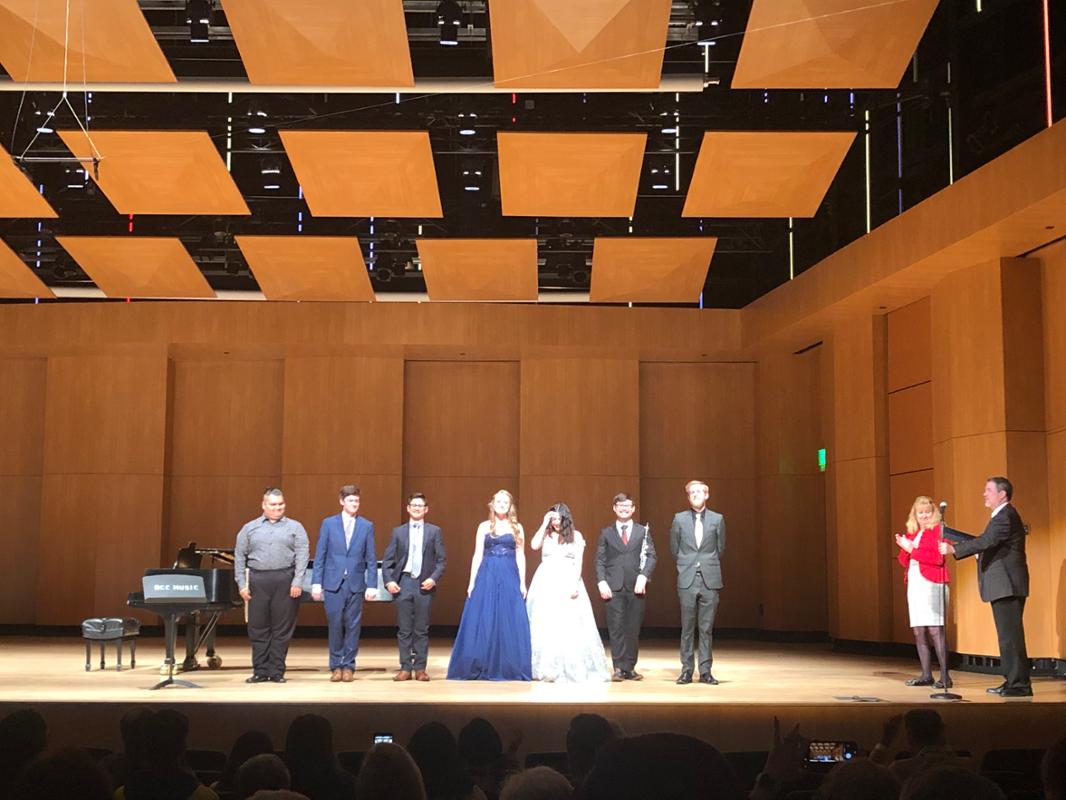 Music
A systematic course of study that fosters meaningful cultural experiences in the performance, understanding, and appreciation of the art and discipline of music.
Program Learning Outcomes
Upon successful completion of this program, students should be able to:
Demonstrate the ability to hear, identify and work conceptually with all elements of music through dictation, sight-reading, musical analysis and basic keyboard proficiency.
Perform standard repertoire appropriate to their performance area as individuals or members of ensembles.
Create derivative or original music in both extemporaneous and written form.
Required Courses (32-36)
Units
Applied Music* (12 units selected from the following):
MUS-39
Applied Music I
3
MUS-79
Applied Music II
3
MUS-P12
Applied Piano I
3
MUS-12
Applied Piano II
3
Music Theory (16 units):
MUS-3**
Music Fundamentals
4
MUS-4
Music Theory I
4
MUS-5
Music Theory II
4
MUS-6
Music Theory III
4
Performing Ensembles* (4 semesters selected from the following):
MUS-28
Riverside Community Symphony
2
MUS-33
Vocal Jazz Ensemble
2
MUS-41
Chamber Singers
2
MUS-42
Wind Ensemble
2
MUS-44
Jazz Ensemble
2
MUS-68
Community Symphony
2
MUS-73
Vocal Jazz Singers
2
MUS-77
Guitar Ensemble
2
MUS-81
Consort Singers
2
MUS-82
Wind Symphony
2
MUS-84
Jazz Orchestra
2
MUS-P28
Symphony Strings
2
MUS-P36
Piano Ensemble
1.5
MUS-P77
Advanced Guitar Ensemble
2
Additional Courses Recommended for Transfer
Units
Keyboard Skills:
MUS-32A
Class Piano I
1

MUS-32B

Class Piano II
1
MUS-32C
Class Piano III
1
MUS-32D
Class Piano IV
1
MUS-53
Keyboard Proficiency
1
Music History:
MUS-22**
Survey of Music Literature
3
*Applied Music and Performing Ensemble courses may each be taken four times for credit.
**Courses may also be used to fulfill general education requirements for the CSUGE or IGETC pattern, please confer with a counselor
Associate of Arts Degree
The Associate of Arts Degree in Music will be awarded upon completion of the degree requirements, including general education and other graduation requirements as described in the college catalog.