RCC ALLY and LGBTQIA

Supporting LGBTQIA2+ Communities
LGBTQIA2+ campus life is ever-increasing! Student involvement at RCC began with the Gender & Sexualities Awareness (now Sexuality & Gender Acceptance (SAGA)) club, chartered in the 1990s. In the early 2000s, the LGBTQ+ Ally program started to train employees to be allies and create safe zones for LGBTQ+ students throughout RCCD. Today, the LGBTQ+ Association for Student Success and Equity (LASSE) works to provide support to, education about, and advocacy for LGBTQ+ students, faculty, classified professionals, and administrators on campus. In 2021, the first ever Lavender Graduation at RCC was hosted to celebrate graduates within the LASSE Mentor Program, also piloted during the 2020-2021 academic year. RCC continues to work to create more equitable campus environments for LGBTQ+ students. We hope you will get involved!
In-Person Student Hours
Location: Martin Luther King Room 304
Monday 11 am – 1 pm and 1:30 –5 pm
Tuesday 9 am – 2 pm and 3:30 – 5 pm
Wednesday 9:30 am – 3 pm
Thursday 9 am – 1:30 pm
Friday 11 am – Noon and 1:30 – 3 pm
Contact Us
Allan.Weyant-Forbes@rcc.edu
Al Weyant-Forbes (he/they) - EOPS Specialist
Upcoming Events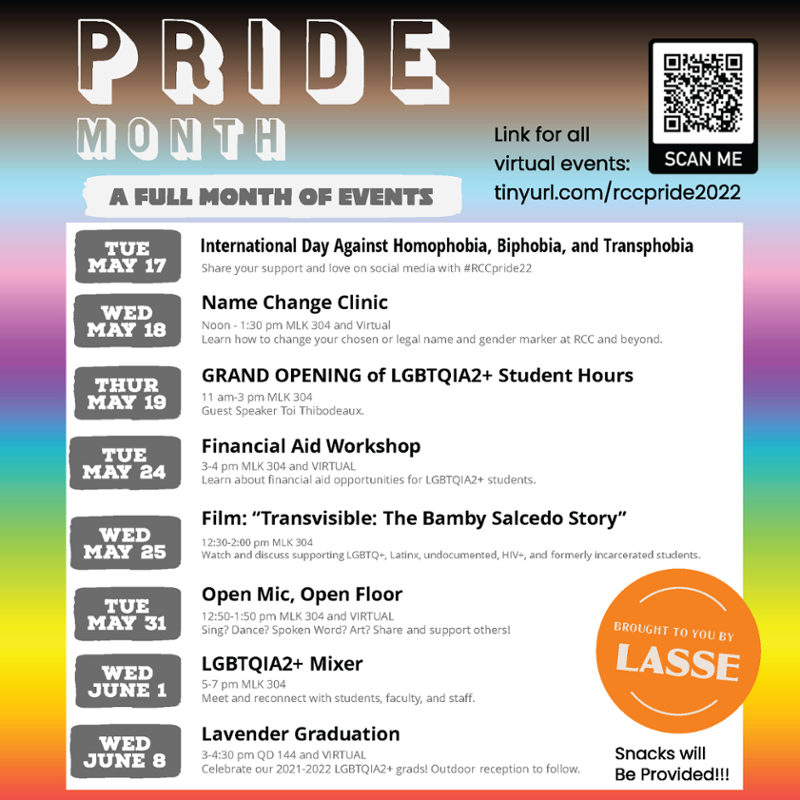 Pride Month 2022
May 7- International Day Against Homophobia, Biphobia, and Transphobia
Share your support and love on social media with #RCCpride22
May 18 - Name Change Clinic
Learn how to change your chosen or legal name and gender marker at RCC and beyond.
May 19 - Grand opening of LGBTQIA2+ Student Hours
Guest Speaker Toi Thibodeaux.
May 24 - Financial Aid Workshop
Learn about financial aid opportunities for LGBTQIA2+ students.
May 25 - Film: "Transvisible: The Bamby Salcedo Story"
Watch and discuss supporting LGBTQ+, Latinx, undocumented, HIV+, and formerly incarcerated students
May 31- Open Mic, Open Floor
Sing? Dance? Spoken Word? Art? Share and support others!
June 1 - LGBTQIA2+ Mixer
Meet and reconnect with students, faculty, and staff.
June 8 - Lavender Graduation
Celebrate our 2021-2022 LGBTQIA2+ grads! Outdoor reception to follow.
Campus LGBTQIA2+ Resources
Together we create a loving and supportive family for the Queer/LGBTQIA+ community and supporters. We are dedicated to club members and student achievement in the academic, social, political and personal aspects of their lives. Join our club and learn about yourself, others and the world. Come to a meeting and check us out.
Meetings are held Thursday 12:00 - 1:00pm viz Zoom
Advisor: Robert Hyers (robert.hyers@rcc.edu)
LASSE aims to unify, empower, and create a brave, inclusive space for LGBTQIA+ students, classified professionals, faculty, and administrators of diverse genders, races, ages, sexes, sexualities, religions, economic statuses, and abilities at RCC. LASSE is committed to providing a support system and fostering community for a historically underrepresented population by implementing educational events and workshops, mentorship programs, providing resources and advocating for institutional changes. LASSE works to facilitate conversations about gender identity, gender expression, and sexual orientation in order to help address the needs of the LGBTQIA2+ communities on campus.
The LASSE Mentor Program aims to provide additional educational and personal support to LGBTQIA2+ students by pairing them with a trained RCC faculty or staff mentor. The LASSE Mentor Program is a collaborative, safe, and inclusive environment that fosters growth and self-confidence among both mentors and mentees.
Ally Trainings are offered at least once a semester at Riverside City College, as well as at Moreno Valley College and Norco College. In this training, participants learn about issues faced in LGBTQIA2+ communities, as well as resources and tools needed to become better allies to people with marginalized genders and sexualities.
RCC faculty and staff who have completed Ally Training.
For more information, contact Drea Dillon-andrea.dillon@rccd.edu
This guide is intended to provide some general information about LGBTQ+ topics, as well as information and resources for allyship.
If you would like your chosen name to appear on class rosters, student photo ID, and communications from the District, please complete the Chosen Name or Gender Identity Changes form​. Your legal name will appear on transcripts, degrees/certificates, or financial aid disbursements. Your original RCCD student email address and Canvas login will not change.
If you would like a student ID card that reflects a current photo and your chosen name, fill out the following form and provide a picture and a copy of a current photo ID. Your new student ID card will then be mailed to you.
If enrolled in a Canvas class, update your display name and include your pronouns if you'd like! Login to Canvas and go to Account > Profile.​
Harassment of any employee/student with regard to ethnic group identification, national origin, religion, age, gender, gender identity, gender expression, race, color, ancestry, genetic information, sexual orientation, physical or mental disability, or any characteristic listed or defined in Section 11135 of the Government Code or any characteristic that is contained in the prohibition of hate crimes set forth in subdivision (1) of Section 422.6 of the California Penal Code, or any other status protected by law, is strictly prohibited.
If you have experienced discrimination and/or harassment at RCC, you have a right to file an informal or formal complaint with Riverside Community College District. For more information, call (951) 222-8039 or visit https://www.rccd.edu/admin/hrer/dec/Pages/discrimination.aspx
Kane - First Floor 1 (men's) Toilet/1 Urinal (public/students)
Digital Library Breezeway - 1 Toilet (public/students)
Digital Library Fourth Floor - 1 Toilet (staff)
Tech A - 1 Toilet (men's) (public/students)
Tech B - 1 Toilet (public/students)
Auto Tech - 1 Toilet(men's) (public/students)
Auto Tech - 1 Toilet (women's) (public/students)

Lovekin

- 1 Toilet (public/students)
Huntley Gym - 1 Toilet (women's) (staff)
Huntley Gym - 1 Toilet (men's) (staff)
Warehouse - two 1 Toilet Restrooms (public/students)
Music - 1 Toilet (men's) (public/staff)
BE - 1 Toilet (men's) and 1 Toilet (women's) (public/students)
Quad - 1 Toilet (staff)
Cosmo - 1 Toilet (public/students)
Aquatics Center - 2 Toilets (public/students)
Art - 1 Toilet (men's) (public/students)
Wheelock Stadium - 4 Toilets (public/students)
Early Childhood Education - 2 Toilets (public/staff)
Math and Science - 6 Toilets (staff)
Off-Campus LGBTQIA2+ Resources