Political Science Professor to Deliver Distinguished Faculty Lecture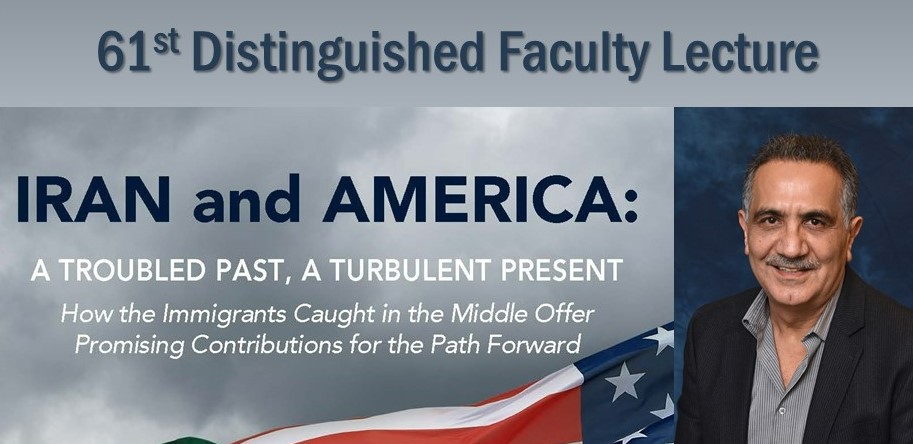 After a two-year hiatus due to the COIVD pandemic, Dariush Haghighat, Ph.D., professor of Political Science at Riverside City College, will finally deliver his Distinguished Faculty Lecture on Tuesday, April 26, at 12:50 pm in the Henry W. Coil, Sr. and Alice Edna Coil School for the Arts Concert Hall, and again on Thursday, April 28, in Quad 144 at Riverside City College.
Haghighat's lecture is entitled, Iran and America: A Troubled Past, A Turbulent Present - How Immigrants Caught in the Middle Offer Promising Contributions for the Path Forward. He will discuss how Iranian migrants have been impacted by America's foreign policies.
"I am planning to provide a critical analysis of America's foreign policy towards the Middle East, in general, and towards my native land, Iran, in particular," he said. "I will provide first-hand accounts of the impact of the turbulent relationship between the two countries that I truly love, and call home, as well as cultural and political perspectives from the inhabitants of those countries regarding one another."
Haghighat, who began teaching at RCC in 1988, is also the advisor for the District's Model United Nations team and chair of Political Science, Economics and Geography. He earned a doctoral degree from UC Riverside and received the rank of full professor in March of 2010 from the District. He will also discuss the role of higher education in educating immigrants who are impacted by the government's policies.
"Unfortunately, the United States is once again on the verge of a major political, socio-economic and potentially destructive conflict in the Middle East," he said. "It will be up to the educators and institutions of higher education, like our beloved Riverside City College, to step into the limelight and lead the way towards common sense, sanity and constructive resolutions to some of the most difficult challenges that politicians on both sides have thrown at their people." 
Haghighat added he hopes the lecture will play a small role in providing an educated understanding of the plight of the millions of people who are directly impacted by American and Middle Eastern policies towards one another, as well as the role of educators and especially the educated immigrants who are caught in the middle of the turbulent relationship between Iran and the United States, in presenting a more intelligent, constructive, and rational alternative to the one presented to us by political pundits on both sides.
Each year the faculty selects an educator from their ranks to address the Riverside Community College District community. Being selected as the Distinguished Faculty Lecturer is a significant honor recognizing an individual's outstanding teaching skills and contributions to the District and its students. The lecture, now in its 60th year, began in 1961.
The Faculty Lecture can be viewed via live stream