Culinary Arts Academy Restaurant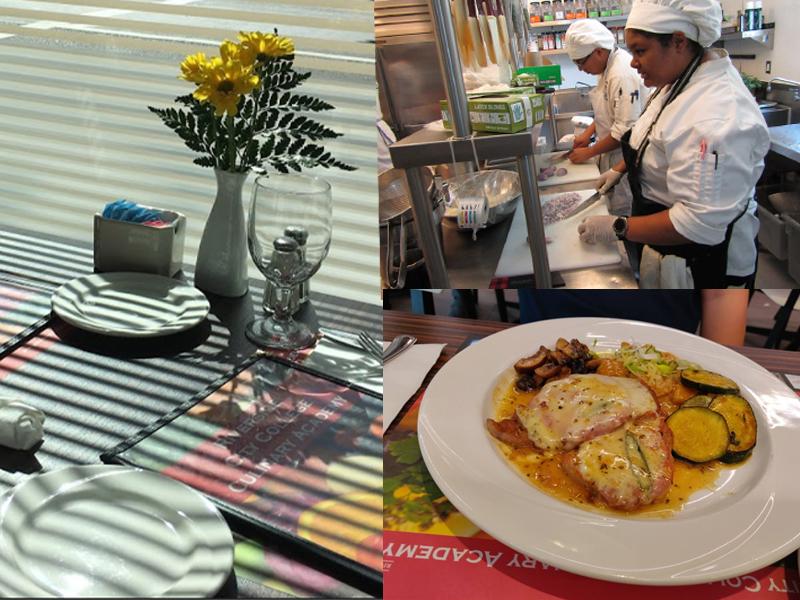 Dining in Motion
Visit Our Dining Room
The Culinary Arts Academy is student-run restaurant that provides future chefs with the opportunity to gain real-world experience. Located in the heart of downtown Riverside, patrons can enjoy meals prepared by the region's up and coming culinary talent. Be our guests!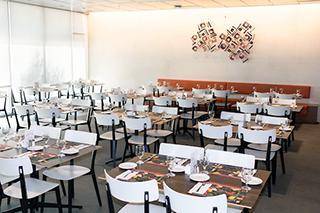 Operation Update
THE CULINARY RESTAURANT IS OPEN FOR GO-TO LUNCH ORDERS ONLY.
WE WILL NOT BE SERVING BREAKFAST UNTIL FURTHER NOTICE.
PLEASE CALL 951-328-3575​
Dining Room Hours
Mondays - Closed
Tuesday to Friday
Lunch served 11:00am - 12:45pm
Our Menu
CHEF'S SPECIALTIES
Sous Chef: Celest Meza
SOUP OF THE DAY
Cup $1.75 Bowl $2.25
ENTRÉE SALAD
$6.75
Chef Salad
Mesclun greens tossed in a honey mustard vinaigrette, topped with ham, turkey, cheese, eggs, tomatoes and cucumbers
SANDWICHES
Served with your choice of Soup, Salad, or French Fries
$7.50

Philly Cheese Stea
Thinly sliced top round of beef topped with Swiss cheese, caramelized onions and peppers, Elephant Garlic horseradish aioli on French bread, served with waffle potatoes

Capicola, Ham, Arugula Panin
On Ciabatta bread with Pesto mayonnaise, served with pickled vegetables
PIZZA
Served with your choice of Soup or Salad
$7.25

Margherita Pizza
Fresh mozzarella cheese, tomatoes, and basil
SPECIALITY BURGER
$7.50
Shu Mai Style Pork and Shrimp Burger
Chinese inspired soy and ginger marinated pork and shrimp burger with cabbage slaw on a bun
ENTRÉE
Served with your choice of Soup or Salad
$7.95

Kung Pao Chicken (Spicy
Stir-fried in a wok with peanuts and peppers, served with white rice

Home Style Meatloaf
With potato Puree, assorted vegetables and espagnole sauce
DESSERT
$2.25
Pound Cake Trifle
With mixed berry compote and pastry cream

Chocolate Cake
With fresh Strawberry Filling
*Some items may contain allergens or pleases ask server if you may have concerns.
HANDMADE BURGERS
Served with your choice of Soup, Salad, or French Fries

Market Street Burger $6.25
House made burgers on a bun with Crispy Lettuce, ripened Tomatoes,
Sweet Red Onions, 1000 Island Dressing and a pickle wedge.
With American cheese $6.75

Garden Veggie Burger $6.25
Soy burger on a Sesame Seed bun, Crisp Lettuce, vine ripened Tomatoes,
Sweet red onions and a pickle wedge.
ON THE SIDE
Luis' Super Nachos $4.50
Corn tortilla chips, beef, cheddar cheese, pickled jalapenos and pico de gallo

Garden salad $2.50

French Fries $2.50
BEVERAGES
Coke
Diet Coke
Sprite
Dr. Pepper
Root Beer
Pink Lemonade
Raspberry Tea
Ice Tea
Hot Tea
Coffee
Unlimited Refills $1.50
Location
3801 Market Street
Riverside, CA 92501
(951)328-3575
For additional information please call (951)328-3663 "EAT FOOD"