How to Pay for College at RCC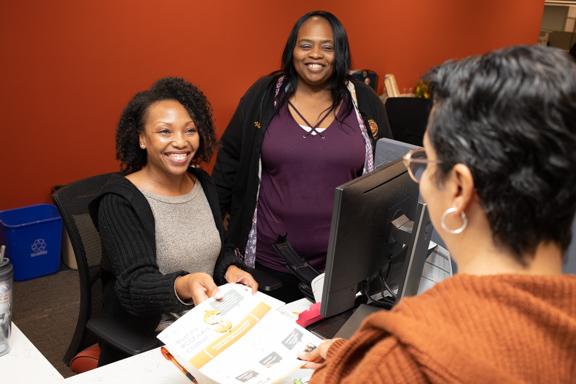 Financing Your Education
The Costs and Potential Funding Sources
We are committed to providing students with affordable tuition, manageable direct education costs, and equitable access to financial aid resources. Understanding of the costs and knowing what you are eligible for will help you create a financial plan.
Student Employment
Student employment offers students the opportunity to have part-time employment on or off-campus that can possibly be related to their chosen field of study, on a schedule that works with their studies.
Did You Know?
RCC Education is Affordable
The RCC Promise Program
Free Tuition and Fees + Book and Other Support
The RCC Promise program is part of a state and nationwide effort to provide affordable education. Full-time eligible students recieve free no-fee tuition and fees, support for textbooks, priority registration, access to educational and faculty advisors, activities and a dedicated community. Certain restrictions apply.
LEARN MORE
Financial Aid Virtual Assistance
Students can get help with completing the FAFSA application, CA DREAM Act application, get general answers to questions, and receive assistance with financial aid verification task status during the virtual assistance hours. Also, we offer Cash for College and scholarship virtual workshops.
Cal Grant Program Overview
To learn more about the California State Aid, Cal Grant Program please join us for our one-hour session followed by Q&A
Cash for College
All students are able to attend a Cash for College workshop to get assistance with completing their FAFSA or Ca Dream Act applications.
CA Dream Act and AB540 Overview
Undocumented students are encouraged to attend our CA DREAM Act and AB 540 Overview workshop to get more information about how to pay for college and understanding the AB540 process.
Financial Aid Overview Workshop
The Financial Aid Overview workshop is designed to provide information about the process of financial aid at RCC, understanding the different types of aid offered at RCC, and knowing the next steps.
Satisfactory Academic Progress (SAP) Workshop
Students must maintain Satisfactory Academic Progress. If you are unsure of what SAP means and how it can impact your financial aid eligibility, then come join us to learn more about SAP.
Scholarship Workshops
Week of Financial Aid Overview for Transfer Students
Don't let transferring be scary or stressful! If you plan on transferring to CBU, La Sierra University, or CSUSB come to our virtual financial aid workshop to see how financial aid works at their schools.
January 10


*Hosted by CBU

1- 2 pm
Zoom Link
January 12
*Hosted by La Sierra University
1 - 2 pm
Zoom Link
January 18


*Hosted by CSUSB

1 - 2 pm
Zoom Link