Model UN wins Outstanding Delegation at National Conference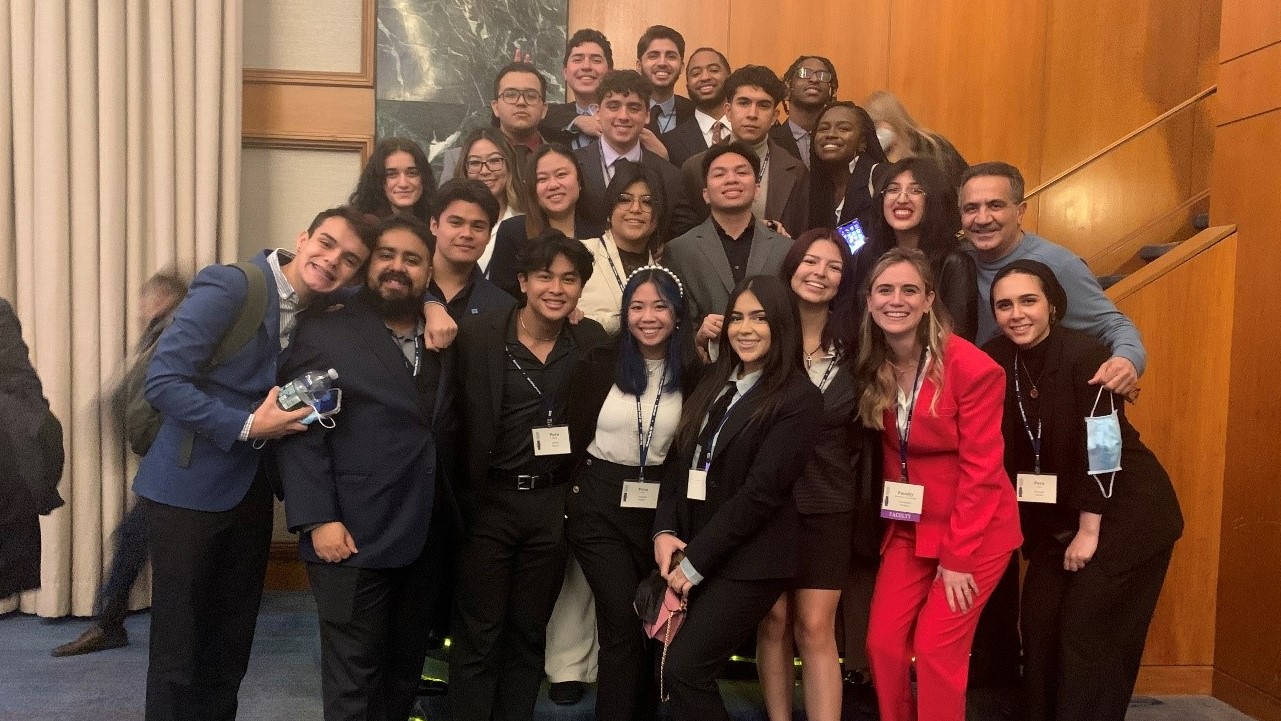 Riverside City College's Model United Nations team traveled to New York City April 3- 7 to participate in the most competitive and prestigious Model UN conference in the world. The team of twenty-three students took home the highest conference award - Outstanding Delegation. Four students earned two outstanding delegation peer awards and two students earned a position paper award,
Teams from across the globe participated, most from four-year universities. RCC was one of just a few community colleges represented. At the conference, the students collaborated with students from universities from around the world to draft meaningful policy recommendations to some of the world's most pressing global issues such as climate change, nuclear weapons proliferation, and post pandemic economic recovery in the global south.
Before the conference, many of the team members began preparing for the competition in the fall semester conducting research, writing, and meeting frequently with others on zoom.
This was the first time in two year the conference was held in New York. The resumption of an in-person conference following a two-year hiatus that placed many challenges on all of the teams. "The students were patient, they worked hard, and they didn't give up," co-advisor and Professor of Political Science Kendralyn Webber said. "They deserve serious recognition for such resiliency and representing a way forward for us in a post-pandemic landscape."
MUN Team and Outstanding Delegation
Yaseen Abdelfatah
Mohammed Abdelmuati
Ysabella Alegre
Anthony Arzate
Fatima Zuniga Barron
Julian Bustillos
Natalie Cossios
Julian Cuellar
Erasmo Dominguez
Nathalie Escobedo
Henry Ian Flores
Marwah Ghouli
Daniel Grajeda
Efren Gutierrez
Josiah Lopez
Amy Nguyen
Noora Mojaddedi
Jordan Moreno
Johan Portillo
Rhiannon Rashidi
Aaron Rosaupan
Daxia Tilghman
Leah Trieu
Peer award for Outstanding Delegates and Outstanding Position Paper - representing the U.K. in the Security Council
Rhiannon Rashidi
Leah Trieu
Peer award for Outstanding Delegates - representing Peru in the "Commission on Narcotic Drugs" committee.
Marwah Ghouli
Jordan Moreno