Barnes Selected as 2021 RCCD Alumnus of the Year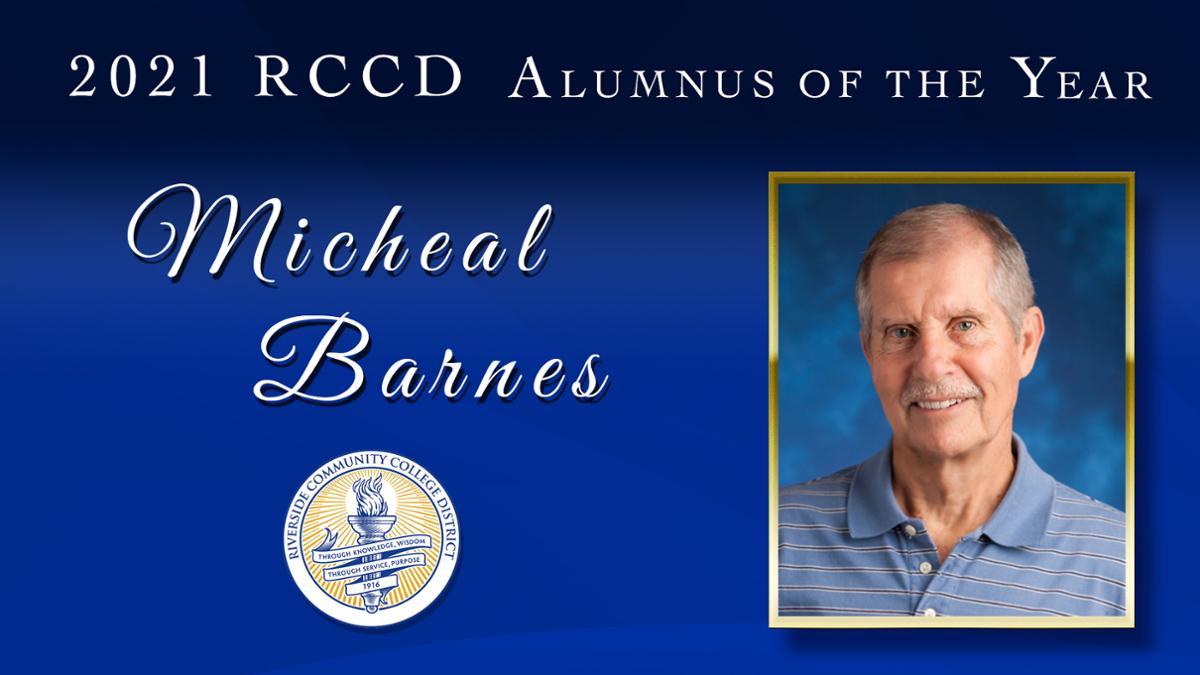 Micheal Barnes, a counselor and coach at Riverside City College, has been selected as the 2021 Riverside Community College District 65th Alumnus of the Year. He will be honored on Friday, December 10, at 10 am during a live-stream of the Giving Week broadcast from Riverside City College. The broadcast link will be available at: www.rcc.edu/givingweek.
Barnes, a professor of Counseling who has worked for the College for 40 years, began his association with the College as a student and standout basketball player from 1966-1968. Inducted into the RCC Athletic Hall of Fame in 2021, Barnes spent 20 years as the head women's basketball coach. Under his leadership, the Tigers won a California Community Colleges Athletic Association championship in 1986 when Barnes coached the Tigers to a 33-0 record, becoming just the third California community college basketball (men's and women's) team with an undefeated season at that time.
Barnes concluded his coaching career with 372 victories, which at the time made him the College's all-time winningest coach. He took 14 teams to the postseason and won three conference titles.
As a player, Barnes, who played for Bill Mulligan, a Hall of Fame coach, teamed with former UC Riverside basketball coach John Masi to form one of the best back court combinations in the program's history. He concluded his sophomore season as the Tigers' all-time assist leader, earning all-conference honors.
Barnes has remained active in the game, serving as an assistant coach to former player Alicia Berber, now the women's basketball program's head coach.
Barnes, who started his career at RCC in 1981, said he plans to retire in the spring.
"I really, really love counseling community college students," he said. "I was one of them, so I see students who don't believe they can do it. If anyone had a reason not to believe, it was me. I use a word you shouldn't, but I was stupid because I was satisfied with 'C's. I really wasn't stupid, I just didn't make the connection between having good grades and college."
While attending school in Indiana, Barnes said academics weren't important to him. It was only after accepting a job out of high school in a factory at $1.65 an hour that motivation crept into his vocabulary.
After graduating from high school in a small farming community in Northern Indiana, Barnes was encouraged to move to California by his brother who quickly suggested he enroll at RCC. Barnes, who was a first-generation college student, became a "motivated student" who excelled in both academics and athletics.
"Thank goodness for the teachers at RCC. They were so encouraging and supportive," he said. "It all changed once I enrolled at RCC. It made the difference in my life. I couldn't have done what I have done without the open door policy, and we still have an open door policy (today)."
Barnes joins a distinguished list of alumni who have made a difference in their community and exemplify what it means to be exceptional in a field of work.
"His long career as an educator, counselor and coach has qualified him to mentor both students and colleagues," Wolde-Ab Isaac, Ph.D., chancellor of RCCD, said. "His wealth of knowledge and his unwavering dedication to the success of students is proven on a daily basis, and we are honored that he is part of our family."
Barnes ultimately transferred to the University of California, Irvine, on a basketball scholarship and earned the starting point guard position. In 1970, armed with a bachelor's degree, he launched his life-long career in education and coaching at Notre Dame High School in Riverside teaching history. He went on to earn a master's degree in Educational Counseling, and eventually became a full-time employee at RCC in 1981, accepting a position as counselor and head women's basketball coach.
"This is beyond my imagination…never ever did I think this honor would be given to me," he said about receiving the District's most prestigious award. "RCC is in my blood, and I will cry when I leave here. This is home. Right now, I get up every day at my home and come to my home. What better testimony is there?"