Child Development Center & Learning Laboratory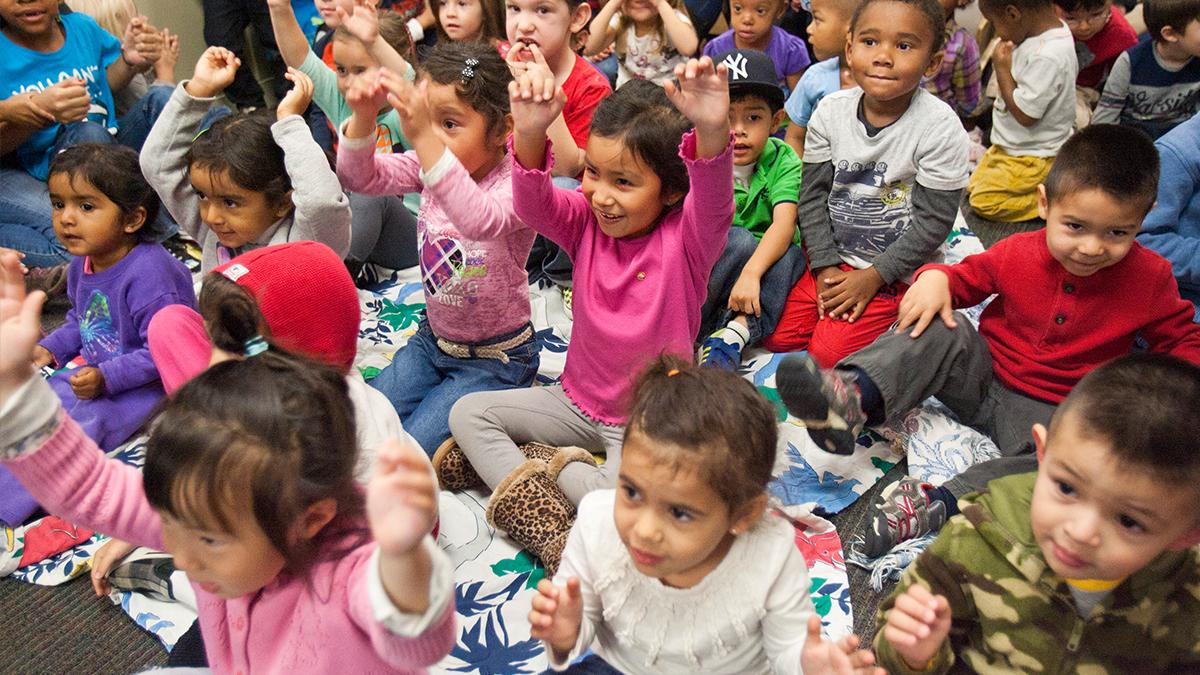 Providing Preschool for our Community
Child Development Center & Learning Laboratory
The first 5 years of a child's life are so important, nurturing childcare plays a vital role. We provide a rich, social, supportive, academically focused atmosphere for young children and a structured learning environment for RCC students, the next generation of childcare professionals. With an extremely favorable caregiver-to-child ratio (in addition to instructors) our accredited facility is an excellent choice. Kids who participate in quality pre-school/childcare programs are better prepared for future education — grade school and college or university. Our program cares for infants, toddlers and preschoolers (up to age 6). License #: 334809484 and 330908047
Contact Us
Our Phone: (951) 222-8068
| | |
| --- | --- |
| Children's Center Hours ​​ | 6:30 am - 5:30 pm​ |
| Office Hours​ | 9:00 am - 5:30 pm |
| Observation Hours (Morning) | 9:00 am - 12:30 pm |
| ​​Observation Hours (Afternoon | 2:30 pm - 5:30 pm​ |
RCC's Childcare Team
Our center employs RCC students and other highly qualified candidates with a passion for working with children.
Infant/Toddler or Preschool Teacher
Our extremely skilled and talented teachers work with infants, toddlers or. We require they posses the following qualifications:
Teacher Permit (Master Teacher preferred)
Associate's Degree (plus continuing education)
3 infant/toddler semester units from an accredited college.
Early Childhood Education Program Graduate (preferred)
Instructional Aide experience (at RCC Child Development Center)
Instructional Aide
RCC students from many programs fulfill the role of Instructional Aide in our center. We require they have the following qualifications:
Associate Teacher or Higher Child Development Permit
Completed EAR 30: Practicum in Early Childhood Education (recommended)
Currently enrolled in at least 6 units at RCC
Play Driven Discovery, Development That is Fun
The Child Development Laboratory School (RCC-CDLS) is a learning resource for many educational disciplines such as early childhood studies, psychology, sociology, nursing and dental departments. We provide young children with activities that encourages a wide​ range of early academic & developmental skills while actively promoting diversity awareness in an authentic way. Kids can move from center to center, at their own pace, driven by their own interests, as they prepare for kindergarten.
At this station children learn one-to-one correspondence, classification, numeracy, patterning, sequencing and set theory. ​
Kids light up when learning about the world; through ​measurement, reaso​​ning, cause & effect, & investigative skills
Everyone loves a story — we foster early writing skills, left-to-right orientation, print awareness, phonological development, print carries meaning, vocabulary expansion, & literacy strategies
Young children go through stages of development, the ability to access refine and understand the function of fine motor skills is a huge step that comes with time.
Creative self-expression takes many forms and is important to developing imagination, wonder and accepting what's around them including the beauty of nature
Pretend play, "trying on roles," social development, symbolic play, creative drama, & imagination & fantasy helps children address the situations they face, prepare for future interactions and find their place.
There is an intuitiveness to playing with blocks, but there is also a lot of trial and error that develops spatial awareness, the understanding of cause and effect, mapping and physical properties.
Some kids have only one speed, others benefit from having a quiet comfortable area they can go for self-reflection and relaxation.
Fresh air is important. Play is important. Together they provide the perfect environment for motor development, exploration, cooperation and the appreciation of nature.
Music stimulates so many different areas of the brain while promoting fine motor development, hand-eye coordination, patience, rhythm, culture and diversity.
Top-Rated and Accredited.
We are proud of the work we do, helping young children develop in a safe environment that parents can truly trust. To demonstrate how we excel, we are reviewed and accredited by the National Association for the Education of Young Children (NAEYC) and have received the top 5-star rating from the Riverside County Office of Education (RCOE)
Being accredited, and reaccredited, requires a high level of commitment. Our staff conduct self-assessments, take courses/webinars and are individual assessed. Our facility is also inspected to ensure our surroundings, approach and day-to-day operations meet their high standard. Accreditation is good for 5 years. Each year the NAEYC randomly audits 10% of accredited programs.
In partnership with First 5 Riverside, the Riverside County Office of Education (RCOE) conducts an assessment using the Quality Rating Improvement System (QRIS) — a statewide approach to rating and supporting early childhood programs. They focus on the child development process and how it prepares kids for school, teachers/teaching methodology and the program/environment (ratios/group size, environment rating scale and director qualifications).

Our center holds a perfect 5-Star Rating
Enrolling in Childcare
To enroll your child in our program, we ask that you complete and submit our application form. We will also required documents, including immunization records. You are welcome to take a tour of our facility, please contact our office at (951) 222-8068 to schedule a time and receive instructions.
Children, staff and volunteers are required by law to be immunized when participating in a childcare setting. Volunteers are defined as anyone who may attend a birthday party, remains on the playground during drop-off/pick-up, photographers, guest speakers, etc. We are mandated to collect immunization records as part of our operation as a condition of our license.

Required immunizations include dTap and 2MMR's. The influenza vaccine is also required, but you can choose to decline if by submitting an optout statement .
RCC students are required to be immunized for certain courses or if they are working in healthcare or childcare environments. You can check with your doctor or use the healthcare benefits afforded to RCC students to be affordably immunized.
We do our best to keep childcare costs as affordable as possible while maintaining the finest standards. Our current rates, effective July 1st 2022, are:

One Time Fees
$75 Non-Refundable Annual Registration Fee
$75 Yearly Materials Fee (Due August 1st)

Penalties
Late-drop off fees - $1.00 a min.
Late-pick off fees – (1st time) $1.00 a min. (2nd time) $3.00 a min.
(3rd time) $5.00 a min.
| | | |
| --- | --- | --- |
| Preschool (Full Day) | Weekly Rates | Bi-Weekly |
| 5 Days/Wk Mon-Fri | $210 | $420 |
| 3 Days/Wk MWF | $140 | $280 |
| 2 Days/Wk T&TH | $102 | $204 |
Preschool (Full Day)

Not Potty Trained

5 Days/Wk Mon-Fri
$294
$588
3 Days/Wk MWF
$177
$354
2 Days/Wk T&TH
$120
$240
| | | |
| --- | --- | --- |
| Toddler (Full Day) | | |
| 5 Days/Wk Mon-Fri | $294 | $588 |
| 3 Days/Wk MWF | $177 | $354 |
| 2 Days/Wk T&TH | $120 | $240 |
| | | |
| --- | --- | --- |
| Infant (Full Day) | | |
| 5 Days/Wk Mon-Fri | $310 | $620 |
| 3 Days/Wk MWF | $186 | $372 |
| 2 Days/Wk T&TH | $124 | $248 |
Payments are due on Mondays, unless the Monday falls on a holiday. Dates are subject to change. Biweekly payments for the
2021-2022 School Year are due on the following dates:
July 5, 18
August 15, 29
September 12, 26
October 10, 24
November 7, 21
December 5
January 2, 17, 30
February 6, 21
March 6, 20
April 3, 17
May 1, 15, 30
June 12, 26
Parents/guardians are responsible for paying tuition for all legal holidays unless otherwise noted. The Early Childhood Education Center & Learning Lab will be closed on the following days (subject to change):
July 4, 2022
Independence Day
August 1-August 12, 2022
In-Service Week/Summer Break
(No tuition will be charged)
September 5, 2022
Labor Day
October 7, 2022
Staff Development Day
November 11, 2022
Veteran's Day
November 24 & 25, 2022
Thanksgiving
December 19-December 30, 2022
Winter Break
(No tuition will be charged)
January 2, 2023
New Year's Holiday
January 16, 2023
Martin Luther King Jr. Holiday
February 17 & 20, 2023

Presidents' Holidays

March 31, 2023
Cesar Chávez Holiday
April 14, 2023
Staff Development Day
May 29, 2023
Memorial Day
Grants, Programs and other Assistance
Parenting is hard, making ends meet doesn't make it easier. There are programs in place to help you. The Riverside County Office of Education provides a subsidy specific to childcare plus there are a variety of student support, relief and assistance programs for those who qualify. We want everyone to have the opportunity to reach their potential. Download the RCOE District Childcare Flyer for resources and helpful links.
How to Choose a Childcare Center
Choosing the right environment for your child is important. Proximity, environment, philosophy and a variety of other factors will play into your decision. Take the time to make the rights decision for you, your child and your family. The National Association for the Education of Young Children provides some interesting information to help you with your consideration.
Helpful Information Sites
Center for Disease Control (CDC)
California Department for Education
The Child Development Training Consortium
Commission on Teacher Credentialing
The National Association for the Education of Young Children (NAYCE)