RCC TRIO Programs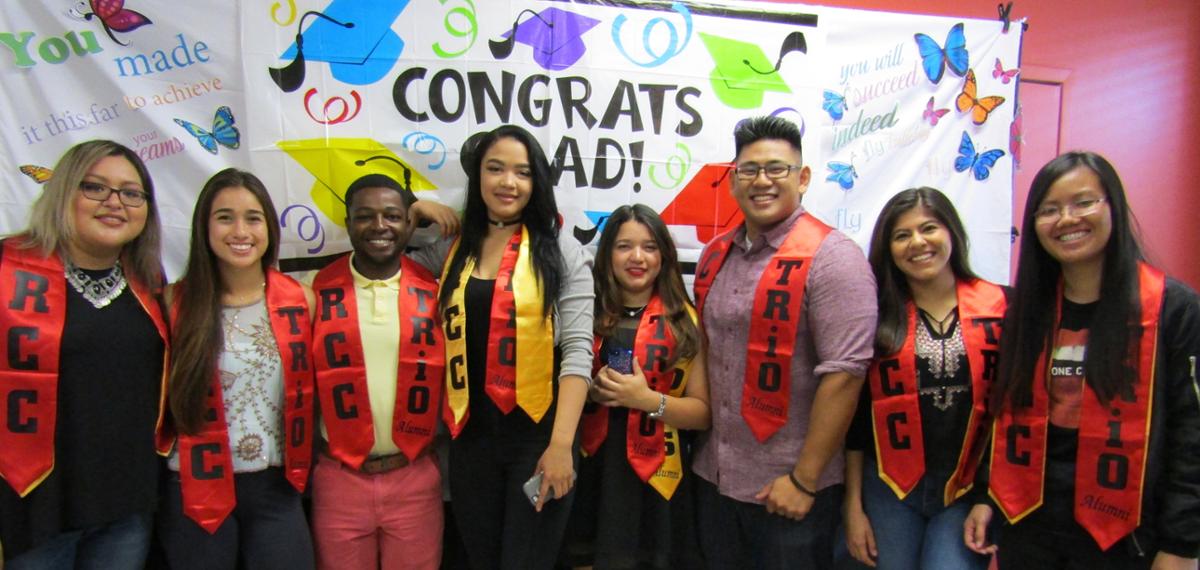 You Define Your Future
RCC TRIO Student Suport Services Program
Get the academic support, development and guidance you need to succeed — with RCC's TRIO program. Federally funded, our program works to help you stay in college and graduate by providing the resources, academic support and personal development you need to help realize your potential and succeed. You can complete your certificate, degree and/or prepare to transfer to a 4-year university or college. Coming from a disadvantaged background does not have to limit your journey.

Dr. Charles A. Kane Student Services and Administration Building
Second Floor
Monday to Thursday 8 am -6 pm
Closed all major holidays
CONTACT US
(951) 222-8312
SSS@RCC.EDU
Three Distinct Programs for Three Distinct Needs
When you join our program you can receive dedicated SSS Academic Counselors, Early Registration, Tutoring, Student Employment Opportunities, College & University Campus Visits, Textbooks, Student Success Workshops, Transfer Information & Assistance, Financial Aid Information, Financial Literacy Education and Cultural Exploration. You must demonstrate academic need and be a US Citizen or have Permanent Resident status.
This program focuses on first generation and low-income students who are in need of academic support services to graduate and/or transfer. Your parents or legal guardians may not hold a bachelors (4-year) degree or higher. Priority is given to first-year students who are interested in transferring.
If you become part of this program, you will be required to attend two SSS Activities/Workshops and complete one tutoring session each Fall and Spring term. In addition to workshops, we coordinate field trips and cultural enrichment activities.
If you are eligible for or receiving accommodations through the Disability Resource Center (DRC) then TRIO RISE can help you. Working with the DRC we coordinate academic support, like tutoring, based on your specific needs.
Get assistance in reaching your academic potential by meeting with your tutor on a regular basis — to help you develop effective learning and study strategies, clarify learning problems and receive personalized instruction that helps clarify and/or reinforce course content, assignments and material.
You must submit a tutor request for every semester that you require tutoring. You will be matched with a tutor who has taken the class and a schedule set for the entire semester (depending on availability). Your tutoring will follow a consistent schedule and is not a drop-in program.
Veterans have earned our appreciation and respect. The TRIO program provides additional support and leadership development opportunities for former members of the armed services. Working with the Veteran Resources Center, student organizations and relevant community agencies, we help you reach goals faster while maximizing your VA education benefits —including your four years of priority registration.
How to Apply
The program opens in late fall (November) and closes in early spring (May) for RCC Students who meet the eligibility requirements — the number of students admitted into the program varies by term. Apply early following these simple steps.
Complete and sign the application form
Provide a copy of documentation verifying income (FAFSA Student Aid Report or a copy of your federal tax return)
Obtain and provide a copy of unofficial transcript(s) if you've attended college(s) other than RCCD
If accepted, you will receive a confirmation sent to your RCC student email address. Follow the directions for next steps.
Upward Bound Programs
Riverside City College currently has two Upward Bound programs. The programs serve students attending Jurupa Valley High School, Rubidoux High School as well as Patriot High School. All are part of the Jurupa Valley Unified School District.
Upward Bound provides fundamental support to participants in their preparation for college entrance. Upward Bound serves; high school students from low-income families, and high school students from families in which neither parent holds a bachelor's degree. The goal of Upward Bound is to increase the rate at which participants complete their high school education, enroll in and graduate from institutions of postsecondary education.
The Upward Bound program is funded 100% by the federal Department of Education. For more information go to the TRIO program website.
Services
Tutoring: To improve students' understanding of challenging subject matter.
Mentoring: Various community leaders motivate and nurture students' potential. College and University Visits: Students visit area colleges and universities where they learn about the opportunities available to continue their education beyond high school.
Cultural Field Trips: Enrich students' cultural exposure and promote learning through visiting museums, theaters, universities, etc.
Career and Leadership Development: Supports each student's individual career options and prepares students to be community leaders.
Summer Program: Students are immersed in a concentrated, challenging, and supportive learning environment. They enroll in college preparatory classes like math, science, literature and computers while earning high school and/or college credit.
Parent Workshops: Parents of Upward Bound students are actively involved in their children's education through valuable parent workshops and activities.
Saturday Academy: Participants will receive instruction to prepare for the SAT/ACT, California Standardized Tests and Advanced Placement tests (AP). Participants will also have the unique opportunity to participate in workshops in goal setting, career awareness, college entrance, and financial aid.
How to Apply
Be a 9th or 10th grader currently enrolled at Jurupa Valley, Rubidoux or Patriot High School.
Meet the Federal Department of Education's Low-income requirements and/or be a first-generation, college-bound student.
Demonstrate commitment to completing high school and the potential for attending college.
Submit a completed application and attend a student/parent interview with Upward Bound staff.
Request application materials from an Upward Bound staff member, your high school teacher/counselor or from the career center.
Complete the application checklist, attach all documents and sign the application.
Return the completed application to the Upward Bound staff member or teacher/counselor. Letters of recommendation can be mailed to the address listed below.
Contact Us
Upward Bound Programs
Information Services Building #114
Phone: 951-222-8948
Hours: Monday to Friday 8:00 am – 5:00 pm