Welcome to the Riverside City College Academic Senate home page. The Senate--composed of elected officers, department representatives, and standing committee chairs makes recommendations to the College administration and to the Board of Trustees regarding academic and professional matters (defined by AB1725, Section 53200). The Senate facilitates communication among faculty, students, administration, and the Board of Trustees in all matters related to community college education.
2023-24 Academic Senate Meeting Schedule
The RCC Academic Senate usually meets every 1st and 3rd Monday of the month during the Fall and Spring Semesters in the Hall of Fame from 3 - 5 pm. Please see the schedule below for exact days.
February 12
March 4
March 18
April 15
April 22
May 6
May 13 (pending- cancellation depending on local senate needs)
Contact us
Jo Scott-Coe
English
Academic Senate President
Jo.Scott-Coe@rcc.edu

Ajené Wilcoxson
Business and Enrepreneurship


Academic Senate Vice President

Micherri Wiggs
Communication Studies


Academic Senate Secretary/Treasurer
Council and Committee Structure
Work to create, monitor, assess and revise structure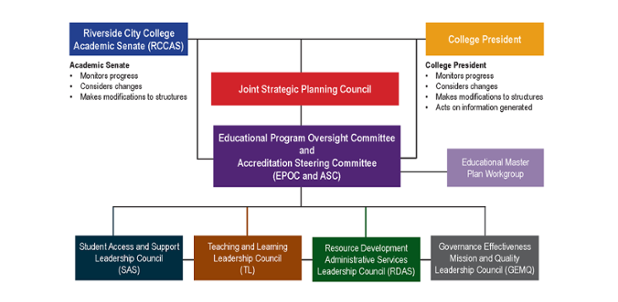 2023-2024 Officers and Senators
Agenda and Minutes
2022-2023
May 15, 2023
Agenda / Minutes
May 1, 2023
Agenda / Minutes
April 17, 2023
Agenda / Minutes
April 3, 2023
Agenda / Minutes
March 20, 2023
Agenda / Minutes
March 6, 2023
Agenda / Minutes
December 5, 2022
Agenda / Minutes
November 7, 2022
Agenda / Minutes
October 17, 2022
Agenda / Minutes
October 3, 2022
Agenda / Minutes
September 19, 2022
Agenda / Minutes
August 29, 2022
Agenda / Minutes
2021-2022

June 6, 2022

Agenda / Minutes

May 16, 2022

Agenda / Minutes

May 2, 2022

Agenda / Minutes

April 18, 2022

Agenda / Minutes

April 4, 2022

Agenda / Minutes

March 21, 2022

Agenda / Minutes

March 7, 2022

Agenda / Minutes

February 28, 2022

Agenda / Minutes

November 15, 2021

Agenda / Minutes

October 4, 2021

Agenda / Minutes

September 20, 2021

Agenda / Minutes
2020 - 2021

May 3​, 2021

Agenda / Minutes

April 5​, 2021

Agenda / Minutes

​March ​15​, 2021

Agenda / Minutes

March ​1​, 2021

Agenda / Minutes

December 7​, 2020

Agenda / Minutes

November 16, 2020

Agenda / Minutes

November 2​, 2020

Agenda / Minutes

​October 19, 2020

Agenda / Minutes

October 5​, 2020

Agenda / Minutes

September 21, 2020

Agenda / Minutes

​August 31, 2020

Agenda / Minutes