Graduation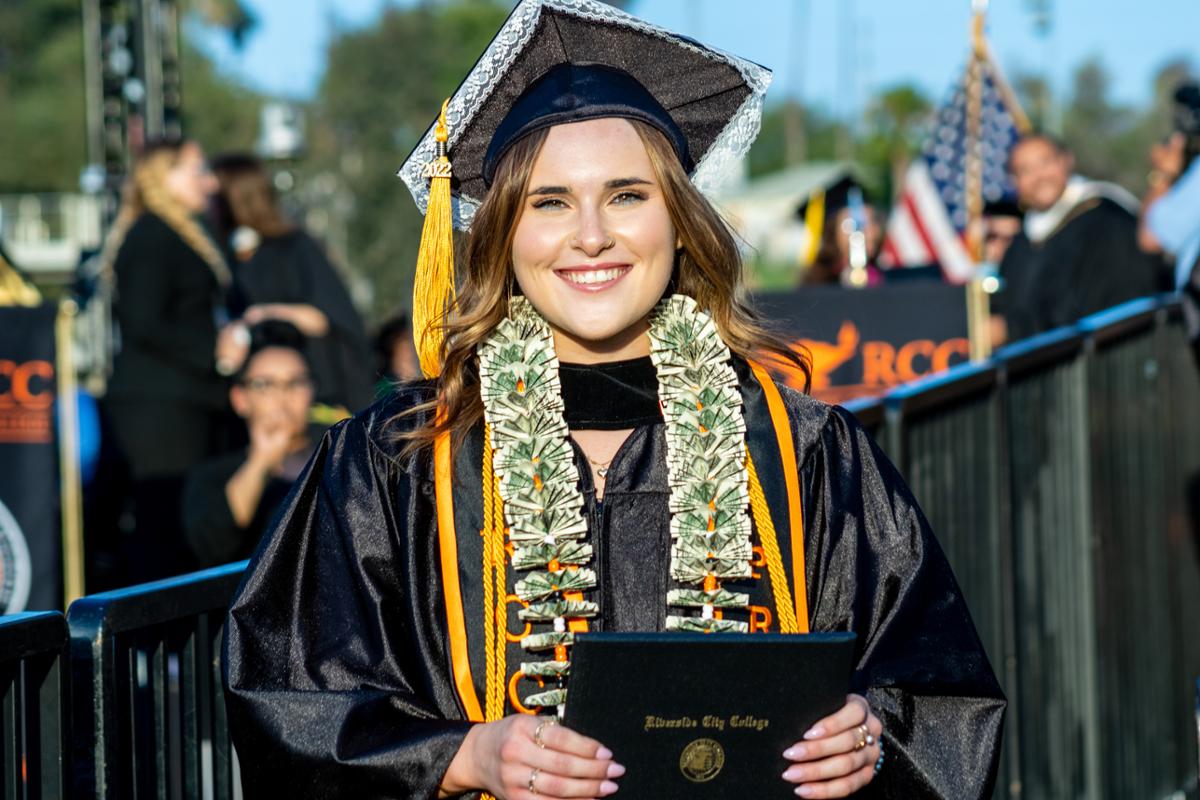 Requirements for Graduation
It is recommended that students apply as soon as the minimum requirements below have been satisfied:
45 units completed or in progress for an associate degree
Registered in the final class for a certificate
All transcripts from other colleges must have been received by RCCD. (Applicants may log into WebAdvisor/MyPortal to see if transcripts you've ordered have been received.)
In progress or successful completion of the general education requirements of Riverside Community College District English 1A or 1AH course with a "C" grade or higher, or the equivalent. (Unless the student has catalog rights prior to Fall 2009.)
In progress or successful completion of a Riverside Community College District mathematics course with a "C" or higher, selected from Math 1-36, or the equivalent. (Unless the student has catalog rights prior to Fall 2009.)
Students may apply for degrees and certificates during the following four application periods
Summer
First day of Summer term through July 15
Fall
First day of Fall term through October 15
Winter
First day of Winter through February 1
Spring
First day of Spring term through April 1
Contact Us
Email: Evaluations@rcc.edu
Phone: (951) 222-8610
How to Apply
You will need to log into MyPortal and choose Degree or Certificate Application under the Academic Profile section.
Academic Review
Academic Review is also available on WebAdvisor/MyPortal as a tool for you to review your course requirements. If you do not meet these requirements your application will be cancelled and you will need to apply again at a later time. It is strongly recommended that you make an appointment with a counselor if you have questions about graduation requirements.
After Applying
Approximately 6 to 8 weeks after the beginning of the term for which you have applied, an email will be sent to the student's RCCD email address. This email will detail the progress and any courses that may still be needed to complete degree or certificate requirements.
There is no fee to apply for an associate degree or certificate.
Students receiving a state approved Certificate of Achievement may participate in the commencement ceremony.
If you have any outstanding fees owed to Riverside Community College District your diploma will not be mailed until all outstanding fees have been paid in full.
All official college transcripts or other appropriate verifying documents must be on file with Riverside City College District in order for the Evaluations/Graduation office to review applications and determine eligibility.
Students should send their transcripts to their home college. Check to see if transcripts have arrived by logging on to MyPortal.
Please send your official transcript electronically if possible. This is normally done by using your previous institution's online official transcript ordering service. If an email address is requested, please use admissionsriverside@rcc.edu. In order to be official, the transcript must have been ordered in the last 90 days. If your institution only sends paper transcripts, please send directly from your previous institution to:
Riverside City College
Attn: Admissions & Records
4800 Magnolia Ave
Riverside, CA 92506-1299
Change in Mailing Address
If your address changes after you have submitted your certificate and/or degree application, you must update your address in Admissions & Records in person with a photo ID or on the Personal Profile in WebAdvisor/MyPortal. After the change is made, students must notify the Office of Evaluations of the address change.
Name changes must be made in person at Admissions with legal documentation. After the change is made, students must notify the Office of Evaluations of the name change for the degree(s) and/or certificate(s).
Office of Evaluations and Graduation
Riverside City College
(951) 222-8610
evaluations@rcc.edu​​