RCC ID Card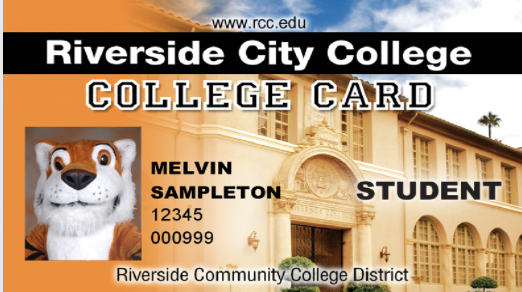 Identification and Possibilities
Riverside City College ID Card
You will use your RCC student ID card to access libraries and labs at any college in the Riverside Community College District. As long as your Student Services fee has been paid, it also provides entry to numerous student activities, including athletic and performing arts events and free rides on the RTA— plus receive rewards through Wells Fargo and discounts at many local eateries, movie theatres and attractions throughout California.
Ride Above it All With Free Transit
For one year**, college students can ride RTA buses for free. With your mobile Go-Pass you'll get unlimited rides anywhere RTA buses go, anytime they operate.
**AUGUST 1, 2020 – JUNE 30, 2021. Dates subject to change.
Requirements to Get a Card
To obtain your RCC College ID Card, you must:
Have Riverside City College as your home college
Provide a valid photo ID, such as a high school ID, driver's license, or passport
Be registered for classes — you are not eligible to obtain a College ID Card if you are only waitlisted for classes
The RCC ID Card is the property of Riverside Community College District and must be presented or surrendered upon demand by any authorized college personnel.
Here is how you can get yours:
You are not required to have a photo ID, especially if you are taking your classes online, but if you want one, we can help you out and you don't even have to come to campus!
You will need to fill out a quick form: Get Your RCC ID Card, sign in with your RCCD student email, and verify your identity with a photo ID.
You will submit your own photo. If we have an older photo on file, we will use the old photo.
We will mail your ID to you once it's complete (this takes about two weeks).
You do not need a new ID each term. If you have an ID from the spring term or even 5 years ago, it is still good!
Get Rewards Working For You
Link Your ID Card to Wells Fargo Everyday Checking
We've teamed up with Wells Fargo to offer you added banking convenience with a linked College Card. Use it as your official student ID, for campus privileges and for your day-to-day financial needs on and off campus when it's linked to a Wells Fargo Everyday Checking account.
Wells Fargo uses information provided directly by customers to identify students with a Wells Fargo Campus Card linked account. Wells Fargo Bank, N.A. Member FDIC.
With This Card You:
Get free access to cash at Wells Fargo ATMs nationwide
Make purchases using your card and Personal Identification Number (PIN)
Your Linked Wells Fargo + RCC Gives You:
Waived monthly service fee
Wells Fargo SurePaySM — send money to just about anyone with a U.S. bank account from your smartphone
Apple PayTM to make payments for purchases using your iPhone
Wells Fargo Mobile® banking, where you can do many things including check balances and transferring funds
Gain simple, secure access to your account with Wells Fargo Online® Banking
Direct deposit of your financial aid disbursements and/or paychecks
COLLEGE CARD INFORMATION
DISTRICT AGREEMENT INFORMATION
FEATURES AND FEE INFORMATION