RCC Cosmetology Salon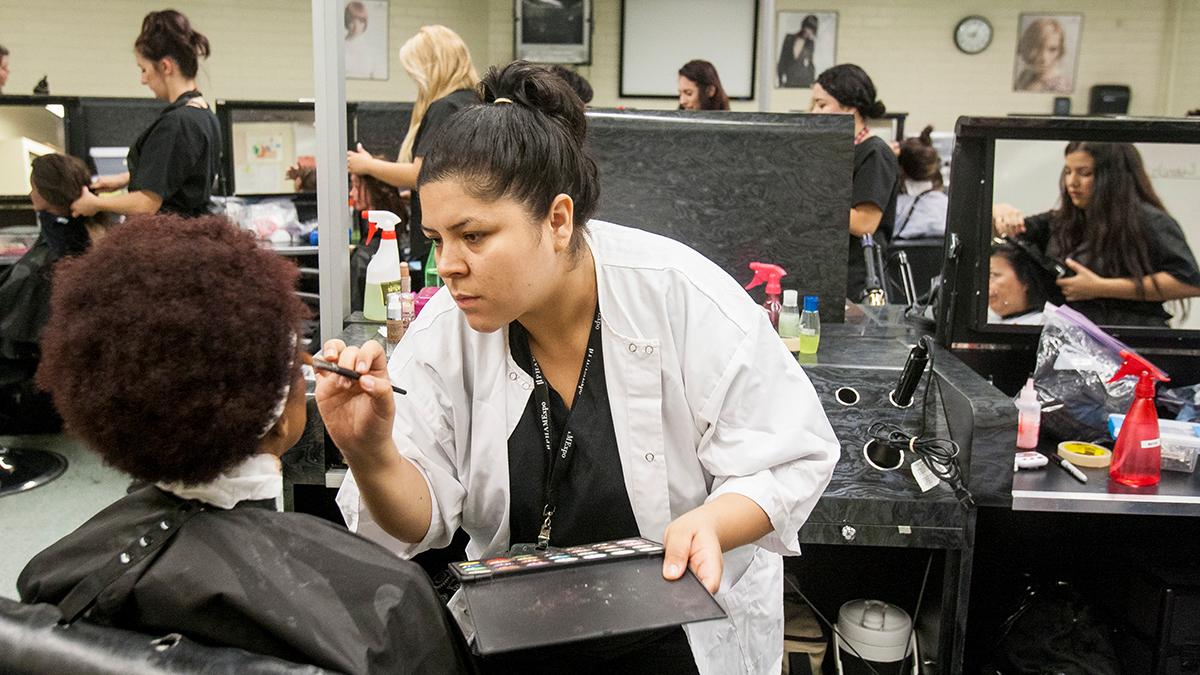 The Pampering You Deserve, the Practice They Need
Let us help you look and feel great! Guided and supervised by cosmetology faculty, our students indulge guests by delivering superior service and a positive experience. Led by trained faculty, students improve their craft as they complete their education. The Cosmetology and Esthetics salon offers quality, affordable service to the public, as well as faculty, staff, and students of RCC.
Interested in become a licensed cosmetologist or estitician? Learn professional cosmetic services in salons, resorts, casinos, dermatologist's offices and other related industry establishments right here at RCC!
Appointments
Appointment or walk-ins are cash or check only. Please email CosmoAppointment@rcc.edu or call 951-222-8182 to make an appointment. .
Hours of operation

Wednesday, Thursday, and Friday
8:15 am - 2 pm and 5:45 - 8 pm
How Can We Serve You?
All work is performed by students with mentorship and guidance from our world class instructors. The goal of the salon is to provide our students the best training and offer affordable prices to entire community! Current RCC Students (with Student ID) and Seniors 62 and over receive 50% off. Excludes additional applications.
The Cosmetology program pricing:
HAIRSTYLING

Shampoo: $2.00
Wet style: $6.00
Blow Dry: $5.00
Round Brush / Curling Iron: $8.00
Press & Curl: $20.00
Flat Iron: $20.00
Up-do's: $15.00
Haircut: $7.00
French Braid (1 braid only): $5.00
Deep/Extensive: $ 5.00
Manual Scalp Treatment: $2.00

HAIR COLOR

Virgin Application: $25.00
Color Re-touch: $15.00
Color Weave: $35.00
Additional Applications: $8.00
Fillers: $20.00
Rinses: $2.00

HAIR LIGHTENING

Virgin bleach: $35.00
Re-touch: $20.00
Cap Frost: $27.00
Cap Frost w/Toner: $37.00
Weave: $35.00
1/2 Head or less Weave: $20.00
Bleach w/Toner: $45.00
Additional Applications: $8.00
Toner: $10.00

CHEMICAL TEXTURE

Standard Perm: $25.00
Spirals/Piggy Back/Specialty Wraps: $30.00
Soft Perm: $30.00
Relaxer (virgin): $35.00
Relaxer (re-touch): $20.00
Additional Applications: $8.00

SKIN CARE

Plain Facial: $17.00
European Facial w/ 20 min. massage: $25.00
(Includes scrub and Mask)
Makeup: $10

NAIL CARE

Manicure: $4.00
Oil Manicure: $6.00
Pedicure: $10.00
Polish change: $2.00

HAIR REMOVAL


Eyebrows, Lip, Chin, Sideburns

(each): $5.00
The Esthetician program pricing:
Facial Treatments

Basic Facial: $17.00
European Facial: $25.00
European Facial w/ Galvanic & High Frequency : $30.00
Chemical Exfoliant-Active Enzymes: $30.00
Wet/Dry Microdermabrasion (Bio-Brasion Trinity): $50.00
Micro Current-bt-Cocktail Lift (bt-Nano/Bio Ultimate Platinum): $30.00

Hair Removal

Eyebrows, Lip, Chin, Sideburns (each): $5.00
Underarm Wax: $10.00

Makeup Application