Foster Youth Community - Guardian Scholars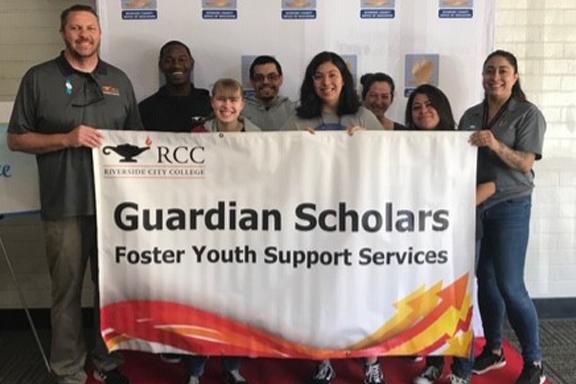 Foster Support
Our college is committed to help support the needs of foster families in our community. On this page you will find special programs that are dedicated to serving and supporting the unique needs of Foster Youth and Foster Parents both on campus and throughout Riverside County.
Contact us:
Location: Digital Library Room 112
Hours: Monday to Thursday 8 am - 5 pm
*Closed all major holidays
Phone: (951) 222-8878
Email: Guardian.Scholars@rcc.edu
Connect with ConexEd
We understand that as a student, you may often have quick questions or need guidance on various academic and personal matters. That's why we're excited to introduce you to ConexEd. With ConexEd, you can receive quick answers to your questions without the need for lengthy appointments or waiting times. Our staff is here to assist you Monday through Thursday from 9 am to 2 pm during our drop-in hours. Whether you have questions about course registration, financial aid, academic resources, or any other concerns, we're ready to help. To access ConexEd, simply log in with your MyPortal/Student Email information.
Free Caregiver Workshops and Training
This program works to provide California State and Riverside County mandated continuing education classes for approved Resource Families.
Kinship providers are required to attend annual training. Other professionals working with children (childcare providers, teachers, counselors, social workers) are also welcome to attend the Spanish or English workshops.

To receive workshop updates to your email inbox, simply subscribe to get FKCE class updates! You can also call (951) 222-8822. When contacting us please provide your Name, Phone Number and, if applicable, the class that you want to attend including date/time/location.

NOTE: CHILDREN ARE NOT PERMITTED to attend workshops due to the sensitive nature of the topics. Please call us with any questions.
Training classes are:
Applicable for all "D" rated Los Angeles County approved homes
Cover a wide variety of topics
Free of charge to participants
Held mornings and evenings throughout Riverside County
Likely to be cancelled if there is insufficient pre-registration
Offered in English and Spanish
Counted towards County Resource Family training hours requirement (minimum 8 hours of approved training required each year, including for Kinship and Relative Caregivers)
Potentially applicable towards "D‐Rate" in‐service renewal hours (seek pre‐approval from LA county worker prior to attending workshops).
Prospective Foster/Adoptive (Resource Families)
Approved County Foster/Adoptive Families
Foster Family Agency Foster Parents
Kinship Caregivers (both Formal & Informal)
Classes are Not Generally for Birth Parents
NO ONE UNDER 18 IS PERMITTED TO ATTEND
FKCE Zoom Classes Schedule
Please Call us at (951) 222-8822 or email us at fkce@rcc.edu to register! After registering the Zoom link will be emailed to you.
In order to stay engaged in the training and receive a certificate of completion, you will need a computer (recommended) or smartphone that allows you to access your Video & Microphone capabilities.
Para seguir participando en la capacitación y recibir un certificado de finalización, necesitará una computadora (recomendada) o un teléfono inteligente que le permita acceder a sus capacidades de Video y Micrófono.
To register please call 951-222-8937 or email fkce@rcc.edu
New classes are coming up soon
Para registrarce a la clase en Español llamar 951-222-8937 o mande un email fkce@rcc.edu
Elevate Your College Experience
The Guardian Scholars program is part of the Riverside Area Multi-Campus Network (MCN) supporting foster youth on the Riverside City College (RCC), Moreno Valley College (MVC), and University of California, Riverside (UCR), campuses. Our collaboration seeks to promote the transfer of information and resources to support our students across all campuses.
The program helps foster youth realize their post-secondary education is a step towards self-sufficiency, a stronger self-identity and a solid foundation for a bright future. They will attend classes at RCC and develop personal connections with RCC staff, faculty and fellow students in an inclusive, supportive environment and community. They will enjoy their time at RCC and build relationships that will last a lifetime.
This program is made possible through a generous grant provided by the Pritzker Foundation, and RCC Student Equity funding.
Dedicated Counselors & Staff assistance, including:
Applications
Registration
Financial Aid
Emergency Needs
Campus & Community Resources
Student Educational Plans
Community Involvement Opportunities
Guardian Scholar Resource & Engagement Center
Computers Access
Printers
Study Area
Cell Phone Chargers
Snacks
Workshops
Financial Literacy
Reducing Stress
Healthy Habits
Off-Campus Events
Technology Loans
Between the ages of 18 - 25 years old
Been in foster care any time after the age of 13
Submit the GS application to the Foster Youth Specialist
Submit your Dependency Verification Letter (also known as Ward of the Court Letter)
Be a current or prospective RCC student
Riverside City College
(951) 222-8878
Transitioning to College
Foster Youth Support Network – Riverside Community College District
To expand college access and success for foster youth, Moreno Valley, Norco, and Riverside City colleges created the Foster Youth Support Network (FYSN), which provides a comprehensive suite of services designed to create a connected and coordinated safety net for foster youth transitioning from high school.
The FYSN has developed a regional framework to support comprehensive, interagency collaboration and coordination of services related to foster youth's college transition and success, and provides direct, continuous support and resources to foster youth in grades 9-12 in order to increase their college readiness and prepare them for a seamless transition into higher education.
With district-wide coordination, Riverside City College embeds a Student Resource Specialist within high schools in the Alvord, Jurupa, and Riverside Unified School Districts. The Resource Specialist works closely with their institution's partners to simultaneously lower barriers to enrollment and promote success through a case management model, empowering foster youth to take an active role in planning for a transition to higher education. Support provided includes college and career exploration lessons, referrals to academic support, and one-on-one assistance with college and financial aid applications.