Culinary Arts Academy Restaurant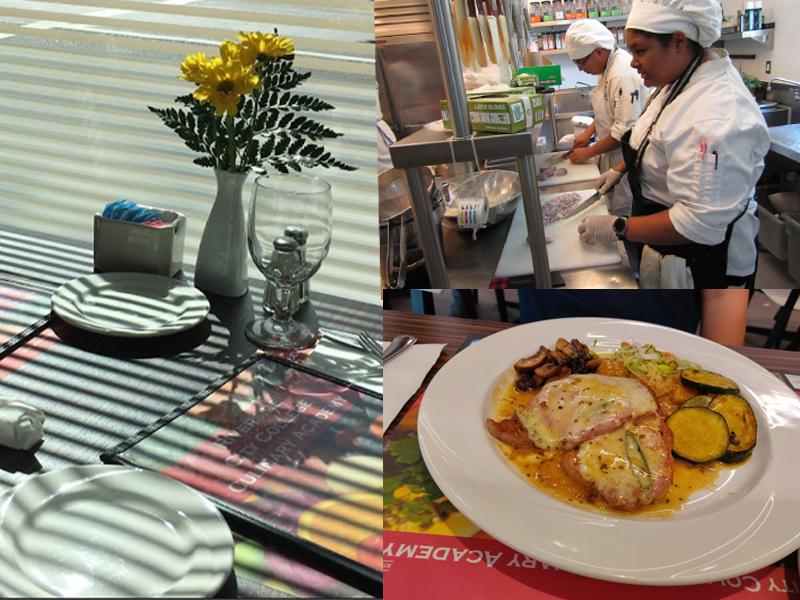 Dining in Motion
Visit Our Dining Room
The Culinary Arts Academy is student-run restaurant that provides future chefs with the opportunity to gain real-world experience. Located in the heart of downtown Riverside, patrons can enjoy meals prepared by the region's up and coming culinary talent. Be our guests!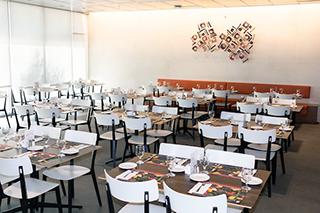 Restaurant Update - June 22, 2021
Thank you for your support. The restaurant will be closed Thursday June 24, 2021 for our semester break. We will re-open on Tuesday September 7, 2021
Dining Room Hours
Mondays - Closed
Tuesday to Friday
Breakfast served 8:30am - 9:45am
Lunch served 11:00am - 12:45pm
Our Menu
Academy Special $5.25
Two fresh eggs prepared any style, with your choice of bacon or house made sausage.
Served with breakfast potatoes and your choice of toast.
Eggs Benedict $6.25
Two poached eggs and ham on a toasted English muffin topped with Hollandaise sauce.
Breakfast Sandwich $4.25
Two scrambled eggs, American cheese and ham, bacon OR sausage on your choice of toast.
Breakfast Burrito $5.25
Two scrambled eggs, cheddar cheese, breakfast potatoes, and your choice of bacon
Ham or sausage, wrapped around a flour tortilla and served our house -made salsa.
Build your Own Three-Egg Omelet $6.25
Three fresh eggs with your choice of cheddar cheese, American cheese, onions, bell peppers, bacon, ham and sausage, served with potatoes and your choice of toast.
Biscuits and Gravy $3.95
Two house-made biscuits smothered in gravy with bite size pieces of sausage and bacon.
Add two eggs any style for $1.00 more!!
Waffle $4.25
Our crisp golden waffle served with whipped butter and warm maple syrup.
Brioche French Toast WITH HOUSEMADE BRIOCHE! $4.50
Three slices of house-made brioche dipped in a cinnamon custard and cooked golden brown, dusted with powdered sugar and served with whipped butter and warm maple syrup.
Pancake Stack $4.25
Blueberry Pancakes $4.95
Three fluffy pancakes hot off the griddle served with whipped butter and warm maple syrup.
Sides
Bacon, Ham or house made Sausage patties $1.75
Two Eggs (Any Style) $1.25
Breakfast Potatoes $1.25
Toast (white, wheat, sourdough or English muffin) $1.25
Beverages
Fresh squeezed Orange Juice $2.75
Coffee and Hot Tea $1.50
Soda Fountain Drinks $1.50
Ice Tea $1.50
CHEF'S SPECIALTIES
Sous Chef: Desiree Girard
SOUP OF THE DAY
Cup $1.75 Bowl $2.25
ENTRÉE SALAD
$6.75
Mediterranean Salad with Chicken
Green lettuce tossed in a mint Dijon vinaigrette, breast of chicken, tomatoes, red onions, olives, and feta cheese
SANDWICHES
Served with your choice of Soup, Salad, or French Fries
$7.50

Smoked Turkey Sandwich
Smoked turkey, Swiss cheese, lettuce, tomatoes on white toast, pickled vegetables on the side
Mexican Chorizo Burger
Well-seasoned ground pork burger topped with Queso Fresco
PIZZA
Served with your choice of Soup or Salad
$7.25
BBQ Chicken
Sliced breast of chicken, BBQ sauce and lots of cheese
BBQ Pork
Shredded shoulder of pork, BBQ sauce and lots of cheese

ENTRÉE
Served with your choice of Soup or Salad
$7.95

Miso Marinated Atlantic Salmon
Sautéed filet of salmon with baby spinach, pickled fennel, young potatoes and roasted yellow pepper sauce
Angel Hair Polpette
Angel hair pasta with meatballs in a marinara sauce, parmesan cheese and basil
DESSERT
$2.25
White Cake
With Strawberry Filling
Bread Pudding
With Praline Sauce
*Some items may contain allergens please ask server if you have any concerns.
HANDMADE BURGERS
Served with your choice of Soup, Salad, or French Fries

Market Street Burger $6.25
House made burgers on a bun with Crispy Lettuce, ripened Tomatoes,
Sweet Red Onions, 1000 Island Dressing and a pickle wedge.
With American cheese $6.75

Garden Veggie Burger $6.25
Soy burger on a Sesame Seed bun, Crisp Lettuce, vine ripened Tomatoes,
Sweet red onions and a pickle wedge.
ON THE SIDE
Garden salad $2.50

French Fries $2.50
BEVERAGES
Coke
Diet Coke
Sprite
Dr. Pepper
Root Beer
Pink Lemonade
Raspberry Tea
Ice Tea
Hot Tea
Coffee
Unlimited Refills $1.50
Location
3801 Market Street
Riverside, CA 92501
(951)328-3575
For additional information please call (951)328-3663 "EAT FOOD"