Riverside City College Student Technology Support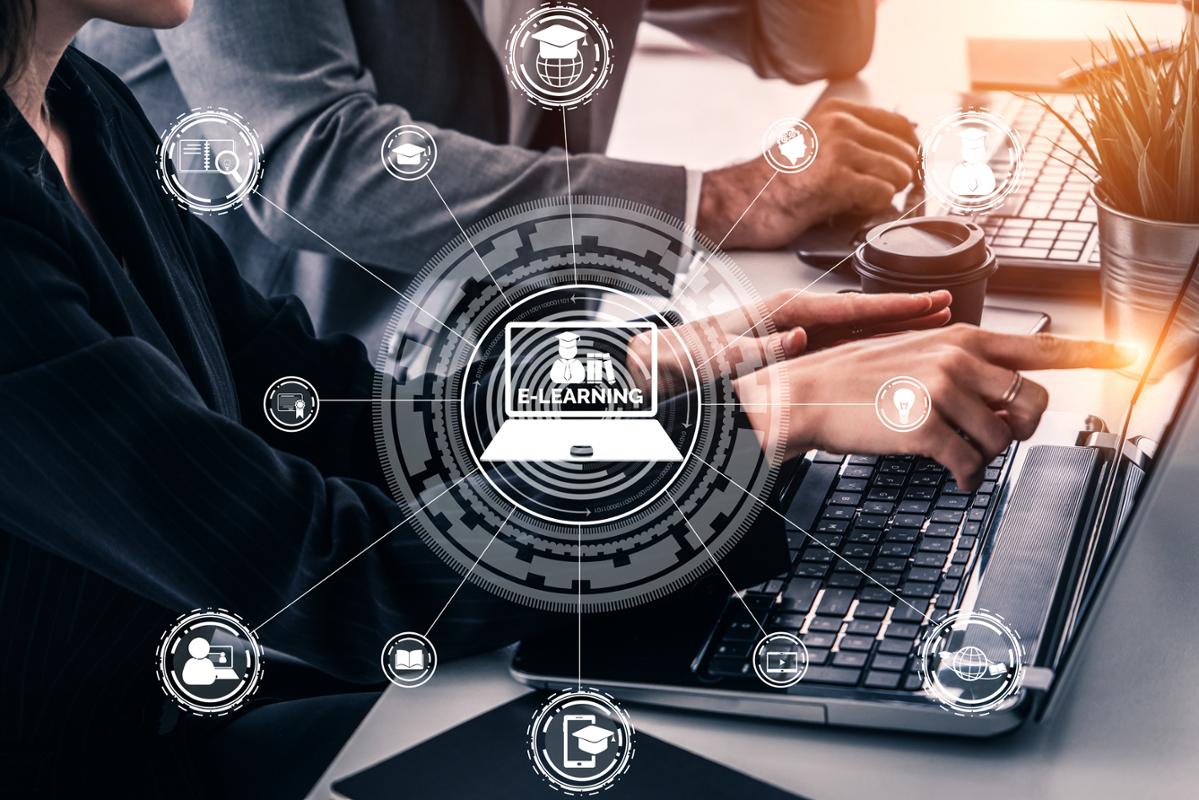 RCC Student Technology Support
We live in a digital world — and academia is no different. To navigate through your college experience you will need, to varying degrees, to use technology we provide, including:
Student Email
Portals
Software
Hardware
Wifi
Printing
Additional Resources
RCC employees do not work on personal equipment or software — for security, liability and safety reasons.
Technology Video Tutorials
Communication, Information and Registration
Every registered RCC student will receive a school email address. RCC and other education - related organizations will send important information to your student email address. Examples include:
Financial aid information
Class registration information
Waitlist status
Schedule changes
Important dates/deadlines
Applying for graduation
Software access information
It's recommended that you check your email daily. Your email credentials (email and login) are also used to log into various student-related portals/software. Your email address is displayed in WebAdvisor and MyPortal.
As a registered RCC student, you automatically receive a college email address. It consists of your first initial, last name and, in some cases, a number (eg. John Doe, jdoe2@student.rccd.edu).

All student email addresses end with the student.rccd.edu domain.
Portal Access
Use your full email and password to log into see your emails. The same email credentials are used to log into various student-related portals.

Software Access
You will receive instructions on how to access software. Every RCC student receives access to Microsoft Office 365 for Education (email, spreadsheet, word processing, etc.) following registration. Some programs may also provide access to other software, like Adobe applications. This software will be preloaded onto desktop or laptops provided by the department. Policies vary by department.

Logging In
Use your full email and password to login to see your emails. The same email credentials will often be used to log into your various student-related portals and/or software. Contact your department if you require help logging in.
There are two ways to access your RCC student email account.
Log into Microsoft email online to Check Your Email
Log into your MyPortal account. In the module titled "My Student Email", choose Office 365. It will launch a new window with Microsoft's Outlook email client.
To reset you password, go to the main District Email login page and follow the instructions to change your password.
To configure your RCCD email account to automatically forward emails to a personal email account, follow the Instructions from Microsoft Support
At least once a year, RCCD deactivates email accounts for students who have not enrolled in courses for a period of more than two years. If your account is deactivated for this reason, the contents of your account will be permanently deleted. If you return to any of the RCCD colleges, your email address will be reinstated but your account will contain NO previous content.

To protect any important emails or attachments, it is your responsibility to back up your RCCD account on an ongoing basis. One easy way is to set your Outlook to Forward Email to a Personal Account
You can access the portal by visiting the Login Screen — User Name and Password are required.
To reset you password, go to the main District Email login page and follow the instructions to change your password.
To access MyPortal, use your student email and password to log in.
Your MyPortal password is the same as your RCCD Single Sign-On portal password. Go to the Login Screen to change all of your RCCD portal and email passwords —simply follow the instructions.
WebAdvisor is an online inquiry and registration system that interacts with the Riverside Community College District's ERP system. You will be able to register, pay for classes, view grades and unofficial transcripts, check your financial aid status and view your class schedule.
You can access your WebAdvisor account by visiting the login screen — User Name and Password are required.
Your WebAdvisor User Name consists of the first letters of your first and last name (all in lowercase) and your seven digit RCC ID number combined together (Example: js1234567). When logging in, remember that your User Name and Password are case sensitive.

For new students, the default WebAdvisor password is your date of birth in the mmmddyyyy format, with the first letter of the month capitalized (e.g. if your birthday is November 15, 2015, the default password would be Nov152015)

We recommend you change your default passwords at your earliest convenience, to protect your information from being compromised.
First, go to the WebAdvisor main page. The option to retrieve your WebAdvisor User Name is on the left side of the page.
Go to the WebAdvisor main page, the option to reset your WebAdvisor password is on the left side of the page.
Hardware and Software
Supply and Student Discounts
Some programs supply their students with computer hardware (if required for study). You also have the option to purchase your own computer hardware and/or software at discount. The Foundation for California Community Colleges College Buys site provides discounts for hardware and software purchases for students and employees.
Software on Personal Computer
College-supplied computers come with all required software already installed. For your personal system, you can download Microsoft Office 365 applications from inside your RCC Single Sign-on Portal. Check with your department about additional specific applications. Adobe offers a student rate when you provide your student email address.
Wifi Access and Printing
Connecting to Wifi
RCC has two wireless networks, administered by RCCD, to provide internet access on campus:
Wireless Network: rccd

Students and employees receive free internet connectivity for up to 5 personal devices while on campus through the RCCD WiFi network. Simply log in with your RCCD full email address as username and password.

Wireless Network: rccd_guest

The rccd_guest wireless network allows guests to use their personal or company device(s) to access the internet.
Standard guest access allows internet access in 90 minute intervals. Restrictions including high-bandwidth streaming services, questionable content, and resources that may negatively impact RCCD instructional and/or operational use, are applied.
Elevated guest access requires a sponsored guest account created by HelpDesk. Elevated access includes less access and speed restrictions. If you require Elevated guest access, please contact the department that you are working with and ask them to submit a work order through the Helpdesk. Please allow 24 hours to process.
Drive-up wireless Internet
Drive-up wireless Internet is now available during 7am-10pm Mon-Sun.
Drive-up wireless Internet access is available in the following areas: Magnolia parking structure (all floors), Kane parking lot, Lovekin Complex parking lot, Parking lots E, P, H, and Handicap spaces north of the tennis courts. Blue triganles indicate internet availability.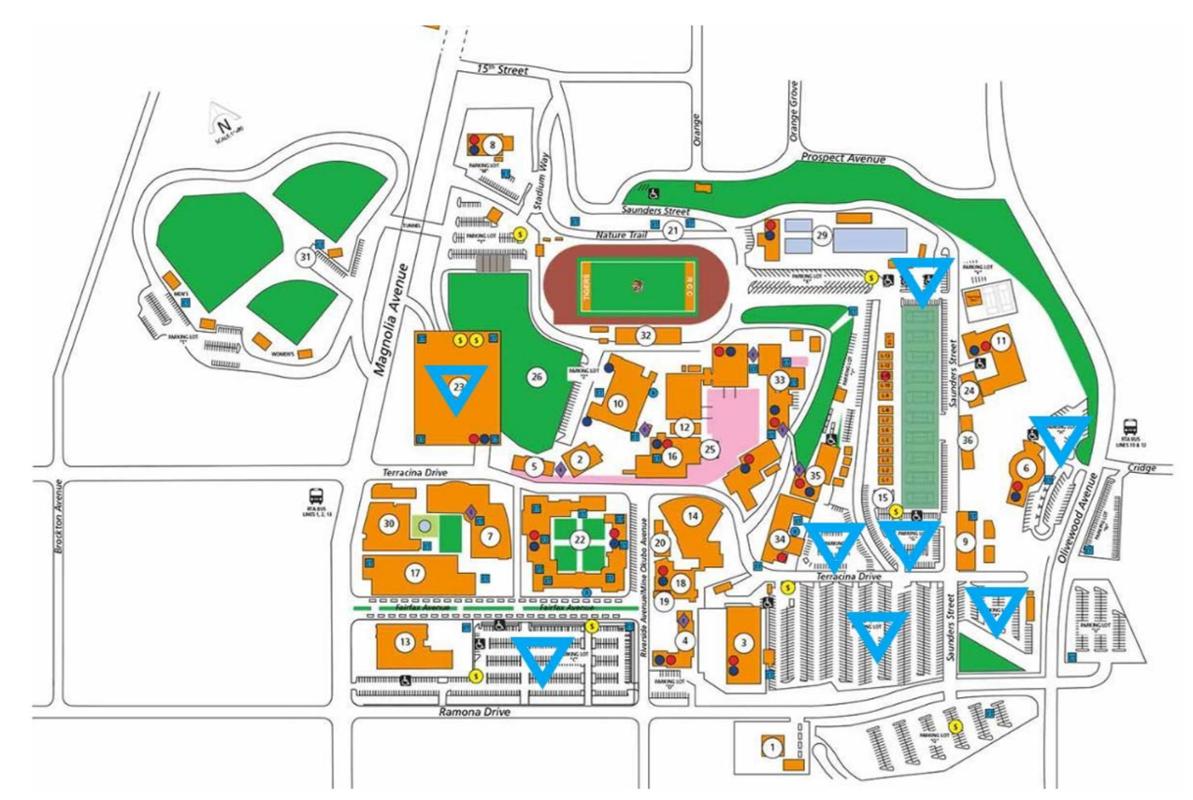 Friendly Reminder:

Intended for educational purposes, not a social space.
Restrooms will not be available.
Student Code of Conduct applies.
Printing
There are a number of labs and engagement centers around campus that allow you to print. Rules and fees may vary — some programs require printing, which may be included as part of your materials fee. Check with your instructor or department for more information. General copy and print services for students are available inside the Digital Library. Additional printers can be found around campus. Ask our department for more information.
Additional Resources and Support
Accessing Software and Online Courses
While YouTube and the internet can help you solve certain problems, the links below can help you resolve issues or just be more confident when working with the technology. Still stuck? Contact our Help Desk and we'll do our best to answer your questions.
Additional Technology Resources and Support
Special Requests
Our RCC campus is the size of a small city…or an urban hub. We have dedicated Catering and Facility Rental teams to deliver services outside of the regular student experience. District technology staff are sometimes called upon for special requests, like creating a temporary stand alone wifi network, which can be provided for a fee (as coordinated by the Event Planning team).