Basic Needs Resource Center (BNRC)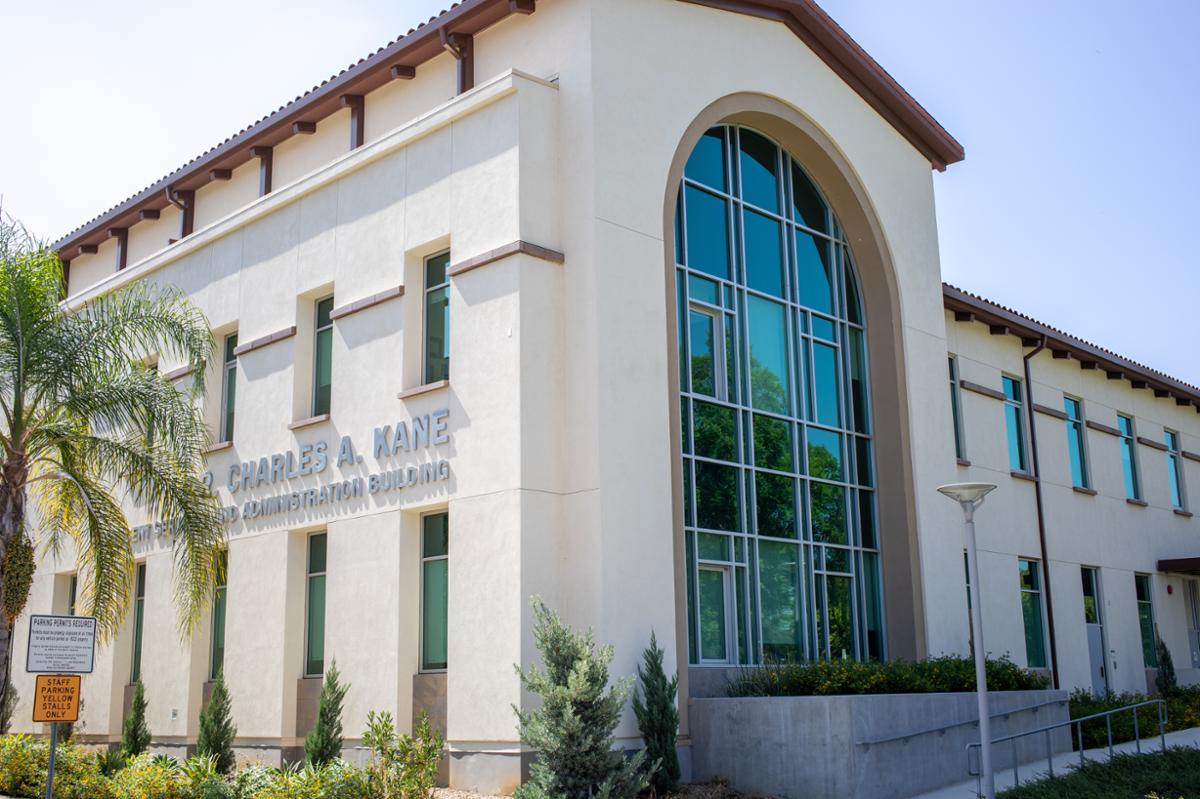 The Basic Needs Resource Center (BNRC) is available to all RCC students in need. The BNRC aims to help supplement basic needs and promote sustainability for overall student wellness and success. Basic needs include food security, housing security, and mental health and wellness resources that allow students to thrive.
Contact us
Location: Charles A. Kane Building, Room 104
Hours: Monday - Friday | 8 am - 5 pm
* Note hours may be impacted by food inventory or deliver. Please see the posted weekly schedule on the door for updates.
Front Desk: (951) 328-3777
Basic Needs Supervisor: (951) 222-8714
Student Success Specialist: (951) 328-3791

Basic Needs Services
Food Pantry
Guidelines for students at the BNRC pantry are as follows:
Frequently Asked Questions (FAQ)
Students can visit the pantry for a bag of food and personal items once every 2 weeks. If they demonstrate more need, they may be able to visit more often.
Students should be currently enrolled in RCCD. Sometimes when students first enroll, they do not show up in the system but they are still able to visit.
The labels identify the items and the quantity students are able to take. The general rule is 1 per item, unless the label specifies students are able to take more.
Donations are welcome. Food items should be sealed, dry/non-perishable goods, preferably canned goods. Other items should be new, preferably packaged.
By the Numbers
Our Food Pantry assists any currently enrolled RCC student who may be experiencing hardship or food insecurity. Students may receive one bag of food, household and hygiene products per week.
Gift Cards and Vouchers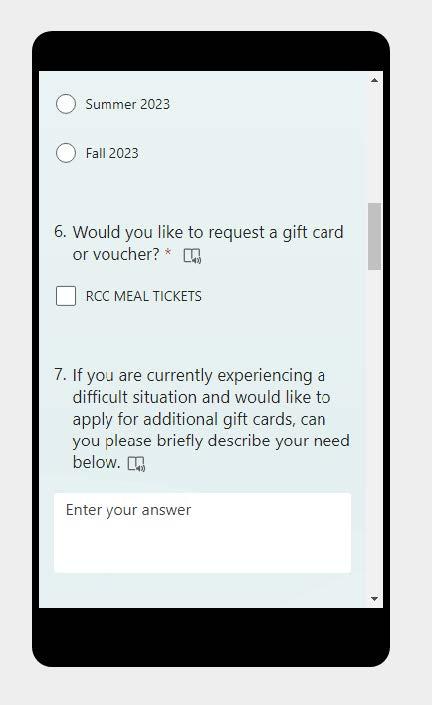 Complete the Basic Needs Request Form
Students can complete a survey to request gift cards and vouchers.
Wait for Email
If the request is approved, students will receive an email when their form is ready for pickup.
Pick up Signed Form
Students will pick up their form in the Basic Needs Resource Center - Charles A. Kane Building.
Submit Form to Cashier's Office
Students will turn in their form to the Cashier's Officer, and will receive their gift cards/ vouchers.
Gift Cards Frequently Asked Questions (FAQ)
Students can request gift cards or vouchers from the BNRC once per semester. If they have additional need, they may be able to request more.
Students can select a preference, but all gift cards & vouchers are subject to availability. Students cannot choose brand or type (ex. specific grocery store)
On average, it takes about a week to receive the gift cards. This is not an immediate process.
Students can also attend workshops and events that may offer gift cards.
Housing Program and Resources
Riverside City College was one of fifteen California Community Colleges selected to participate in the College Homeless and Housing Insecure Pilot (HHIP) Program through the State Chancellor's Office. Below are the steps to receive housing assistance.
Student Receives Housing info

If a student seeks help or is referred, they will receive an email with BNRC housing information.

Complete Housing Survey

This will begin the waitlist request process for HHIP/Rental Assistance.

Financial Aid Eligibility

Ensure that the most recent FAFSA/Dream Act application is complete.

Approval Process for Waitlist

The student is approved or declined pending enrollment verification.

Housing Referral

If a space becomes available, the student will be formally referred to Path of Life Ministries to begin the housing process.
Housing Programs & Resources
Our BNRC Supervisor/Specialist will work with students to determine which option is best for them.
Homeless & Housing Insecure Pilot Program (HHIP)
Goal: long-term stability and self-sufficiency
The three main components are:
1. Housing Identification to support individuals to exit homelessness
2. Rent/Move-In Assistance to help with the costs associated with getting into housing
3. Case Management to help stabilize people once housed and support academic success
Our local housing service provider is Path of Life Ministries.
HHIP is limited and currently at capacity.
Rental Assistance
Goal: short-term housing assistance
May be available to students who require immediate assistance. This is a short-term solution for students experiencing difficulty paying rent, typically due to a sudden change of circumstances (ex: loss of job)
Eligibility for rental assistance is determined on a case-by-case basis.
Community Resources
Goal: emergency housing assistance
Community housing programs and organizations may be able to assist students who require more immediate help. All students are provided with a directory of these programs to contact on their own.
Each program has its own eligibility criteria
Housing FAQ
Any currently enrolled student can apply for our HHIP program or rental assistance. These students must remain enrolled in order to receive housing assistance through RCC services.
Students are selected on a first-come basis, with consideration of their self-reported survey information, financial aid eligibility, and enrollment verification.
Our HHIP program has a maximum case management capacity. A placement in the program only becomes available when a student exits the program.
Unfortunately, there is no way to determine how long a student may remain on the waiting list. Once students are referred to Path of Life Ministries, the placement time will be a maximum of 3 months, but this varies with each student.
Campus Resources
Career Closet
Clothing and Professional Headshots Located in Portable 6 between Landis Theater and Technology A. (951) 222-8647

Shower Services
RCC Resource Center. Managed by students, 2nd floor of Bradshaw. Monday through Friday, 9 am-4 pm to either get or learn how to get what you need.

Laundry Services
For free laundry service, please contact, John Garcia in Wheelock Gym Room 111 or call (951) 490-5779 to arrange a time.

Health and Psychological Services
Health Clinic & Mental Health Open for In- Person Care by Appointment Only Bradshaw Building, Below the Bookstore (951) 222-8151

Transportation
Download the Riverside Transit Agency (RTA) GoMobile app to ride anywhere RTA travels. Traveling begins the first fay of the term for registered students. See RTA Go-Pass Program for more info.

Child Care
Riverside County Office of Education. Some families may be eligible for cost-assisted child care. If you have questions: 800-442-4927 or RandR@rcoe.us
Resources for Student-Parents
At Riverside City College, we like to help all our students reach their full potential. Student-Parents at RCC can receive priority registration, take advantage of academic and health counseling, and join clubs and organizations across campus.
Additional Community Resources
Homeless Solutions
Resource Guide: Hotlines, Housing/ Shelters, Showers, Resource Tools

Wellness Central
A free online health and wellness resource that is available 24/7

Workforce Development Center
Resume & job search assistance, skill assessment, employment plan

Therapy and Support Groups
Find Group Therapy and Support Groups in Riverside, CA

Riverside University Health System
Get tested, coping with stress, prescription services, virtual care

Rent/Utility Relief for Riverside County
Community Action Partnership is a Division of the County of Riverside Department Housing and Workforce Solutions

Feeding America
This is the largest charity working to end hunger in the USA.

Each Mind Matters
Each Mind Matters is California's Mental Health Movement. They are millions of individuals and thousands of organizations working to advance mental health. Browse their initiatives, collections and resources to find tools you can use to improve mental health.

CalFresh
The Supplemental Nutrition Assistance Program (SNAP), issues monthly electronic benefits that can be used to buy most foods at many markets and food stores.

Women, Infants, & Children Division (WIC)
Provides nutrition education, breastfeeding support, healthy foods, and referrals to health care and other community services.
Important Documents