RCC Promise Program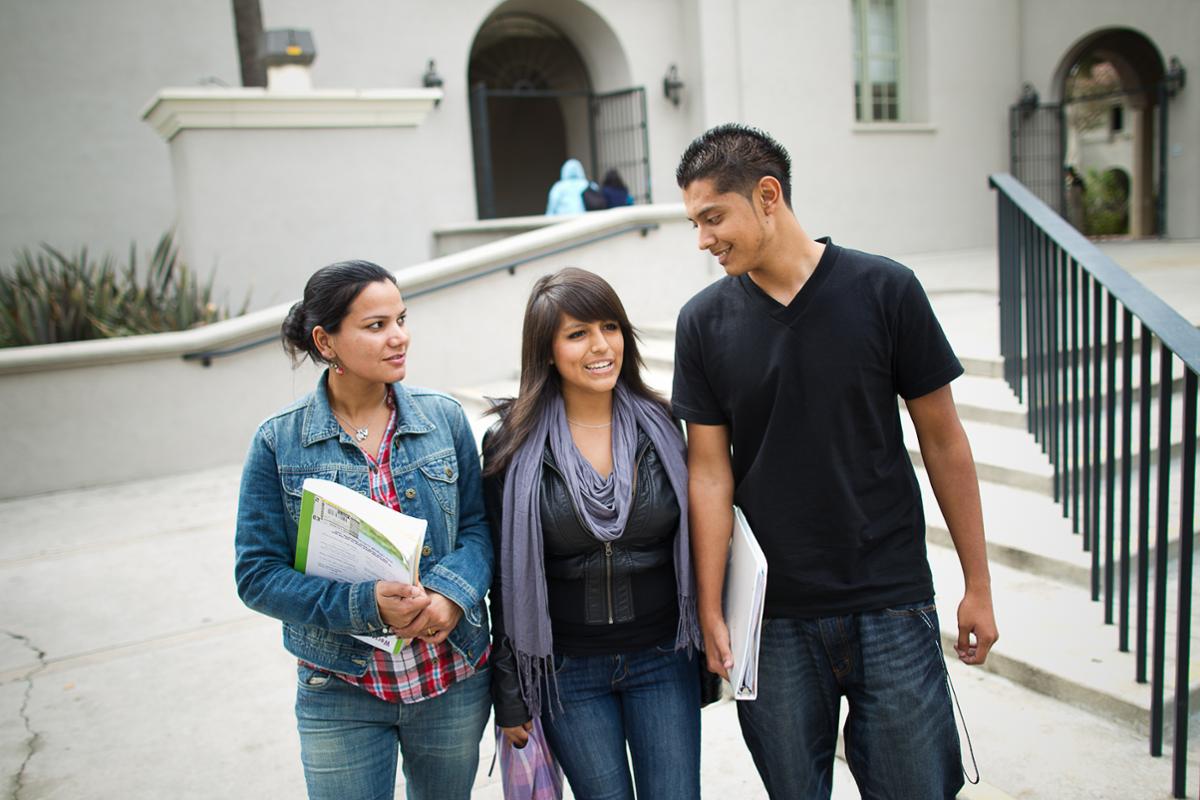 A Promise For What is to Become
Riverside City College Promise Program
Education opens minds, and possibilities. The RCC Promise program helps recent high school graduates remove a barrier to pursuing their further education — by making it affordable. Full-time students who hold to their "promise" receive free tuition (even if they're not eligible for financial aid), support for textbooks and a dedicated community. Certain restrictions apply.
The Promise program requires no application — simply apply for college and complete the Financial Aid FAFSA (Federal Application for Federal Student Aid) form. You will receive an email with instructions on next steps leading to the signing of your Promise contract. The annual review of participants for the Promise program began in April.
Contact Us
Promise​ Benefits
Students who continue to meet the above eligibility criteria will have the Promise tuition and fee waiver applied to their Fall, Winter, Spring, and Summer fees after the last day to drop classes has passed for each semester (10th week for Fall and Spring, 4th week for Winter and Summer).
Please be patient. The RCC Promise Program will send email notifications once your account has been cleared. Please do not make a payment until the last day to drop classes for each semester has passed and you have been notified by the Promise Program of your payment status.
If you have made a payment out of pocket and are eligible to continue in Promise, you will be issued a reimbursement after the Promise tuition and fee waiver has been applied. Reimbursments timeframe varies. Please email the.promise@rcc.edu. for more information. Please refrain from paying out of pocket until you have received your Promise payment status email.
Please note: You will not be dropped from your classe​s for non-payment.
Students who meet the above eligibility criteria will be granted the Promise book credit in the Fall and Spring Semester. Promise does not provide book credit during the Winter or Summer sessions.
Promise students will recieve a confirmation email regarding their book credit status
Book credit can only be used in the RCC bookstore for textbooks
Students will need to bring in your RCC ID, Driver's License, or a state issued photo ID to purchase your books
Students need to bring a copy of your class schedule
The book credit will be applied at the time of purchase
Rental: Students will need a credit card to put on file to rent a textbook from the RCC bookstore. The Promise book credit will cover rental fees.
Norco or Moreno Valley textbooks: Student need to communicate with the RCC bookstore to request the textbook be sent here for purchase
If your book credit has not been established in the bookstore you must contact the Promise Program to determine your eligiblity at the.promise@rcc.edu

.

.
Students in the Promise program receive priority registration for up to during the Fall, Spring, and Summer terms, as long as they remain in good standing with the program
Students have access to Educational Advisors who are dedicated to your success. Please visit our Engagement Centers for details.
Who better to guide you through RCC, than another student. Peer mentors support you transition from high school to college. Your peer mentor is assigned depending on the major/program of study you identified in the Promise Contract. You will meet your peer mentor the first week of Fall semester.
Qualify For the Program
The Steps and Criteria
To be eligible to the Promise program you need to:
Graduate from a local (California graduates) high school in this current year
Complete the required FAFSA or Dream Act application
Be a California resident or eligible by your AB 540/Dream Act Status
Complete the RCC Admissions Application
Follow the Promise Program Eligibility Checklist to make sure you complete these applications successfully
Potential participants begin being processed in early March. Invitation emails are sent out starting in March and within two weeks if submitted after processing begins.
If you do not receive an email regarding Promise within this timeline, please Contact Us.
Promise Program Requirements
Fall 2020 Cohort
Enroll and complete a full-time load (12 units or more) for Fall 2020*
Earn a 2.5 GPA or higher every term
Meet with your Peer Mentor regularly
Meet with a RCC Counselor to create your Student Educational Plan (SEP) by Nov. 1
Attend a workshop/event and complete the Promise Workshop Verification Form by Nov. 1
If you are struggling with any course, visit the Academic Support Services
*If you had an IEP, 504, medical diagnosis, psychiatric diagnosis, or are concerned about your academics and would like to continue receiving services through The Promise Program, please make sure to visit the DRC office as soon as possible. You can reach them via email at drc@rcc.edu. Please take note if you have established DRC accommodations and one of your accommodations includes a Unit Reduction, you will need to communicate with DRC and request that the DRC Unit Reduction accommodation be made accessible to The Promise Program via email at the.promise@rcc.edu.
Information of Note
What You Should Know
Our Five Promise Streams - Students come from every walk of life and have diverse ambitions. We have dedicated program streams that address these — Health Related, Career and Technical Education; Science, Technology, Engineering and Math; Languages, Humanities and Social Sciences; Health Related Sciences and Fine and Performing Arts. Please visit our Engagement Centers for details.
Application Timelines, Orientation RSVP - The Promise Program has only 1500 new openings each year. After all seats are filled so is the program. Acceptance of 2021 high school graduates will begin in the Spring semester. You must attend an orientation session prior to signing your Promise contract.
The Value of Mentorship - Mentoring is a positive experience for both mentees and mentors. Our program utilizes active mentoring, from college faculty and staff advisors to members of the community. Mentors help answer questions and provide the guidance for directed success.
Did You Know
3,000+ Participants and Counting
Student Success Stories
Bart, Science Student
"I was a good student in high school, but not a great one. Scholarships were not coming my way. Without the Promise Program I would be working cheque to cheque, surviving. I can see myself having a better life, and that is exciting."
Brian, Theatre Student
"My parents are proud of me, but they thought a Law career would have been more realistic. The promise program, and my performance helped them change their minds."
Video Tutorial: Class Registration
RCC Promise Program Forms and Documents
Please read through the following Promise Policies.
If you are a new student, you are responsible for understanding the following Promise Program Policies.
​This petition is for students who encounter situations involving extenuating circumstances, or emergencies that may affect their educational records and fall outside the realm of normal college policy and procedure. Please read application throughly.