RCC Tuition and Fees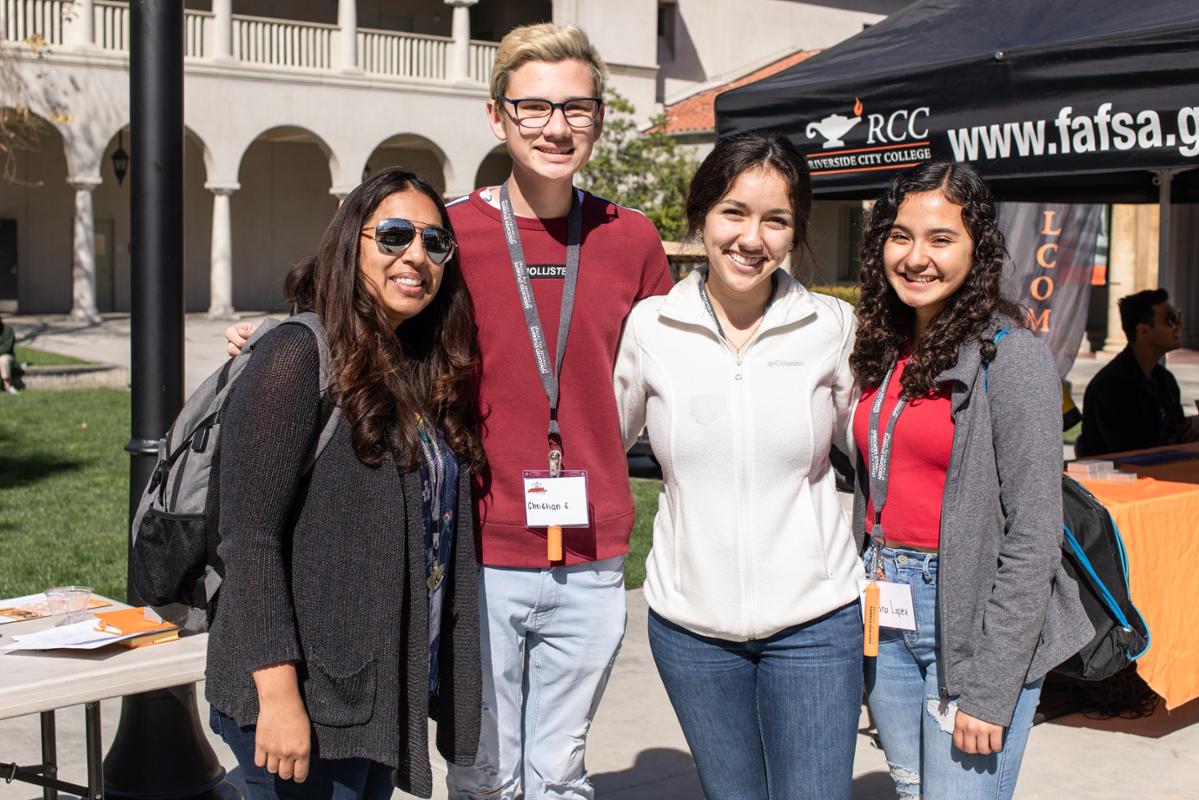 Cost of Attendance
Tuition and Fees
Once registered for classes, you will be billed for certain fees (not for waitlisted classes). Non-residents of California are also required to pay non-resident tuition. Fees/costs include:
Enrollment fees based on number of registered units
Health fee (required)
Transportation fee (not required during winter intersession)
Student services fee (optional fee that can be waived, details on waiving below)
Specific sections/courses that may require additional material fees
Student Financial Responsibilities
Your Fee Breakdown
Fees may change without notice. Stop payment or insufficient funds will incur a $20 service processing fee.
SUMMER
2023
FALL
2023
Winter
2024
Spring
2024
Enrollment
$46 per unit
$46 per unit
$46 per unit
$46 per unit
Nonresident Surcharge
(plus enrollment fee)
$373 per unit
$373 per unit
$373 per unit
$373 per unit
Out of Country Surcharge
(plus enrollment fee and nonresident surcharge.)
Non-refundable
$18 per unit
$18 per unit
$18 per unit
$18 per unit
Health Services*
(Non-refundable if classes dropped after refund deadline)
$17
$20
$17
$20
Student Services
May be waived if Fee Waiver is submitted before last day to add
$10
$30
$10
$30
Auto Parking Permit
Student lots only. See Parking Services for refund information.
$25


$50
(CCPG)-$30

$0

$50

Motorcycle Parking Permit
Student lots only. See Parking Services for refund information.
$15
$15
$0
$15

Transportation*

Allows the usage of RTA buses and transport free with Go-Pass app.

$5.50 (over 6 units) or
$5.00 (6 units and under)

$5.50 (over 6 units) or
$5.00 (6 units and under)

N/A

$5.50 (over 6 units) or
$5.00 (6 units and under)

Class Audit
$15 per unit
$15 per unit
$15 per unit
$15 per unit
KIN-30*** First Aid & CPR
$24
$24
$24
$24
KIN-42*** Lifeguard & Water Safety Instructor Certification
$82.45
$82.45
$82.45
$82.45

Transcript
(First two transcripts are free.)

(Charge varies by speed and shipping method - Learn More)

$7 - $20
$7 - $20
$7 - $20
$7 - $20
Unofficial Transcript
(access free of charge through MyPortal)
$1
$1
$1
$1
Some sections/courses require additional fees for materials, tools, clothing, technical and miscellaneous supplies (70902(s) of the Educational Code). Charges are noted under the appropriate class. Additional fees must be paid at registration and are not covered by the California College Promise Grant (CCPG) Waiver.
Go Online or Come to Campus
You can pay your fees on MyPortal or visit student accounts, located in the Dr. Charles A. Kane Student Services and Administration building. RCC accepts Visa, MasterCard, American Express, and Discover online or you can also pay in person using cash, check or a money order.
If fees are not paid by the due date (see fee schedule), a hold will be placed on your account and you will be unable to register for future terms, register for classes, drop classes on MyPortal (classes can be dropped in person at the Admissions & Records office), view grades, receive your
degree/diploma/certificate, request transcripts or enrollment verifications.
If you do not attend class and still not drop the class, you will still owe fees for the class and will likely receive a failing grade. It is your responsibility to drop classes that you decide not to attend and verify that all classes have been added or dropped accordingly.
RCC will issue refunds (six to eight weeks after the last day for refunds) if you withdraw from a course during the first two weeks of the term (full term 16 week classes) or before 10% of the course length (short-term courses).
Date to Drop with a Refund
Log in to your MyPortal account, view your class schedule, and click on the specific class to see accurate dates. Dates may vary or not apply for some courses.
Classes added after the refund date do not qualify for a refund. Cash or a check payments will be refunded by check in the mail. Payments made by credit card will be credited back to the same credit card. If you drop all classes within the refund period, you may receive a parking permit refund after returning the permit to Parking Services no later than the refund deadline.
Learn more about refund deadlines by reviewing your class schedule on MyPortal. If receiving a refund due to an adjustment in financial aid, you need to notify Student Accounts. For questions regarding accounts and refunds, please contact Student Accounts at (951) 222-8612 or by email.
Payments and Refunds
COTOP provides RCC with a method for collecting Accounts Receivable balances for student financial aid and non-financial aid obligations. Past due accounts will be submitted by RCC to COTOP for a tax offset — an intercept by the Franchise Tax Board of any tax refunds, lottery winnings, or unclaimed property that might be owed to you.​

When you have past due fees (including enrollment and associated fees) incurred at any of the three Riverside Community College District Colleges – Moreno Valley College, Norco College, and Riverside City College – they may be submitted to COTOP. This debt will not be submitted to any major credit agencies.
Your letter formally notifies what you owe to RCCD and RCCD is participating in the COTOP. Prior to submitting an account to COTOP for a tax offset, RCCD will send out a "due process" collection letter to the last known address we have on file, notifying you that the next step will be to escalate to COTOP. At this point you have/had 30 days to pay fees in full before the debtor data is submitted to the State Chancellor's Office. We do this to allow you time to question the debt and/or pay the College before the tax offset process begins through the Franchise Tax Board.
Please follow the instructions detailed in your letter. You can avoid the Tax Offset collection fee if you voluntarily pay the amount owed within the 30 days stated in your letter. You can pay your fees either online through your WebAdvisor account, in person at the Cashier's Office or by mail. If your fees are not paid in full in the 30 days after the letters are sent out, your information will be submitted to COTOP.
Fees you may be liable for include:
Non-resident tuition
Enrollment fees
Library fines
Library replacement material charges
Parking fees
Parking fines (limited to fines submitted within three years of being incurred)
Personal checks returned for non-sufficient funds
Returned check service charges
Childcare charges
Instructional equipment breakage/replacement charges
Health fees
Transcript fees
Foreign student insurance charges
Dental health center charges
Community services fees
Lost key charges
Transportation charges/fees
Audit fees
Contract class charges
Instructional materials fee
Damage to campus facilities/equipment charges
Student representation fee
Student Center fee
Campus financial aid funds
You can log into your WebAdvisor account, click on "My Account Summary By Term" to check the amount you owe. If you still have questions on what COTOP entails, please contact the Student Accounts office at (951) 222-8164 or email.
If your arrears were incurred at a different campus, please contact Moreno Valley College or Norco College directly.
If you believe there has been an error, you may appeal this action by filling out the COTOP Appeal Form at the college where the course was taken. For RCC, click the RCC COTOP Appeal Form link below.
Upon the receipt of your appeal, a college representative will review your case. If the representative finds that the offset is in error, it will be withdrawn or the amount corrected. If no objections are submitted or if the objections are considered to be insufficient, the action will proceed.
Riverside City College
Admissions & Records
4800 Magnolia Avenue
Riverside, CA 92506
Review RCC COTOP Appeal Information
Moreno Valley College
Admissions & Records
16130 Lasselle Street
Moreno Valley, CA 92551
Email: admissions@mvc.edu​
Review Moreno Valley College COTOP Appeal Information
Norco College
Admissions & Records
2001 Third Street
Norco, CA 92860
Email: admissions@norcocollege.edu
Review Norco College COTOP Appeal Information
Cost of Attendance
The cost of attending college includes the normal expenses of everyday life with the added costs of being a student. The below costs are estimates based on living in Riverside County and attending one of the colleges in Riverside Community College District. This is not a bill, you will not be charged these costs. This is a tool to estimate what it could cost to attend college while meeting your daily needs.
Cost of Attendance Categories 2023-24
Living at Home
Living Away from Home
Tuition/Enrollment Fee
$1380.00
$1380.00
Books/Supplies
$1440.00
$1440.00
Food/Housing
$10126.00
$28782.00
Transportation
$1612.00
$1764.00
Personal Expenses
$3610.00
$4428.00
Other Fees: Health Fee
$40.00
$40.00
Total
$18208.00
$37834.00

The above categories are based on your answers on the FAFSA or CA Dream Act Application. If your situation has changed, please check with the financial aid office for options.
Description of cost components listed above
California Residents/AB 540 students: The tuition cost is based on attending 30 units for the year (15 units fall and 15 units spring semester) at $46 per unit. 30 units X $46 = $1380. This is not a charge. It is an estimate of tuition costs at full time attendance. You will only be charged based on your actual units enrolled.
Out of State/Out of Country Residents: The tuition cost is based on attending 30 units for the year. This is not a charge. It is an estimate of non-resident tuition costs at full time attendance. You will only be charged based on your actual units enrolled. For current costs, refer to the Student Financial Responsibilities section.
Average costs of books, supplies, computer needs.
Estimated cost of room, board and food. This estimate is based on the average cost of living in Riverside County and includes the cost of meals each day.
Estimated cost of operating and maintaining a vehicle use to travel to and attend college.
Personal needs such as personal hygiene needs, clothing and recreation.
The health fee is charged to students per term. The cost charged is $20 for fall or spring semester, $17 for winter or summer semester. You will see this charge on your student account each term. Students at RCCD are responsible to pay this fee.
AB 2210 Student Exemptions
The state provides for students who have been granted special immigrant visas or were admitted to the United States as refugees the right to be exempt from paying non-resident tuition. Learn more by reading Assembly Bill AB 2210 and Article 6 "Exceptions to Residence Determination".
Tutorial Videos