Tutorial Services
Academic Support makes life easier for students. We provide personal and helpful tutoring in small friendly group sessions. We strive to help our students pass their classes and develop the skills necessary for a successful college career. RCC Tutors are available in-person or online via ZOOM video conferencing.
Make an Appointment with Smarthinking
---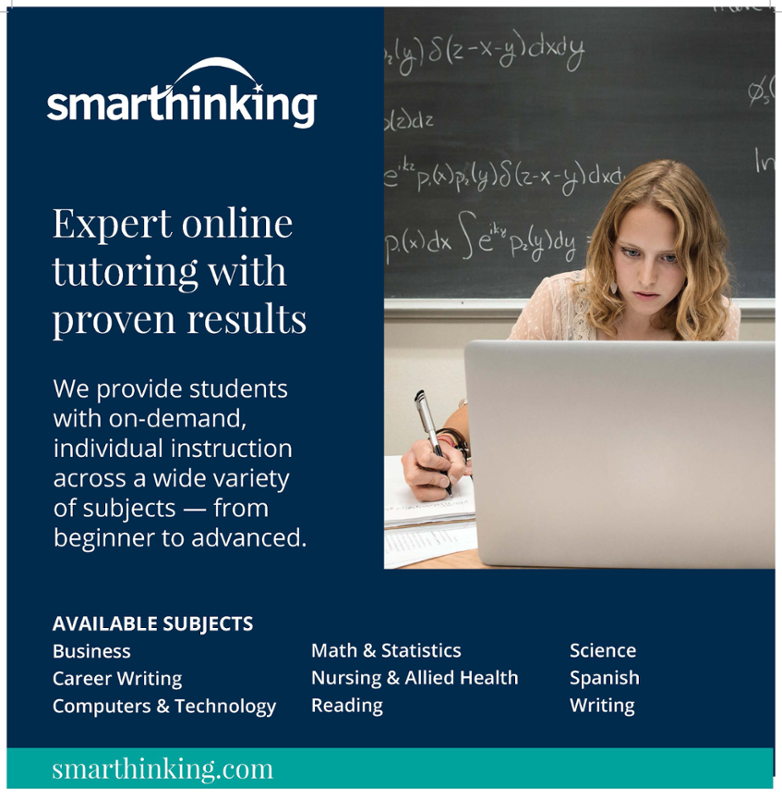 Smarthinking is an external online tutoring service, available to RCC students free of charge, 24 hours a day, 7 days a week.
To access Smarthinking,
Your username is your "student.rccd.edu" email address.
Your password is your two-digit birthmonth, four-digit birth year, and last five digits of your RCC student ID. Example: February 1995 and Student ID 3985602 would be "02199585602."
You can change your password in the "Profile" section of the "Manage Account" tab.
We are looking for knowledgeable and empathetic students who like to help others. Schedules are flexible and training is provided.
Qualifications are:
A or B in the subject
Your home college is RCC
Enrolled part-time or full-time
GPA of 3.0 or above.
Please complete the following application form if you are interested in becoming a tutor: https://forms.office.com/r/VMHrX8H1Hg
Faculty Recommendations
Please complete the online form if you would like to recommend one of your students as a tutor: https://forms.office.com/r/Y8frJ4TUkx
Please be aware that tutors need to possess an A or a B in the subject; be enrolled at least part-time; have RCC as their home college; and have a cumulative GPA of 3.0 or higher.
Recruiting Tutors
We have created a flyer for you if you would like to recruit students to be potential tutors for your course. Please download the flyer and feel free to share!
Supplemental Academic Support
Supplemental Academic Support provides the following support for your classes:
Embedded tutors in your classes
Tutor student role models for your classes
Tutor led study-groups
Group tutoring sessions
Please complete the online Supplemental Academic Support form if you wish to request one or more of these options for your course: https://forms.office.com/r/wuB0FA8fd3
Instructions on How to Make a Tutoring Appointment
Below you will find verbiage that explains how students can make a tutoring appointment. Please feel free to include this in your syllabus:
Students may schedule tutorial appointments by logging in to the MyWConline wepage at the following address: https://riverside.mywconline.com/ . If this is your first time making an appointment you will need to first register for an account on the main page. After logging in, or creating an account, you should then select your course from the "Limit to" drop down menu at the top of the page. Available appointments appear as white boxes. Click on the box to make the appointment. All tutorial sessions are 1 hour long. For more information on Tutorial Services, please visit their website: https://rcc.edu/student-support/tutorial-services.html
Information for Tutors
We appreciate how you have helped facilitate, in such short notice, this transition to online tutoring. This page has been set up to help you through the transition.
Tutoring Procedure
Set up your Zoom session.
Find the student's email address from the MyWConline schedule​.
Using your student email address, send the tutee an invite to your zoom session. Copy the link to your zoom session into the email.
(Below is a template you can use for the Tutoring Invitation email).
Make sure to end the session at 50 minutes, so that you have time to setup and start your next appointment.
Points to Remember
Appointments are now one-on-one
Use the camera as much as possible; it will likely put the student at ease.
Stick to the 50 MINUTES
Don't forget to use your STUDENT EMAIL ADDRESS
You can find your tutee's email address by clicking on the appointment, then their name, in the MyWConline schedule
Do not fill out your accountability sheets. (Information regarding signing your timesheets will be forthcoming).
Email Template to send to tutees
SUBJECT: How Access Your Tutoring Session
Hello [Student's name], this is [your name] .
I am your tutor for your [time] , [subject] appointment.
We will be connecting online via zoom. Click on the link below and follow the instructions on the screen.
[link]
Thanks
[your name]
Video Resources