Fall 2022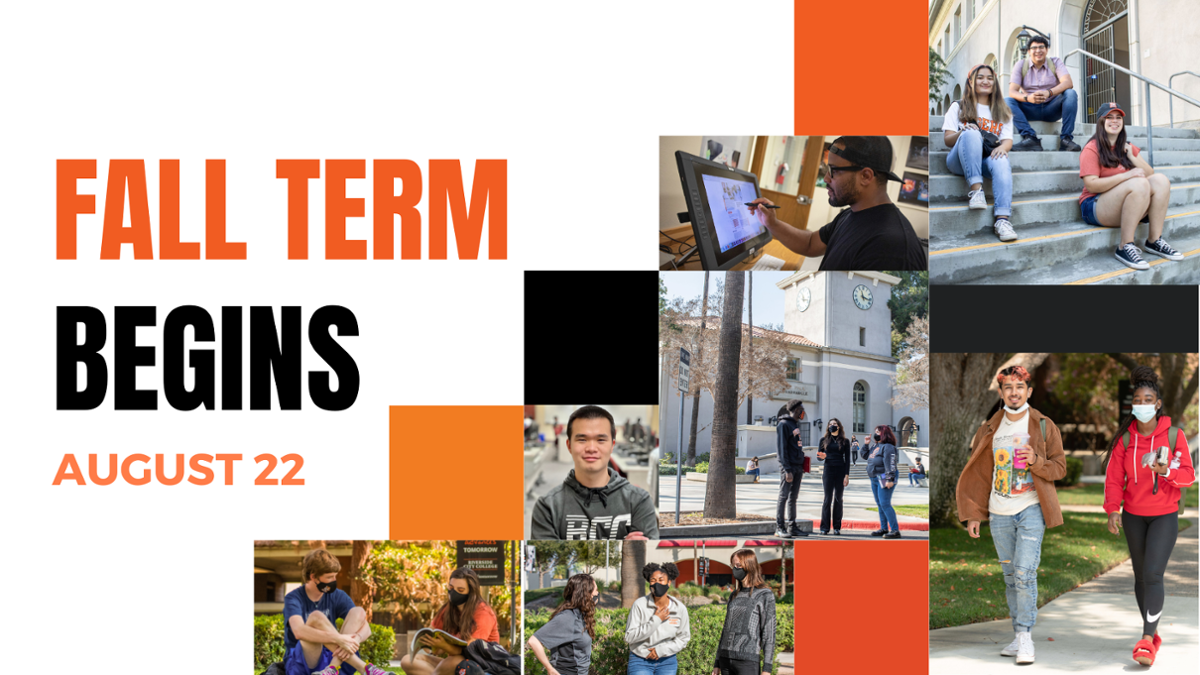 Masks are required indoors.
Keep everyone safe — wear your mask! When outdoors on campus, masks are recommended
Welcome Tigers! The Fall Semester begins August 22 and ends December 17. We're excited you are joining us this semester. Check out this page for helpful information, answers, links and resources. Have a question you don't see answered here? Contact The Welcome Center at (951) 222-8574 or email outreach@rcc.edu.
Dear Campus Community,
I am writing to you today to inform you that RCC will continue its indoor mask mandate for all campus facilities. To date, Covid-19 case rates are not declining sufficiently for this mandate to be lifted. We continue to monitor conditions carefully, and will consider relaxing the mandate as soon as data trends improve significantly.
In addition to our extremely high vaccination and booster rates among students and employees, and our continued regular testing of those campus community members who are not vaccinated, we requiring masks indoors will help us decrease the number of cases within our campus community.
In addition to masking indoors, we will continue to enforce the required daily symptom screener to obtain a pass to access campus facilities.
Thank you all for your understanding and continued vigilance as we respond to the ever-evolving circumstances of this pandemic.
Sincerely,
Gregory Anderson
RCC College President
June 9, 2022
Vaccination Requirement- Requirement lifted
RCCD Community,
At its August 2 Board meeting, the Riverside Community College District Board of Trustees passed an addendum to Resolution No. 02 - 21/22, rescinding the requirement of a COVID-19 vaccination for students, District personnel, and visitors to our campuses.
As of August 1, 79.5 percent of California residents have received at least one dose of a COVID-19 vaccination (or about 31.1 million individuals). And, 72 percent are fully vaccinated. For the age group of 18 to 49, 78 percent are fully vaccinated, and 10 percent are partially vaccinated. In Riverside County, 61.8 percent of residents are fully vaccinated. And, other than San Bernardino County (58.9 percent), the other counties touching Riverside County have vaccination rates of 72 percent or higher. Amongst all states, California ranks 16th as the most vaccinated state.
The District, however, will continue to message the positives of receiving COVID-19 vaccinations and boosters. Personal protection equipment will remain available on the campuses and at District facilities. Staff are encouraged to continue to follow CDC's guidelines — on and off site — in order to prevent the spread of germs with regular hand washing and covering your mouth and nose when sneezing or coughing.
The Board also directed District leadership to reinstate the policy of mandatory masking while indoors at District and college facilities. Additionally, outdoor masking requirements may apply if an outbreak should occur or if directed by the Center for Disease Control and Prevention, the California Division of Occupational Safety and Health, or the Riverside County Department of Public Health.
Finally, Cleared4 will be retired, but the required reporting of a positive COVID-19 result will continue through Risk Management for employees, and through their respective home college Health Services office for students. Reporting forms will be available on the Safe Return Webpage. Reporting of positive COVID-19 cases remains essential so that the county can continue tracking positive cases.
Each of the three colleges will offer courses in person, in a hybrid format and online this fall. I encourage faculty and the professional staff to continue to be champions of education, the most formidable tool for transformation. I wish everyone a safe and promising fall semester.
Sincerely,
Wolde-Ab Isaac, Ph.D.
Chancellor
COVID Updates
These are extraordinary times and we have learned that as the pandemic evolves and changes we must do the same. RCCD/RCC will remain vigilant in our efforts to stay informed of the most current local and federal guidelines, and everyone's patience and cooperation are appreciated. While these are our current plans, they could change in the future depending on the course of the pandemic. Visit RCCD Safe Return for more information.
Frequently Asked Questions
Are vaccinations required?

As of 8/2/2022 vaccinations are no longer required to enroll in courses.

Are masks required to be worn on campus?

Yes, currently masks are required inside all RCC buildings.
How do I change my classes?

Log into MyPortal and under Webadvisor, select registration. Changes in registration can be made through a system called EduNav.

What does it mean if I am waitlisted for a class?

If you are waitlisted for the class, you may become enrolled if enough people withdraw or drop the class.

You are not guaranteed a spot on the roster.

Contact the professor via email for more information.

What do I need to do to add a class after the start of the semester?

Once the class has started, if you would like to register for the class you will need to receive an add code from the professor.

You may register for the class if you are given an add code by the professor.

This is a four-digit number that is entered during the class registration process. Only professors can give out add codes.

Once you get an add code, go into your schedule and add the class using the code you were provided.

How do I know if my class is online or in-person?

Online classes show ONL on the class schedule. In-person classes have a building and room number as well as a time and date associated with them on your schedule.

What if I am locked out of MyPortal?

If you have already set up a recovery email, simply select "can't log into account" at the MyPortal log-in screen.

If you have not, please contact the Welcome Center at outreach@rcc.edu or 951-222-8574, staff can reset the password virtually.

How long do I have to change my classes?

Each class has its own deadlines to add or drop. Please check the class information available on Edunav.

How will dropping my classes affect me?

Dropping classes can affect students' standings academically as well as impact financial aid eligibility.

If you are unsure about dropping a class, contact the counseling department and/or the financial aid department.

Will students still be added into classes from the waitlist as soon as the drop process begins?

Students on a waitlist will be added as open spaces become available.


What if a student waits until after the administrative drop deadline to add a class?

Students are only able to add full-term classes after the start of the term using an add code, if given one by the professor.
Students are able to enroll in late start (8-week) classes through the normal online registration process.

When will I get my financial aid/disbursement?

Financial aid disbursement dates depend on when students complete their financial aid profile.

Go to the financial aid website for more information about disbursements.

Where do I go if I am having a problem with my financial aid?
Where do I go if I need tutoring?

RCC has a variety of tutoring services in-person and online. Cleared students can access tutoring services at the MLK building.

Online students have access to various remote tutoring support.

When is the Kane student services building open?
How do I get my ID card?

Students who have been cleared to be on campus can get their student ID in Admissions & Records in the Kane Student Services building.

Online students may request a student ID card that will be mailed to them.

What is my Canvas log in?

Canvas uses the single sign-on

Username: student email address

password: same as for MyPortal

What if my class is not showing up on my canvas?

Classes are not typically available on canvas until the first class meeting. If you have recently added the class, it can take up to 2 days for the class to appear on your account.

How do I use my textbook voucher? I never received my textbook voucher.

Students were sent emails by their programs with information about how to use the textbook vouchers. All questions about vouchers should be directed at your program.

Is the free bus pass still available to students?

Yes, all students enrolled in classes within the RCCD can ride RTA buses at no charge. Show your student ID or class schedule to board.

If I need a laptop how do request a loaner?
Do I have to pay for my Fall parking permit?

Fall semester virtual parking permits fees have been waived (no charge). Vehicle will still be required to register for a virtual parking permit. For more information, please visit Parking Services.