RCC Homecoming 2021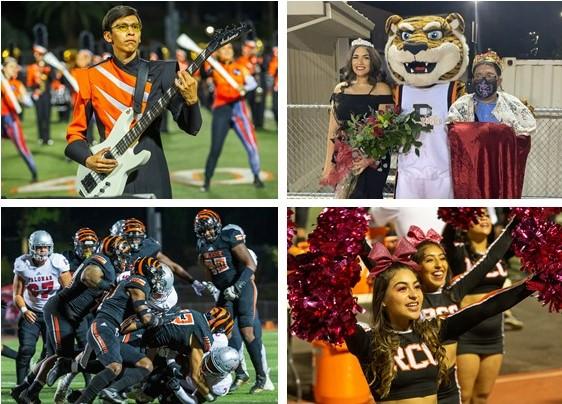 RCC celebrated Homecoming October 13-16 with festivities throughout the week that led to Saturday's football game.
The coronation ceremony was held during halftime. Associated Students of RCC selected Juan Lopez and Sydney DeCastro as Homecoming King and Queen 2021. Lopez, a graphic design major, is the ASRCC Inter Club Council Director who oversees club activities on campus. His hobbies are Pokémon and Anime. DeCastro is involved in Alpha Gamma Sigma State Honor Society and the Red Cross Club. She is exploring the opportunity of becoming a student leader.
Voting took place online, as the student body elected winners from a slate of candidates.
Following the coronation ceremony, the Marching Tigers, one of the top bands in the nation, delivered a powerful halftime performance.
Fans who came out for the homecoming football game were not disappointed. RCC opened conference play defeating the Palomar College Comets 47-21. The Tigers experienced their strongest offensive showing of the season with 588 total yards and four touchdowns. Visit RCC Athletics for a full recap of the game.