STOP Human Trafficking Now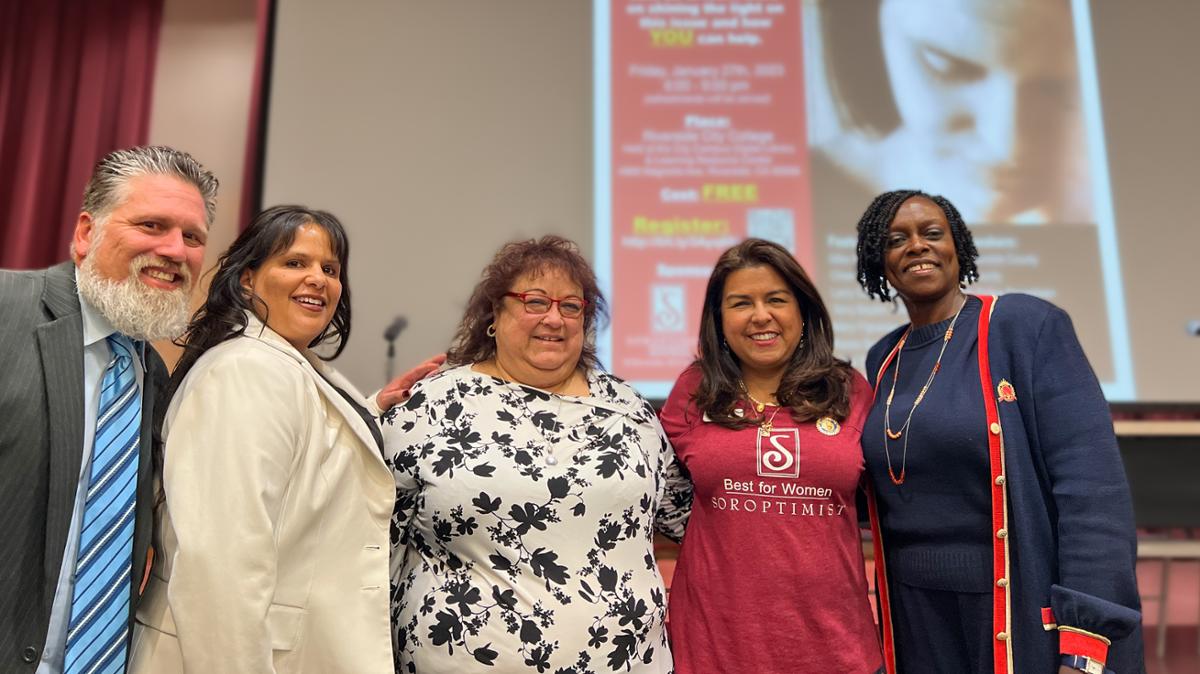 On Friday, January 27, Soroptimist International partnered with Riverside City College to host STOP Human Trafficking Now, an event to spread awareness on the issue of child human trafficking.
Human trafficking is one of the most prevalent crimes in the United States and California is one of four states in the United States for high-risk human trafficking. This event aimed to bring awareness to the issue.
Participants filled the Riverside City College Digital Library auditorium to hear from key community leaders like Riverside Chief of Police Larry Gonzalez, author and advocate Opal Singleton, District Attorney Mike Hestrin, and Terry Boykin of Pimp Proof, Daughter's Lives Matter, to name a few.
"The fact that we are all gathered here on a Friday night to accept information that may be disturbing is very important. Unless we know what our young people are facing, we can't help them," shared Trustee Mary Figueroa who was also a key sponsor of the event.
Gigi Mindreau-Banks, President of the Soroptimist International Corona shared,
"I recognize that trafficking of people is a heinous violation of fundamental human rights and must be strongly combatted. The consequences of human trafficking have a spill-over effect that touches every element of society."
Opal Singleton, advocate, and author of Seduced: The Grooming of America's Teenagers, shared,
"This isn't about kidnapping; it is about relationship. The internet has opened a window for teenagers to build distorted manipulated relationships."
Riverside Police Chief Larry Gonzalez shared,
"We are making a big push to push legislation that helps our girls."
He further noted that it was Soroptimist who helped law enforcement build cases. In 2010 Riverside County began a human trafficking task force with two people. In 2013 this expanded, and by 2020 the task force is in multiple cities within the county. Riverside County has a priority for crime against children.
Key takeaways included knowing the signs of a student or child who may be in danger, currently in a pimp-prostitute relationship, or inflicting self-harm. This included tattoo markings, changes in behavior, and physical appearance. The goal was to know the signs to protect our children from being a victim of human trafficking.
RCC is grateful for the knowledge shared at the Stop Human Trafficking Now event, and the many community leaders, residents, and K-12 teachers who came out to learn. Also, a special thanks to Northgate Markets who sponsored the event's food.
To learn more, check out the video Opal Singleton shared that is currently nominated for an award: Sextortion: The Hidden Pandemic: Sextortion: The Hidden Pandemic Trailer
About Soroptimist and STOPTracking
In 2007, the Soroptimist launched a major campaign— Soroptimists STOPTrafficking—to raise awareness about the devastating practice of sex trafficking. Now, every January since the campaign began, Soroptimist club members all over the world have been placing sex slavery awareness cards in highly visible locations including police stations, women's centers, hospitals, legal aid societies, and more. The program has evolved to include a multi-dimensional approach to end sex trafficking, including raising awareness, assisting victims, preventing sexual slavery, and advocating for better laws and enforcement. Tonight, was one of many advocacy events.
Photos of the event are available on the RCC Instagram.