Congressman Visits Riverside City College to See Impact of Basic Needs Resource Center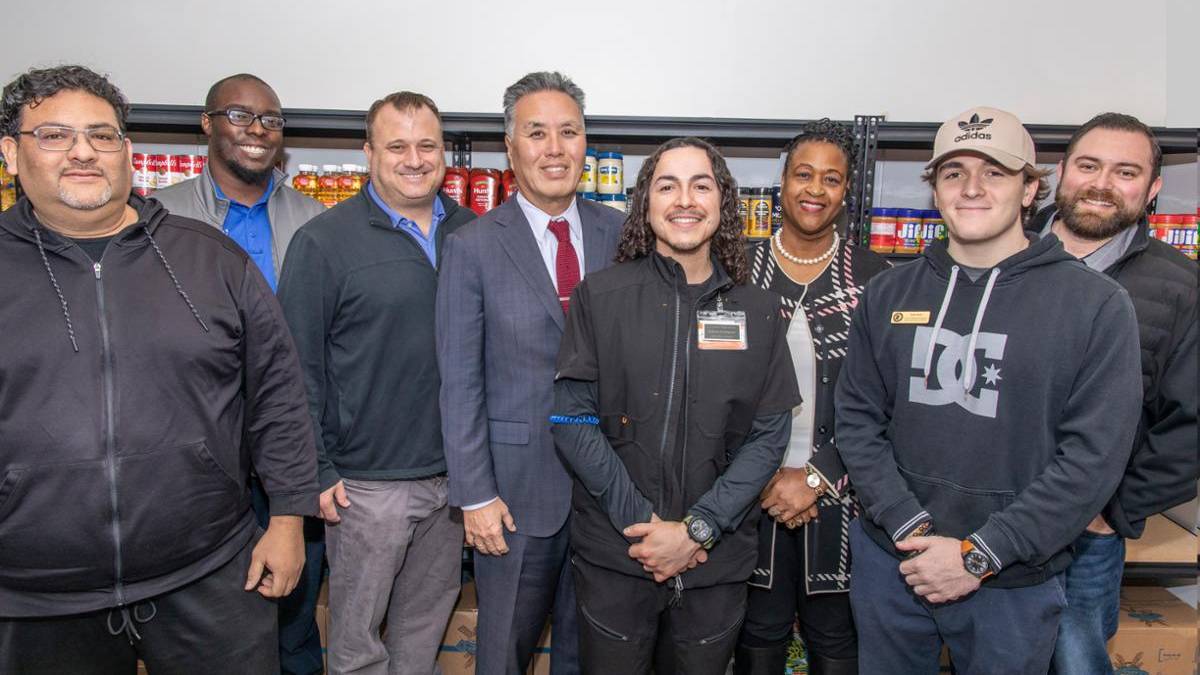 Wednesday, January 18, Congressman Mark Takano (D-CA) visited Riverside City College (RCC) to meet with basic needs advocates and RCC students to discuss food insecurity and his legislative efforts.
Based on the California Community Colleges #RealCollege survey, 50% of the surveyed students said they experienced food insecurity, and 41% said they skipped meals for financial reasons. RCC students were no exception noting similar food and housing insecurity obstacles. Dr. Martin-Thornton, Director of Student Health & Psychological Services, Benjamin Vargas, Supervisor, Basic Needs and Wellness, and their team work tirelessly to help reduce these barriers and address basic food, housing, and mental health needs for RCC students.
Interim President Dr. FeRita Carter attended the meeting and opened the discussion with, "One hungry student is one too many." She shared with the Congressman how the basic needs program (which began more than a decade ago) went from a small closet pantry to the Basic Needs Resource Center he stood in.
The center, which opened in the fall of 2022, has served over 700 unduplicated students, who use these services two to three times a semester, with over 1,600 sign-ins in the fall alone.
Gabe, Daniel, and Luke, student workers in the center who also use housing and food resources on campus, expressed gratitude for the center's services. RCC is one of fourteen community colleges participating in the Homeless and Housing Insecure Pilot Program (HHIP). It provides emergency shelter and housing units to students until they can become independent, as well as preventative care to help pay rent or receive down payment assistance. One student shared that the program (and its partnership with Path of Life Ministries) helped him secure a place to live and is helping him learn self-sufficiency.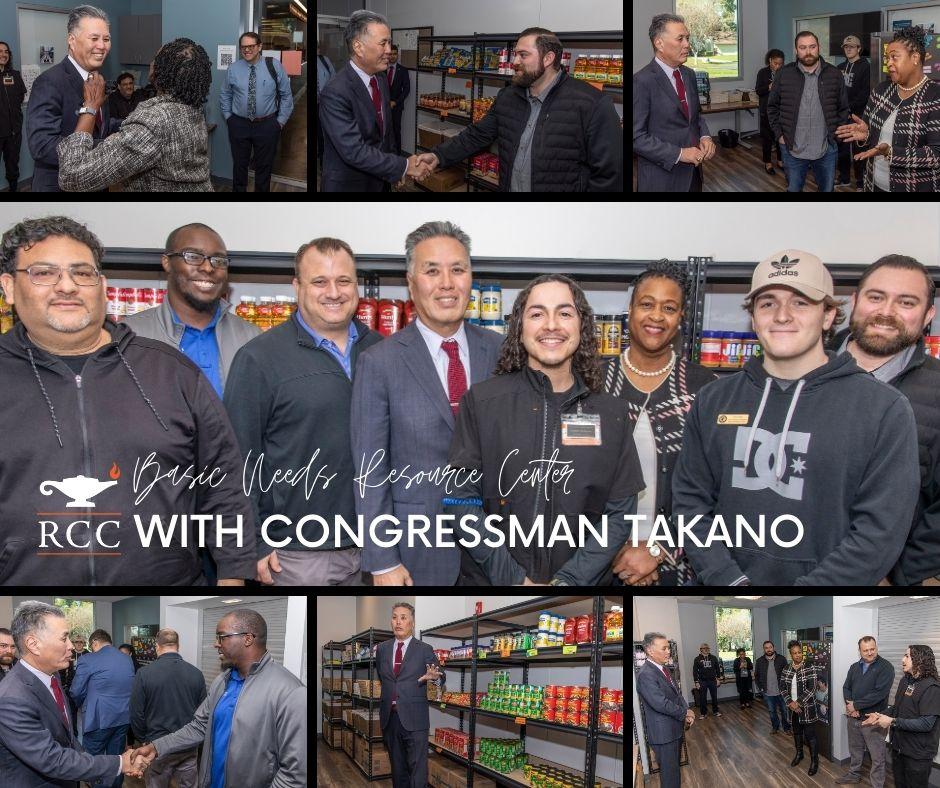 The RCC Basic Needs Resource Center is in Phase 1 of development: providing a bi-weekly bag of groceries to students in need, mental health services through a partnership with RUHS, and housing a handful of students through funding from the state. They hope to initiate phase two by the summer of 2023, where they will provide fresh produce through partnerships with local farmers' markets and food pantries, and expand housing to more students in need. Phase two will also include the hiring of a new specialist and expanded community work.
Takano was impressed by what all the staff and students shared and asked if RCC "notifies students of SNAP benefit eligibility." This is in line with legislative action he introduced with Suzanne Bonamici (D-OR) titled the Opportunity to Address College Hunger Act which helps college students fight food insecurity through notification of qualification for SNAP benefits upon college enrollment.
Currently, RCC is notifying eligible students connected to programs like EOPS and Guardian Scholars and breaking stigmas attached to various financial aid forms. They hope to expand knowledge of basic need resources and SNAP benefits to all students by participating in upcoming college-wide orientations. They also take on the caseworker role, helping students review SNAP applications, completing appeals when denied, and working directly with SNAP social workers.
Takano followed up by asking how many RCC students receive SNAP. This was an answer the team needed access to know. Takano and his team agreed to take on the task and get those numbers for RCC and MVC students.
RCC is grateful for Congressman Takano's visit and looks forward to a continued partnership to help reduce hunger and increase student success.
---
The RCC Basic Needs Resource Center realizes that many community college students face significant economic challenges affecting their learning ability. Benjamin Vargas shared, "Our college made a commitment to support basic needs, and that is what we are doing…We give students holistic support."
To receive more information on basic needs resources or become a partner with the center, visit: https://www.rcc.edu/student-support/relief-assistance.html
Basic Needs Resource Center
Location: CAK Room 104
Hours: Monday, Wednesday - Friday 8 am - 5 pm; Tuesday 8 am - 6 pm.
Phone: (951) 328-3777