Riverside City College Celebrates Successful Welcome Day 2023: Embracing New Students into the RCC Tiger Community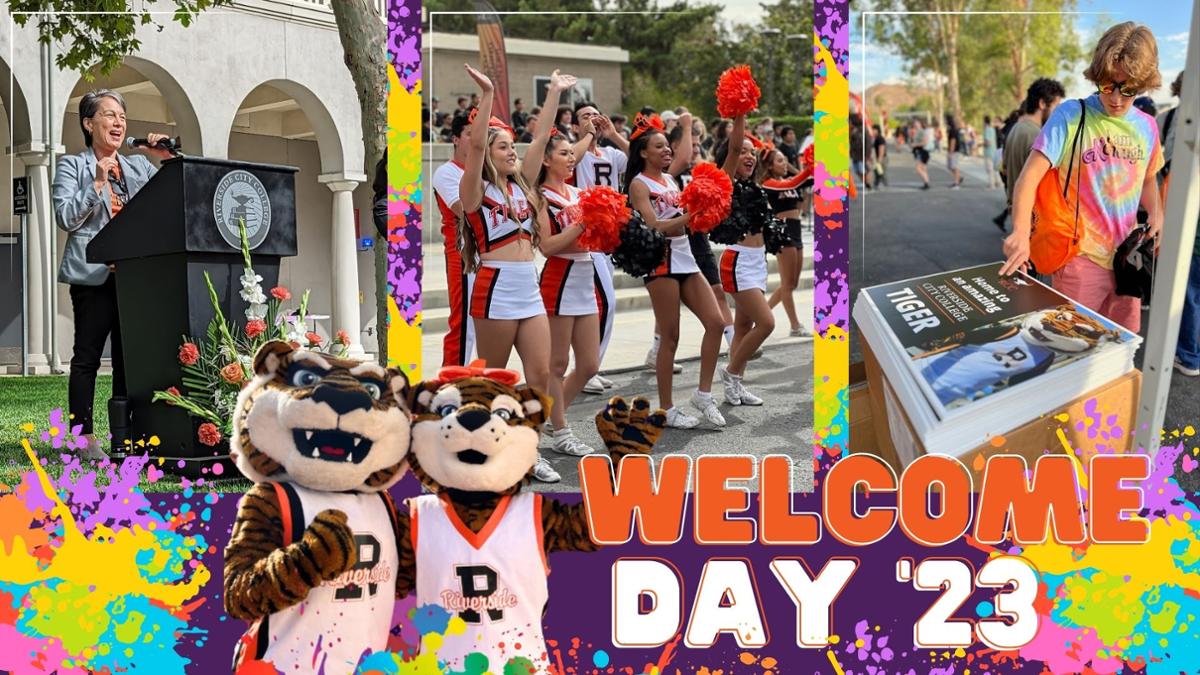 Riverside City College (RCC) kicked off the academic year with its highly anticipated Welcome Day event on Saturday, August 19th. Three thousand enthusiastic new students and their families (over four thousand attendees total) flooded the campus, marking a vibrant start to their educational journey at RCC. The event showcased the College's commitment to fostering a diverse, inclusive community that supports and empowers its students.
The various academic disciplines represented among incoming students were truly remarkable. From Health-Related Sciences to Visual Performing and Creative Arts, STEM (Science, Technology, Engineering, and Mathematics), Education, and Teacher Preparation, the event displayed the dynamic range of academic pathways offered at RCC.
The festivities commenced at 8 a.m. with a warm welcome on Terracina Drive, where check-in stations offered complimentary RCC shirts and swag bags for students and future mini-Tigers.
In alignment with RCC's commitment to accessibility, Spanish, Vietnamese, and Sign language interpreters were available.
The day was packed with engaging activities, including a live DJ, vendor booths, club introductions, engagement centers, and resource stations that ran until 2 p.m. Students had the opportunity to explore the campus through guided tours, connect with classmates, and learn about the vast array of extracurricular opportunities available. Over 553 students completed tours.
"The teamwork that went into planning Welcome Day was remarkable," emphasized FeRita Carter, Ph.D., Vice President of Student Services. "Seeing the outpouring of support from faculty, staff, and administrators was a testament to the unity of the RCC Family."
The event's highlight was the spirited performances by the RCC cheerleaders and band, which drew crowds and created an electrifying atmosphere. Speakers during the event included leaders such as Wolde-Ab Isaac, Ph.D., Chancellor of Riverside Community College District (RCCD); Claire Oliveros, Ph.D., President of RCC; and Clarissa Juarez Carraso, ASRCC President and RCCD Student Trustee.
In her opening remarks, Dr. Oliveros conveyed her belief in RCC's support for students:
"As you embark on your educational journey at RCC, you'll find yourself on a path that is not only filled with knowledge and growth but also with unwavering support."
Dr. Isaac's words resonated with the spirit of diversity and inclusion:
"RCC is more than just academics… We are a vibrant tapestry of cultures and identities woven together to create a harmonious and accepting community… I urge each and every one of you to be proud of your identity, your heritage, and, most importantly, yourself."
The event was the collaborative efforts of RCC's Student Services team led by Vice President FeRita Carter, Ph.D., Dean Thomas Cruz-Soto, Ed.D., classified professional Cathlene Castellanos, and more than 68 dedicated college employees from various departments. Courtney Carter, Assistant Professor of Counseling, was also instrumental in ensuring all five engagement centers were present and ready to assist.
Dr. Cruz-Soto shared his enthusiasm, stating,
"Welcome Day was our chance to engage with the students and let them know we are here to support them. It was a great day, and I cannot say enough about our classified professionals, faculty, deans, and administrators that made this event happen."
With a decade-long tradition of Welcome Day, RCC looks forward to nurturing and witnessing the growth and achievements of its students for years to come. The accomplishment of this event underscores RCC's dedication to promoting a dynamic and all-encompassing educational atmosphere.