Hands-On Impact: Students Demo the ZUND Swiss Cutting Table for Jan Steiner During Pop-up Visit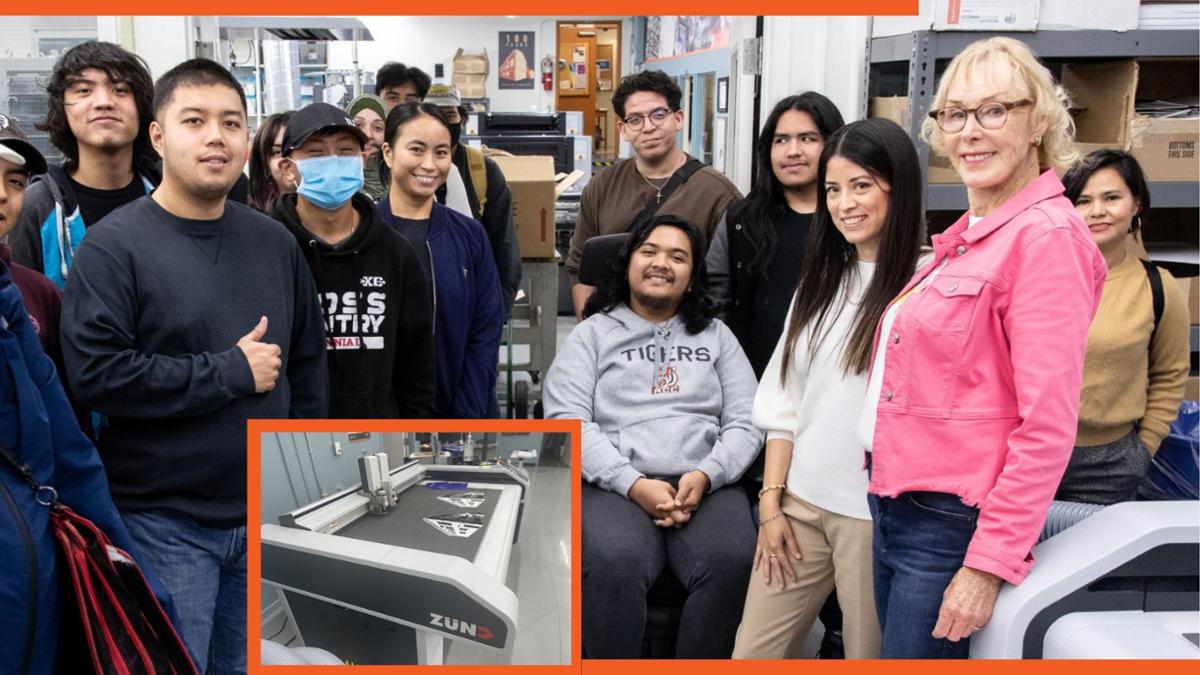 Riverside Community College (RCC) received an unexpected and generous surprise as Jan Steiner, a benefactor and champion of education, paid a visit to the college's print shop. On November 8, 2023, Ms. Steiner delighted the RCC community with her presence, taking the opportunity to explore the state-of-the-art Zund Swiss Cutting Systems S3 M-800 Digital Cutting Table.
This remarkable visit coincided with Ms. Steiner's continued support of RCC's educational initiatives, as she had previously donated funds towards the acquisition of this cutting-edge technology. The Zund cutting table, valued at over $100,000, is now an integral part of RCC's printing program, furthering the institution's commitment to providing students with the latest tools and skills for success in the ever-evolving world of print and packaging.
With this new capability, RCC can now offer a comprehensive curriculum that covers the entire production process, from graphic design to offset printing and packaging production. This upgrade not only enhances the educational experience of RCC's students but also reinforces the institution's ability to meet industry demands and produce job-ready graduates.
Moreover, this new technology is set to play a pivotal role in the development of RCC's Applied Digital Media and Printing Program. The college is actively working on a new Packaging Curriculum, which will leverage the capabilities of the Zund cutting table to provide students with in-depth knowledge and hands-on experience in packaging design, printing, and fabrication.
During the visit, Ms. Steiner joined Instructor Alda Escobar's Introduction class to witness the Zund cutting table in action. She was able to observe firsthand the significant impact her donation has had on RCC's students and their educational opportunities.
Speaking about the cutting table, Patrick Scullin, an enthusiastic advocate for RCC's programs, expressed his gratitude, saying,
"This cutting table is state of the art, and for the first time at RCC, students will be able to learn and practice the process of packaging design, printing, and fabrication. This is just another example of Ms. Steiner's generosity having an immediate impact on our students. This will give them marketable skills and experience."