Muse Magazine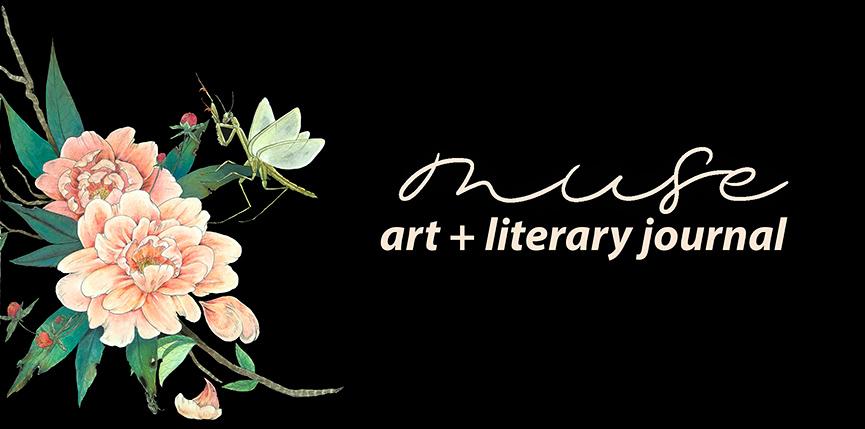 A Publication to Inspire: MUSE Literary Journal
Each spring students release a new edition of MUSE — a diverse collection of poetry, fiction, creative nonfiction/memoir, art and short interviews. First published in 1986, the journal welcomes contributions from new, emerging and established writers and artists from RCC, our region and around the world.
Contact Us
james.Ducat@rcc.edu
Be Part of What's On Our Pages
Our literary journal is a student-driven endeavor that celebrates the best work of the artistic community. Within the pages are notable writers and artists, some established and others just starting to make their mark. When possible, MUSE awards scholarships and honoraria* for exceptional performance. Since 2013, MUSE has awarded nearly $2000 in scholarships and honoraria to RCC student writers and artists.
Holden Vaughn Spangler Memorial Award for Poetry
MUSE Best in Show Art Award
MUSE Best in Show Poetry Award
MUSE Best in Show Fiction Award
*Scholarship awards and prizes designated annually are made possible by your generous donations to the MUSE Trust.
Submission Guidelines
RCC MUSE Literary Journal Spring 2022 edition
MUSE is based in the Inland Empire in California, a place of rich diversity and we are especially looking to publish work from underrepresented or misrepresented groups, such as people of color, disabled people, LGBTQ+, presently and formerly incarcerated people and others from a culturally and linguistically diverse background. We seek and welcome writers of all races, sexual orientations, gender identities/expressions, disability, religions, classes, veteran status and educational backgrounds.
Guidelines for all submissions
SUBMISSIONS DEADLINE EXTENDED TO JAN. 15, 2022!
All submissions must be typed
Include separate cover sheet with your name and all contact information — including email, phone number, address, and a short (approx. 75 word), third-person bio
We accept simultaneous submissions, let us know if the work is accepted elsewhere
Authors and artists receive one copy of the issue in which their work appears — contributors may also purchase additional copies
MUSE acquires First North American Serial Rights to the work you submit and non-exclusive reprint rights (for use in promotion, etc.)
Should the piece be published elsewhere in the future, we ask that you acknowledge MUSE as first place of publication
Do not send revisions unless our editors have requested them
We appreciate your patience; we try to respond to all submissions within six months.
Holden Vaughn Spangler Award Submissions
Submit up to 3 poems about a child or childhood
Winner receives $200 honorarium and publication in the Spring 2022 edition of RCC MUSE
$5 submission fee, payable to RCC MUSE by check or cash
No submission fee for RCC students with current id
See guidelines below

Mail or hand deliver to:
Holden Vaughn Spangler Memorial Award
RCC MUSE Literary Journal
James Ducat, Editorial Advisor - Quad 6
Riverside City College
4800 Magnolia Avenue, Riverside, CA 92506
COVID-19 Note:
Email submissions may also be sent to muse@rcc.edu
Please send as an email attachment in .doc, .pdf, with "Last Name – Genre – Title of Submission" in the subject line (e.g., Smith – Prose – "In Summer"). Please do not put submissions in the body of the email.
____ 
General submissions
Genres: 
Prose - submit one short story or creative nonfiction piece (up to 1500 words max)
Poetry - submit up to three poems

Mail or hand deliver to: 
RCC MUSE Literary Journal
James Ducat, Editorial Advisor - Quad 6
Riverside City College
4800 Magnolia Avenue, Riverside, CA 92506
Helping Make Our Journal A Reality
Donors/Patrons/Sponsors
DELPHIC ORACLE
Anonymous
EPIC BARD
Anonymous
PATRON
Gillian S. Friedman, MD
Margaret Tjandra
MENTOR
Jan Andres
Kelly Douglass
Lani Kreitner
Carolyn Rosales
GUILD MEMBER
Yemil Aponte
Thatcher and Ross Carter
Kim Green
Alba Reyes
Kathleen Sell
Star Taylor
Short interview and sample of Nick Smith Williams's art, including a view of the color original of his painting, "Baby Boy," published in MUSE Spring 2014
Notable Past Contributors
Born in Riverside, California, Nick Smith Williams began drawing at a young age. He found his way to comics from a good friend that introduced him to his first Black Panther book. From then on, Nick has decided to use comics as a medium to express what life teaches and shows in the form of sequential storytelling. His work can be found on Instagram @nicksmithwilliamsart
2018 Pen Prison Poetry Contest winner
Poem Excerpt from MUSE 2019
"Tonight the Glimmer of the Moon on the Razor Wire
Reminds Me of You,"
Today, if you see a child skip
like a cup on the wind,
…
let that be my gift to you.
Book coming out from curiouspublishing.org in late 2020.
Artist statement: "My work expresses the state of the deferred African American dreams. My identity and my art fight against the state of being deferred at every turn in the Eurocentric dominated art world."
Author of Darling: A Spiritual Autobiography, Brown, Days of Obligation, and Hunger of Memory. His writing has appeared in The Los Angeles Times, Harper's, Mother Jones and Time. For many years, he was a contributor to The News Hour with Jim Lehr.
The author of eight books and chapbooks, including The Body at a Loss (CavanKerry Press, 2019). Her work has appeared in Verse Daily, Contrary, So to Speak, Crab Creek Review, Hartskill Review, MockingHeart Review, and others. Occasionally she writes essays and has work in Lady/Liberty/Lit, salon.com and The Manifest-Station. She is also founder and editor of the online literary journals Poemeleon: A Journal of Poetry <<link to www.poemeleon.org>> and Inlandia: A Literary Journey <<link to www.inlandiajournal.org >>. She holds an MFA from Antioch University, Los Angeles and is the Executive Director of the Inlandia Institute, a regionally-focused literary nonprofit.

From the poem "Patient Survey," in The Body at a Loss:

What is it that plucks us from the rush
Deposits us this side or that side; what care[Text Wrapping Break]Have they taken to avoid us smashing into the dust?
Literary Guests — Live MUSE Reading Series
We raise funds to bring literary guests to RCC for live events each fall and Spring at no cost to students and community. Since 2013 alone, MUSE has brought nearly 50 writers to campus, including California Poet Laureate Juan Felippe Herrera, Richard Rodriguez, Kenji Liu, Isabel Quintero, Gayle Brandeis, Tom Zoellner, Vickie Vertiz, James Brown and Nikia Chaney. Please support us by donating to MUSE.
Celebrating our Community
Poets & Writers
NewPages.com
Association of Writers and Writing Programs
Inlandia Institute
Stay Up to Date: MUSE on Social Media
The conversation is always moving forward — friend and follow us on Instagram and Facebook to hear about events, get access to interviews and sneak peaks at the best of what is yet to come.