Child Development Center Earns NAEYC Accreditation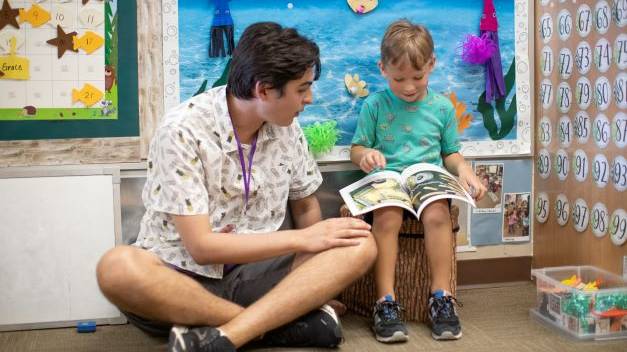 Riverside City College's Child Development Center earned reaccreditation from the National Association for the Education of Young Children (NAEYC), the world's largest organization working on behalf of young children.
NAEYC Accreditation is a rigorous and transformative system that uses 10 research-based standards to collaborate with early education programs to recognize and drive improvement in high-quality early learning environments. Nationally, less than 200 higher educational institutions are NAEYC accredited.
The Early Childhood Education program serves students and families in the community and has been NAEYC accredited since 2016.
"Communities are in desperate need of high-quality early childhood programs, and we are fortunate that RCC can offer this program not only to the families in our community but as a teacher-training center to augment our local ECE workforce," Shari Yates, Ed.D., dean of instruction Career and Technical Education, said.
"As a parent, the accreditation feat grew my confidence that my child was in a great place that had the most up-to-date requirements and quality of care that I think every child deserves," Kayla Henry, student parent, said.
The RCC Child Development Center opened in 1976 and today cares for more than 100 children from infant to six years of age. It also serves as a learning laboratory for the Early Childhood Education (ECE) program. Students are engaged as interns and student workers, providing themselves with an innovative approach to best practices in the fields of psychology, sociology, nursing, dental, and early childhood education.
To earn NAEYC accreditation, the Center pursued an extensive self-study and quality-improvement process, followed by a site visit by NAEYC assessors to ensure the program met each of the 10 program standards and hundreds of individual criteria. NAEYC-accredited programs also must be prepared for unannounced quality-assurance visits during the accreditation term, which is five years.
Being NAEYC accredited means that the program is keeping child-to-teacher ratios low, providing inclusive and research-based curriculum, strategic teacher-child interactions, and intentional teaching.
"The most important benefit to being accredited is that we are providing the highest quality care and education to the children and families in our program," Emily Phillipson, assistant professor of Education & Teacher Preparation, said. "Early childhood education works with the most vulnerable population of children. The first five years of life are critical for lifespan so having highly qualified teachers is crucial."
For more information about NAEYC Accreditation, visit NAEYC