Belizean Adventure: RCC Students Explore Ecology in the Rainforest and Barrier Reef During Summer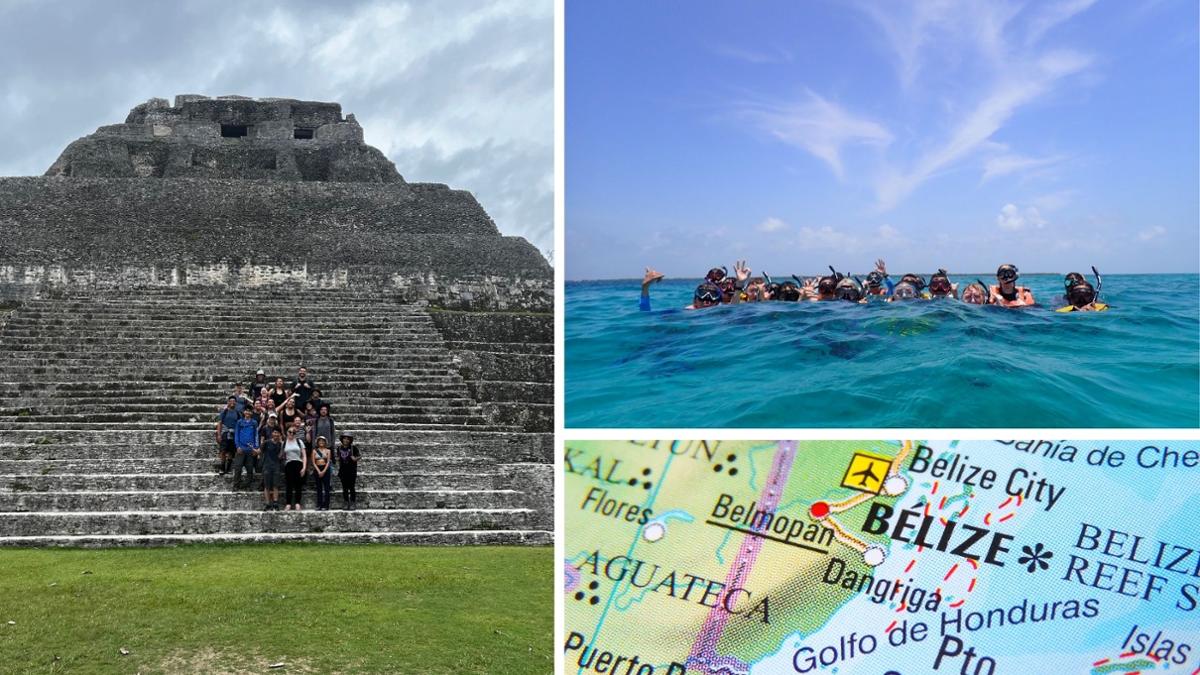 In the scorching summer of 2023, 16 students embarked on an extraordinary journey to Belize under the guidance of Dr. Tonya Huff and Dr. Christi Scott. The deliberate absence of technology set this adventure apart from the typical study abroad experience, creating an environment where students could immerse themselves in hands-on field research and cultural exploration.
Before setting foot in Belize, the students underwent thorough preparation, equipping them with essential knowledge in introductory biology, ecology, travel etiquette, and Belizean culture. They even got a head start on field research by conducting water quality sampling and tidepool diversity surveys.
Once in Belize, the students delved into the heart of the rainforest at Toucan Ridge Ecology and Education Society (TREES). There, they imbibed ethnobotanical wisdom from local Belizeans, engaged in macroinvertebrate studies to assess stream water quality, tracked white-lipped mud turtles using radio telemetry, collected data for a long-term bat survey project, embarked on guided hikes to observe the region's rich biodiversity, and visited the Belize Zoo—a haven for native animals in need.
Adding an academic edge to their adventure, the students designed, executed and presented independent research projects spanning various topics, including reptile behavior, fungus diversity, and termite nest building.
The students explored the marine realm by spending time on Tobacco Caye, partnering with a local marine research station. There, they honed their snorkeling skills in the world's second-largest barrier reef, participated in the CoralWatch citizen science project to evaluate reef health, dissected invasive lionfish, conducted comparative studies of animal diversity in mangrove, seagrass, and coral reef ecosystems, and ventured into the depths during a night snorkel to observe nocturnal marine predators like octopuses and eels. They also delved into the issue of plastic pollution in the ocean and actively participated in reef and beach cleanup.
Cultural immersion was an integral part of the experience. The students engaged with a native Mayan family, gaining insights into traditional chocolate-making techniques and the symbiotic relationship between the Mayan culture and the forest. They witnessed a lively Garifuna drum celebration, relished traditional Garifuna cuisine, and even tried their hand at drumming. The excursion to Xunantunich, an ancient Mayan archaeological site, provided a deep dive into ancient Mayan civilizations and culture. At the same time, a Kriol drum ceremony added an eclectic note to their cultural exploration.
Remarkably, before this journey, only three out of the 16 students had any experience with field research. However, as the trip unfolded, all students acquired valuable skills in research design and implementation, field survey techniques, and sharp observation.
For most students, this course marked their inaugural international travel experience. The results spoke for themselves as every student enthusiastically completed all activities, research requirements, and presentations with a 100% success rate.
As a testament to the impact of this unique adventure, six of the course participants have already transferred to universities where they've chosen to pursue fields related to field biology, ecology, or sustainability. By the trip's conclusion, most students had developed a newfound or deepened interest in field biology or related disciplines, shaping their academic and career aspirations.