Winter and Spring 2022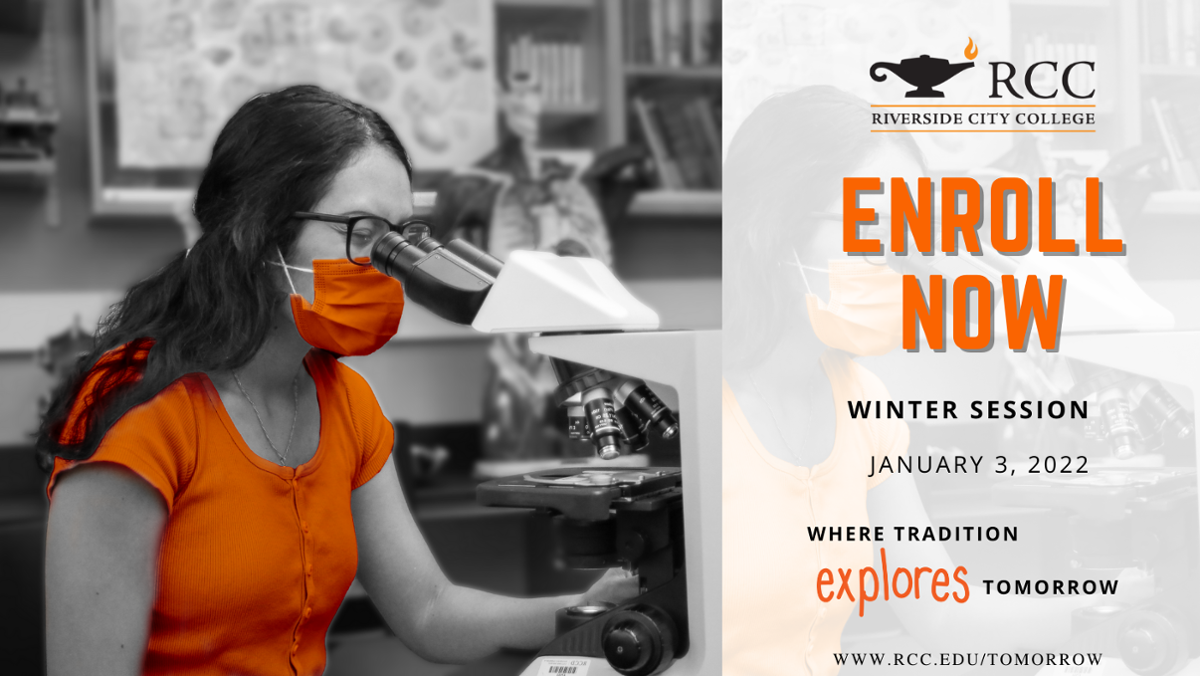 Masks are required indoors.
keep everyone safe — wear your mask! When outdoors on campus, masks are recommended
Open registration for the 2022 Winter Term starts on Monday, November 8. The winter schedule of classes is now available. In order to register for face-to-face or hybrid classes, students must upload evidence of their first dose of the COVID-19 vaccination in Cleared4. A chart showing important dates and deadlines for the winter term is available on the Safe Return Page of the RCCD website.
Vaccination Requirement
If you want to take classes on campus and in hybrid mode, you will need to have at least your first COVID vaccination before you register for your winter term classes.
The only exception to this requirement is for students who apply for and receive a medical vaccine accomodation. Online classes are available to everyone, vaccinated or not vaccinated, but my recommendation is that anyone who is eligible be vaccinated ASAP so that we can achieve community immunity and get past this awful pandemic.
Cleared4 Reporting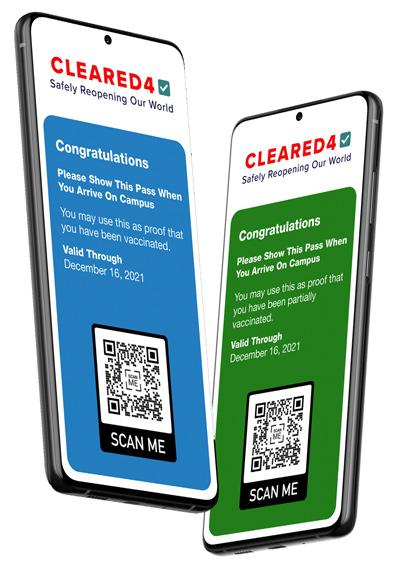 All students are encouraged to report their COVID vaccination status on the Cleared4 System using the private link sent to each student's email address. We will keep your personal information confidential. If you haven't registered on the Cleared4 System yet, please do so now. Our objective is to keep our campuses safe, and our students, faculty and staff healthy. Your help and cooperation are greatly appreciated.
Help with Cleared4
If you need additional help, please visit rccd.edu/Cleared4, or email to cleared4@rccd.edu, or call the hotline (951) 222-8017
UNVACCINATED STUDENTS
For students who are not vaccinated are able to enroll in online classes and engage in virtual academic and student support services and opportunities. Online resources are available for students who need them.
If you need help planning your schedule, please check the Drop In Counseling appointment times by pathway. You can also visit the Virtual Engagement Centers and meet with an educational advisor. For counseling questions email counseling-riverside@rcc.edu or call (951) 222-8440.
Student Medical Academic Adjustment Request
For students who are seeking an accommodation for a medical exemption to the COVID-19 vaccination requirement, please complete the Student Medical Academic Adjustment Request for COVID-19 Vaccine Exemption Form.
Please note, the medical documentation must include a diagnosis, a link between the diagnosis and the medical exemption to the COVID-19 vaccination requirement; it must be on letterhead and signed by the medical provider.
In addition, please know this process is for students seeking enrollment in classes for which there are no online course alternatives.
FREE COVID TESTING
Partially vaccinated students must be tested weekly. Testing on campus will be held at the following time and location:
Wednedsays 7:30 - 11:30 am in the Nursing Building Room 156

Note: Testing will not be available December 22- January 10. Please make arrangements to be tested at an offsite location and upload your results to Cleared4.
These are extraordinary times and we have learned that as the pandemic evolves and changes we must do the same. RCCD/RCC will remain vigilant in our efforts to stay informed of the most current local and federal guidelines, and everyone's patience and cooperation are appreciated. While these are our current plans, they could change in the future depending on the course of the pandemic. Visit RCCD Safe Return for more information.
Messages from RCC
Frequently Asked Questions
Are masks required to be worn on campus?

FACE COVERINGS ARE REQUIRED INDOORS.
All students and employees must wear a face covering inside District facilities.
The only exceptions to this rule are when you have an approved exemption, or you are alone in a room with the door closed, when eating, or when wearing a face covering creates a hazard during instructional activities.
It is recommended that you wear a mask outside as well.

Where or who do we send questions about Cleared4?

Questions regarding Cleared4 can be emailed to: cleared4@rccd.edu
Cleared4 Hotline: 951-222-8017

How do I get an exemption?


Unvaccinated students will only be able to access online student support services and enroll in online distance education courses.
Unvaccinated students and will not be able to enroll in face-to-face instruction.

I didn't receive a link to CLEARED4, how do I provide proof of vaccination?

Personnel at most booths can look up students by their Student ID and send students a text message with their unique Cleared4 link.
Students can also send an email to cleared4@rccd.edu
Provide vaccination information either by uploading your vaccination card, or visiting the California Department of Public Health website for a QR code.
Students can receive a QR code verifying vaccinations through the California Department of Public Health by visiting the Digital COVID-19 Vaccine Record website Digital COVID-19 Vaccine Record (ca.gov). The response time is almost instantaneous. Students can then take a screen shot of the results and upload it into their Cleared4 account.
An administrative review team will check your status.
If your status is approved you will receive confirmation with a green or blue pass.

What happens if I don't show proof of vaccination? Will I be dropped from my classes?




Students who do no provide proof of full vaccination will be dropped from any face-to-face or hybrid classes in which they were enrolled and will not be permitted to participate in face-to-face services on the college.

Will I receive a refund if I get administratively dropped from my classes?

Fees associated with the administratively dropped courses will be refunded to students.

Have additional online courses been added?

Yes, all divisions are offering more online classes and the deans are assessing needs every day and adding classes where possible.

If I have only had gotten my first dose of the vaccine, can I take classes on campus?

Yes, students who are partially vaccinated are eligible to take in-person classes. However, they must show proof of a negative COVID test weekly until two weeks after their final dose of the vaccine.

What exactly is required? The original COVID-19 or all future vaccines or boosters?

Pfizer, Moderna, Johnson & Johnson and boosters as they become available.

If I'm not vaccinated, do I need to change my classes or will the college change my schedule?

Yes, students are encouraged to modify your schedule as soon as possible.
If you are not vaccinated, you will need to drop face-to-face classes and register for online classes.
If you did not provide information by the deadline you will be dropped from any face-to-face or hybrid class your are enrolled in.
If they do not provide information by the deadline they will be dropped from any face-to-face or hybrid class they were enrolled in.
Unvaccinated students are only able to take online classes and receive support virtually.

How and when will I know that my schedule was changed?

Check your schedule regularly.
Only you can make changes to your classes.
If you do not provide your vaccination status by the deadline you will be administratively dropped from face-to-face or hybrid classes you are enrolled.

Where do I go if I need help with my schedule?
Where will I need to show my blue or green pass?

Everyone will assist with confirming student Cleared4 passes

In the classroom, faculty will rely upon class rosters and passes.

In Bradshaw, Library, MLK, and Kane, personnel will check passes.

In other campus locations (offices, computer labs, engagement centers, etc) classified professionals, managers, and faculty will check passes.

What happens at the check-in station?

Everyone who needs support should be directed to the Campus Access & Information station located outside the Kane building (open 7:30am - 7:30pm).

Do students and staff need to visit a check-in station every day?

No, only students who are having an issue with Cleared4 or have a teal colored pass must report to a check-in station.

How long will I have to show my blue or green pass?

Staff and Faculty will be checking student passes at building and classroom entrenes daily.

If I'm not vaccinated, can I check out books from the library or use the computer lab?

Students who do not provide proof of vaccination will not be permitted to participate in face-to-face services on the college.
For those who are not cleared to be on campus, eligible books can be checked out online and sent by mail.

If I need a laptop because I need to take online classes how do request a loaner?
Can I get tested or receive the vaccination on-campus?

Students who have received the first vaccination, must have the first PCR COVID negative test at an off-campus site.
Once students receive the Green pass, they will be allowed to utilize the on-campus testing and vaccination services.
How do I change my classes?

Log into MyPortal and under Webadvisor, select registration. Changes in registration can be made through a system called EduNav.

What does it mean if I am waitlisted for a class?

If you are waitlisted for the class, you may become enrolled if enough people withdraw or drop the class.

You are not guaranteed a spot on the roster.

Contact the professor via email for more information.

What do I need to do to add a class after the start of the semester?

Once the class has started, if you would like to register for the class you will need to receive an add code from the professor.

You may register for the class if you are given an add code by the professor.

This is a four-digit number that is entered during the class registration process. Only professors can give out add codes.

Once you get an add code, go into your schedule and add the class using the code you were provided.

How do I know if my class is online or in-person?

Online classes show ONL on the class schedule. In-person classes have a building and room number as well as a time and date associated with them on your schedule.

What if I am locked out of MyPortal?

If you have already set up a recovery email, simply select "can't log into account" at the MyPortal log-in screen.

If you have not, please contact the Welcome Center at outreach@rcc.edu or 951-222-8574, staff can reset the password virtually.

How long do I have to change my classes?

Each class has its own deadlines to add or drop. Please check the class information available on Edunav.

How will dropping my classes affect me?

Dropping classes can affect students' standings academically as well as impact financial aid eligibility.

If you are unsure about dropping a class, contact the counseling department and/or the financial aid department.

Will students still be added into classes from the waitlist as soon as the drop process begins?

Students on a waitlist will be added as open spaces become available.


What if a student waits until after the administrative drop deadline to add a class?

Students are only able to add full-term classes after the start of the term using an add code, if given one by the professor.
Students are able to enroll in late start (8-week) classes through the normal online registration process.

When will I get my financial aid/disbursement?

Financial aid disbursement dates depend on when students complete their financial aid profile.

Go to the financial aid website for more information about disbursements.

Where do I go if I am having a problem with my financial aid?
Where do I go if I need tutoring?

RCC has a variety of tutoring services in-person and online. Cleared students can access tutoring services at the MLK building.

Online students have access to various remote tutoring support.

When is the Kane student services building open?
How do I get my ID card?

Students who have been cleared to be on campus can get their student ID in Admissions & Records in the Kane Student Services building.

Online students may request a student ID card that will be mailed to them.

What is my Canvas log in?

Canvas uses the single sign-on

Username: student email address

password: same as for MyPortal

What if my class is not showing up on my canvas?

Classes are not typically available on canvas until the first class meeting. If you have recently added the class, it can take up to 2 days for the class to appear on your account.

I am enrolled in online classes and am not vaccinated If I'm not able to be on campus how do I purchase textbooks?

The bookstore is offering FREE shipping to all students. Place your textbook order online and have them shipped to your home.

How do I use my textbook voucher? I never received my textbook voucher.

Students were sent emails by their programs with information about how to use the textbook vouchers. All questions about vouchers should be directed at your program.

Do I have to pay for parking if I have face-to-face classes on campus?

No, parking is free for the Fall 2021 semester. You will need to order one through

WebAdvisor

(located inside of MyPortal) and must display it starting Sept. 6.

Is the free bus pass still available to students?

Yes, all students enrolled in classes within the RCCD can ride RTA buses at no charge. Show your student ID or class schedule to board.