Johanna Vargas Receives 61st Assembly District Women of Distinction Award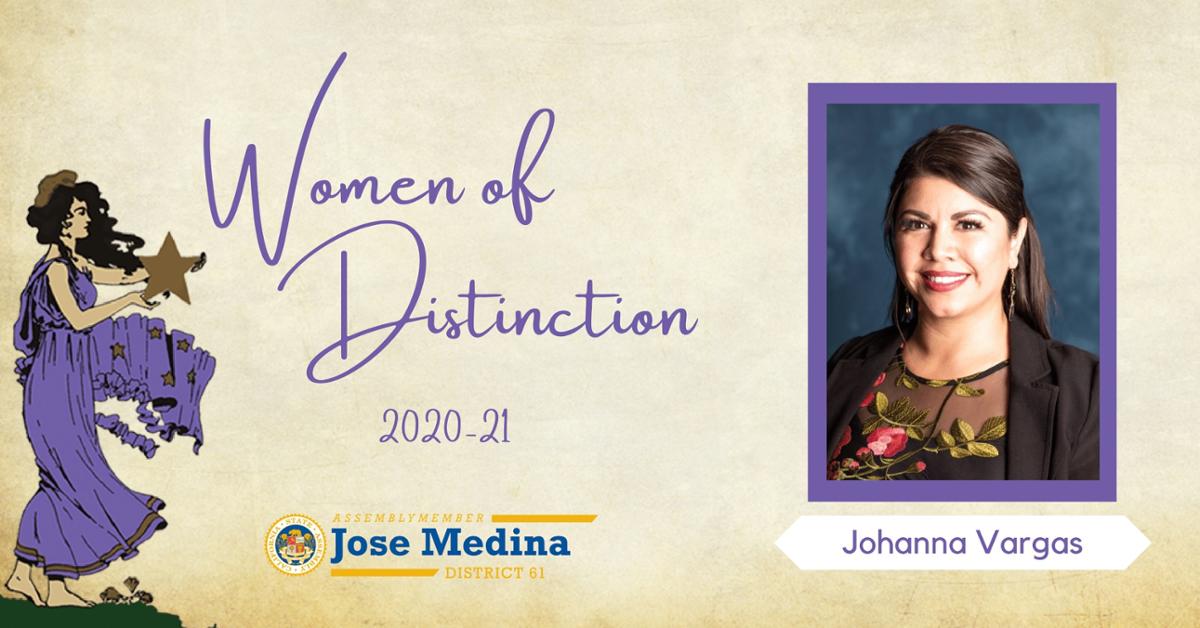 Assemblymember José Medina (D-Riverside) honored and highlighted the achievements of 13 local women with the 2020-21 61st Assembly District Women of Distinction award in a virtual ceremony on March 19th. Hosted during Women's History Month, Johanna Vargas, RCC's Veterans Resource Center specialist received the prestigious award. Also honored was Robin Steinback, Ph.D., president of Moreno Valley College.
Vargas' service extends into the community serving as a board member and education chair for the Moreno Valley Hispanic Chamber of Commerce and director of community outreach for Riverside County's Salute to Veterans Parade and Expo.
Vargas also donates her time connecting with and reaching out to Veterans and their dependents at the March Air Reserve Base Veterans Village, Mercy House, and Camp Anza providing information about Veteran education and resources.
"On this day, I am humbled to recognize influential women from the 61st Assembly District, who serve as examples and role models to young people in our community," Assemblymember Medina stated in the event program. "They have demonstrated what is possible through their passion and dedication. During this unique event, recognition is given to women who have been pioneers in their respective careers, paving the way forward for future generations of empowered and strong individuals who hope to make a difference in their community. These women of distinction have exhibited an unwavering spirit of commitment to society and displayed a devotion to empower women of all ages."