Veterans Day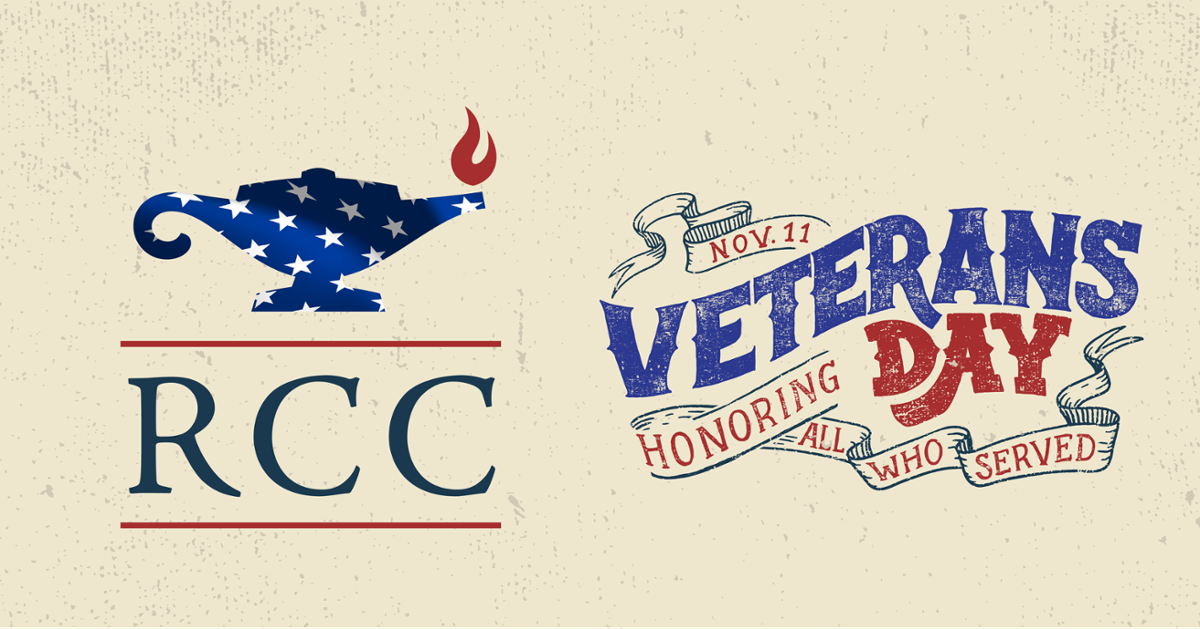 Dear RCCD friends and colleagues,
We have this opportunity each year to celebrate the service of our U.S. Military Veterans. We consider it a special honor and privilege to salute the men and women in this District who have served as the defenders of this country and protectors of American liberty. On Veteran's Day, Friday, November 11th, the college campuses are closed.
We understand that liberty is not free. For generations, men and women across this great country have served to preserve individual freedoms and advance our national security. There aren't many places in the world where men and women will volunteer to learn and train and take up arms to defend such a diverse land and people while asking for little in return. Their selfless acts of service deserve the highest levels of respect and gratitude we can offer.
The Riverside Community College District seeks to honor Veterans by providing excellent educational opportunities. We strive to give them the support they and their families need to earn certificates and degrees, graduate from college, and find rewarding careers. We understand that the transition from military to civilian life can be difficult, and our college Veterans Resource Centers provide a welcoming community and comprehensive services designed to ease the transition and help our Veterans achieve the success they so richly deserve.
Last year, we served over 9,500 Veterans. And, with a 71.7 percent success rate, our Veteran students have become one of the most successful cohorts at our colleges. Riverside City College and Norco College each made a substantial investment in new facilities for their respective Veterans centers.
Please join me in saying thank to our Veteran students, classified professionals, faculty, administrators, and community members for their service, sacrifice, and for making the RCCD institutions of higher education richer by their presence and contributions. I hope that we can reciprocate in some way, and that the imprint of the RCCD colleges will be a permanent source of inspiration to them in all of their future endeavors.
With Gratitude,
Wolde-Ab Isaac, Ph.D.
Chancellor, RCCD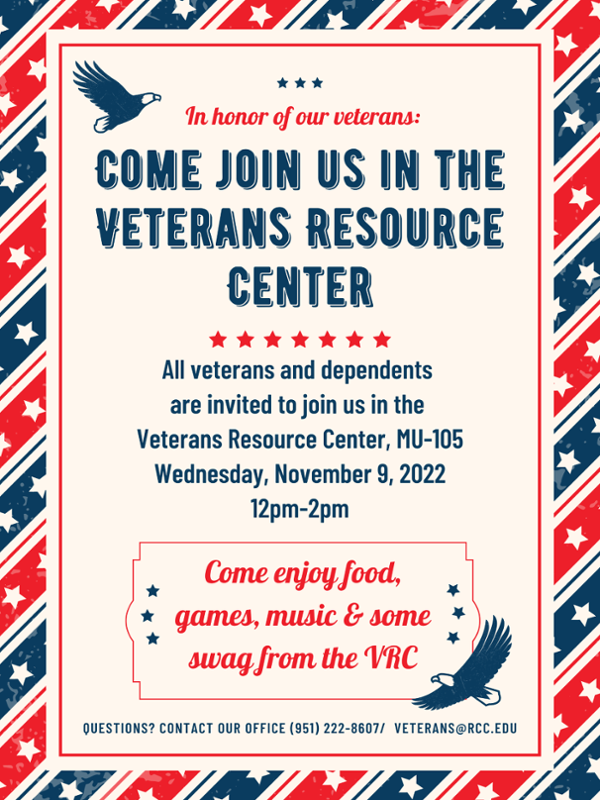 Wednesday, November 9
Noon - 2 pm
Music 105
All veterans and dependents are invited to join us in the Veterans Resource Center, MU-105 Wednesday, November 9, 2022 from Noon - 2 pm. Come enjoy food, games, music & some swag from the VRC!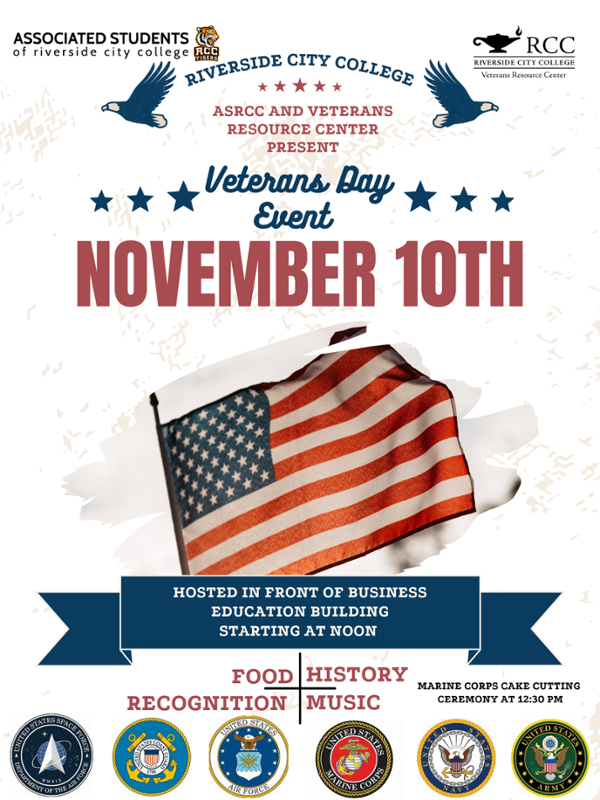 Thursday, November 10
Noon - 2 pm
Business Education Promenade
In honor of Veterans Day, the Associated Students of Riverside City College and the RCC Veterans Resource Center will be hosting an event. Join us for a day of recognition, history, music, and food. To honor the students, faculty, classified professionals, and administrators who have served, posters will highlight their time and accomplishments while in the service. In celebration of the Marine Corps' 247th birthday on November 10, we will also be hosting a cake-cutting ceremony at 12:30 pm.

You served our country and we honor your place on our campus — our Veterans center and programs are designed to support and guide you to success. Veterans are eligible for four years of priority registration, this is to be used within fifteen years of your discharged date from active duty.
About the Tiger Doodle Artist
The Veterans Day Tiger Doodle was created by RCCD Graphic Artist Kris Loverso.