Culinary Arts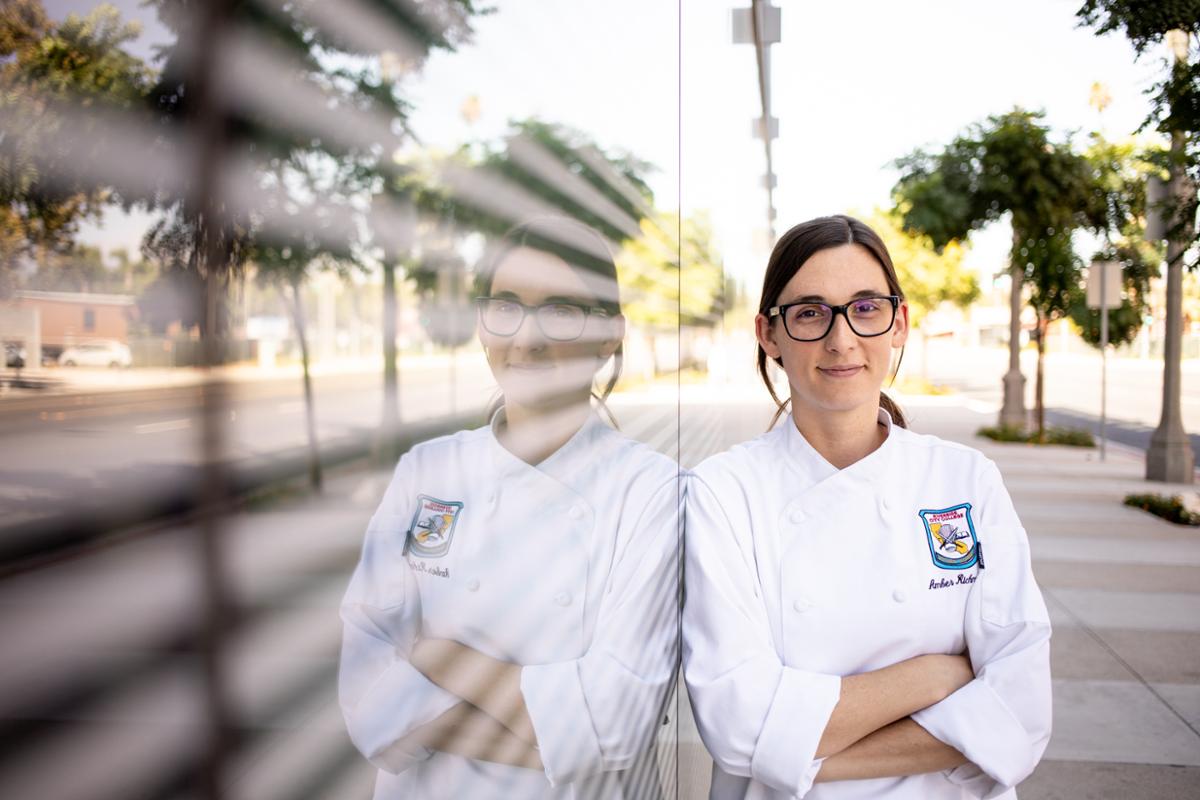 Culinary Arts
Culinary Arts
Learn professional chef and hospitality services for restaurants and other commercial food establishments. The Culinary Arts curriculum is designed to give you a professional and practical experience and background with a hands-on approach in the daily operation in a professional kitchen and full-service restaurant. Learn classical skills and knowledge needed to work in volume feeding establishments and experience all phases (front and back of the house) of a restaurant operation through rotation of assignments.
Baking and Pastry
Learn basic to advanced concepts and techniques of baking. Students will gain working knowledge of major methods such as creaming, foaming, meringues, custards, pies, tarts, cookies, brownies, bread baking process, muffins, quick breads, sugar work, showpieces, special occasion cakes, fillings, icings, mousses, glazing techniques, along with chocolate and confectionery technology.
Contact Us
*Please direct general inquiries to your educational advisor
Educational Advisor
Anthony Escalera
(951) 222-8557
Anthony.Escalera@rcc.edu
Tech A 101
Culinary Program Specialist
Dawn Martin
3801 Market Street, Riverside, CA 92501
Dawn.Martin@rcc.edu
(951) 328-3805 Office
If you are interested in technical trades, you can explore other instructional pathways in Advanced Technical Arts and Trades.
Application to the Culinary Programs
Following are the Information Workshop dates and the Online Application dates for the Culinary Arts Program. All students that are interested in the Culinary Arts Program should attend an Information Workshop. Requirements and eligibility criteria will be discussed at the workshops. All workshops will be held at the Culinary Academy Building.
For additional information please call (951) 328-3663 "EAT FOOD". Times and dates are subject to change. The address is 3801 Market Street, Riverside, California 92501
Requirements to enroll in the culinary program:
You must be 18 years of age or older.
Able to lift 50 lb.
How to Apply:
Submit AN ONLINE CULINARY APPLICATION on the specified online application dates shown below.

Online Baking and Pastry Online Application is currently closed
Online Culinary Application is currently closed.
Acceptance:
Class size limitation:
We are only able to accept (35) students.
How long is the program?
Three 12-week sessions (approximately one year) winter, spring, fall
What is the daily time commitment of the culinary program?
Mondays: 8 – 11:50 am
Tuesdays through Fridays: 8 am – 2:30 pm
How much?
Approximately $2500 for the whole program

Tuition: $46 per unit

Health Services: $20 (Fall & Spring) and $17 (Winter & Summer)

Student Services: $30 (Fall & Spring) and $10 (Winter & Summer)

Parking: $50 (Fall & Spring) and $25 (Summer) and $0 (Winter)

Uniforms: $311.98 (XS-L) extra fees for XL sizes

Black Non-Skid Shoes: approx. $100

Knife Set: $293.63

Textbooks: approx. $350
Notification of status of your application:
You will be notified by email within 15 business days
Questions / Workshop Schedule:
Attend an information workshop to learn more about the culinary program. see the information workshop schedule below:
Due to a limitation of space, the online application criteria is based on a random numbering process, and the dates listed below are the only dates that students will be able to apply!
Duplicate applications will disqualify your application.
| Date | Time | If Accepted, Program Begins: |
| --- | --- | --- |
| October 16-22, 2023 | 8 am - 7 pm | January 2, 2024 |
| January 15-21, 2024 | 8 am - 7 pm | April 2, 2024 |
| June 10-16, 2024 | 8 am - 7 pm | August 26, 2024 |
(will be accepted on the following dates only)
​(No reservation or appointment necessary)
(will be accepted on the following dates only)
Date

Time

If Accepted, Program Begins:

April 10, 2023 –
April 16, 2023

8 am - 7 pm

Fall Semester:
August 21, 2023 (actual start date)

Summer Semester:
June 20, 2023 (for students needing to take ServSafe)​