English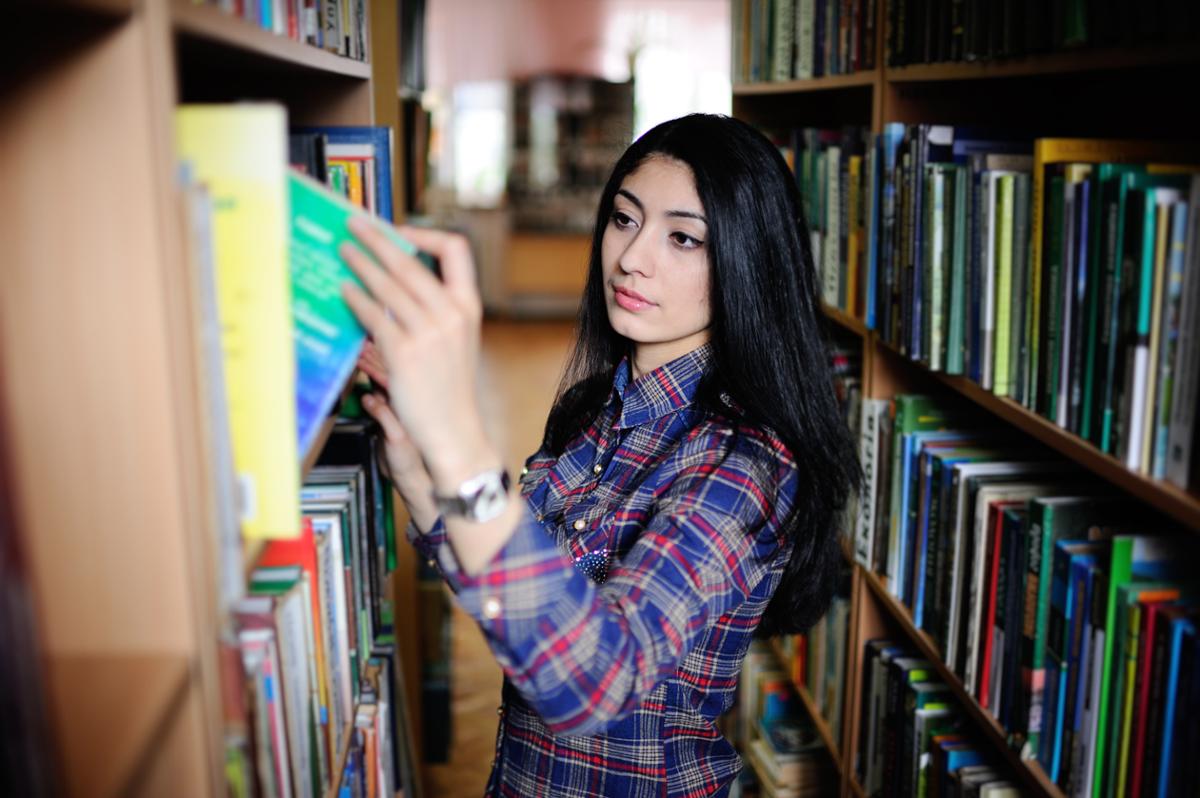 English
English majors study composition, critical thinking, literature, linguistics, and creative writing. English majors learn to analyze and interpret diverse texts and construct logical, well-supported arguments and literary analyses.
Contact Us
Kathleen Sell
Department Chair, English and Media Studies
(951) 222-8681
kathleen.sell@rcc.edu
Quad 214B
English


ADT

Major Units
19
Typical Time to Completion
2 years
Program Map
If you are interested in Language and Humanities, you can explore other instructional pathways in Language and Humanities.
Meet our Faculty
Xochilt Z. Almendarez

Professor Almendarez is first and foremost a teacher! No matter what other hats she's worn, teaching is her priority. After graduating from UC Santa Barbara with her BA in English, MA in Education and Single Subject credential in English, she immediately began teaching middle school in LAUSD, Oakland Unified, & a charter school in LA. During those years, she returned to CSU Dominguez Hills to obtain her Masters in English:Literature. In 2013, she relocated to the Inland Empire to be closer to family and began teaching high school and community college. Currently, she's completing her doctorate at Claremont Graduate University.

Associate professor, English
xochilt.almendarez@rcc.edu

Dr. Tucker Amidon

I was a terrible student who dropped out of a UC after one quarter, was on academic probation at five different colleges and universities, and had five different majors. But I found myself at a local community college, and I believe in their mission. In my spare time, I work on old cars, build and play electric guitars, and coach lacrosse.

Associate Professor, English
Tucker.Amidon@rcc.edu


William Amrine

A native of Ohio, Prof. Amrine moved to California at age six, spent his childhood in Joshua Tree in the Mojave Desert and graduated from Cal Poly, Pomona with a major in social sciences and minors in English and Fine Arts. He went on to earn a Masters of Education degree from Azusa-Pacific University, a Masters of Divinity degree from San Francisco Theological Seminary, and Masters degrees in Composition and Rhetoric and Teaching English as a Second Language from Cal State San Bernardino. He has nearly 20 years teaching in community colleges, 14 of them at RCC, and retired in 2009 from the California public schools system with 33 years' experience in elementary and secondary levels and two years in administration as an assistant principal. When he's not teaching he's hiking, photographing flora and fauna, and traveling, having visited Maui five times, Canada six times, England/Scotland/Ireland seven times, once to Switzerland and France and to most of these United States, including the Colorado Rockies and Alaska's Glacier Bay. What he loves most? Teaching!

Associate Professor, English
wamrine@yahoo.com


Dr. Jan Andres

I was born in the Philippines, but raised in the IE. I went to UC Berkeley and Claremont Graduate University, where I studied American literature, popular culture, and film.

Associate Professor, English
jan.andres@rcc.edu

Mrs. Janelle Arafiles

I was born and raised in Riverside county. I attended college at La Sierra University, Hope International University, and UC San Diego where I was equipped with the skills to teach and support students at all academic levels with a bachelor's degree in English, a master's in education, and a multiple subject credential with a specialization in reading. Serving and supporting students is my passion and I am blessed to share this journey with learners at RCC./span>

Associate Profess, English
janelle.arafiles@rccd.edu

Cindy Bendshadler

A Riverside native, I graduated from North High School, then earned my BA in English literature at Scripps College, Claremont, and my MA at the University of Pennsylvania. It has been my privilege to teach at RCC for over 20 years and I am now thrilled to be working with RCC's Guardian Scholars Program.

Associate Professor, English
cindy.bendshadler@rcc.edu

Keith R. Beshwate

Attended the University of California, Riverside and received a Bachelor of Arts degree in English and a Master of Fine Arts degree in Creative Writing with a focus on screenwriting. Teaching English at RCC, SBVC, and VVC since 2013. Often walking laps around the Quad. Enjoys films, music, books, and saying "hello!".

Associate Professor, English
keith.beshwate@rccd.edu

Dr. Stacey Cerwin-Bates

I was born and raised in Lake Arrowhead. I received my B.A. from St. Mary's College of California and my M.A. from San Francisco State University. I am married and have three children and a dog. I love spending time with my family in nature hiking, biking, and going to the beach.

Associate Professor, Reading
stacey.cerwin-bates@rcc.edu

Dr. Thatcher Carter

I've been teaching at RCC for over twenty years, and I've never met a class I didn't love. Whether I'm teaching Freshman Composition, Women's Literature, whether it's online or in person, I'm always learning new things and finding new ways to teach.

Professor, English
thatcher.carter@rcc.edu

Larry Burns

Larry Burns is a writer and artist who draws inspiration from the heady mixture of sights, sounds, peoples, and places of the Inland Empire. His is a founding member of the Inlandia Institute, a local literary collective. His projects consider how humans adapt to rapid cultural and technological change. His most recent non-fiction work with Reedy Press Publishers, Secret Inland Empire, shares the weird, wonderful, and obscure people and places that make the Inland Empire a special place.

Director Emeritus, Inlandia Institute
larry.burns@rccd.edu

Kelly Douglass


I was born and raised in Riverside County and between my BA, MA, and PhD, I have attended a large public university and a small private institution. I started college as a science major (which I still enjoy learning about as a non-expert) and then found my home in English by the end of my first year. I have been teaching since 1997 and at RCC since 2001, and I love it. My favorite part of the job is students – talking to students, working with students, teaching students, and learning from and with students.

Associate Professor, English
kelly.douglass@rcc.edu

James Ducat, MA, MFA

I hold an MFA in Creative Writing (Poetry) from Antioch University Los Angeles, and I am the co-advisory editor of MUSE art and literary journal. I am also an avid photographer and musician.

Associate Professor, English
james.ducat@rcc.edu

Alex Gilbert (she/her)

A little about me… I was raised by my grandparents in Montebello, CA, where I spent most of my years practicing music and finding quiet corners for reading. I've been a drummer for 25 years and love performing music on stage. My other passion has been reading and writing, so I'm happy to be a writing teacher after finishing my Master's in English Literature at Cal State Long Beach. My partner and I both enjoy the outdoors, going camping and hiking, and traveling! I love film and tacos and will find every opportunity to seek out both whenever I can.

Associate Professor, English
alexandria.gilbert@rccd.edu

Mike Gonzalez

I have been an instructor at the college-level for over ten years and teach at several universities and community colleges around Southern California. My motto is simple: I empower students to empower themselves for the real-world. I make my classes as fair and equitable as possible for all students to be successful.

Instructor, English
michael.gonzalez@rccd.edu

Mr. Richard C. Gray

Over 13 years of experience in teaching English as a second language, who is always striving to relate lesson content to students. With excellent communication abilities, students and staff come first. Able to meet school objectives and goals through strong work ethics. Always eager to learn new skills and teaching techniques. Graduate from California State University Fullerton's MS TESOL program and recipient of the program's Academic Excellence TESOL Award in 2019 and intern during North Orange Community College District's inaugural Future Teachers Program in 2018.

Professor, English
Richard.Gray@rccd.edu

Joshua Hardina

Josh moved from the Pacific Northwest to Southern California, fell in love with Riverside, and never looked back. A big fan of fiction, he loves talking shop with students and works on his novel whenever he can.

Assistant Professor, English
joshua.hardina@rcc.edu

Tim Hatch

I'm a part-time instructor at four different colleges (but RCC is obviously my favorite), and I'm the author of Wild Embrace, which is my first collection of poetry.

Associate Professor, English Composition & Creative Writing
timothy.hatch@rccd.edu

Dr. Dan Hogan

I started college as a dual-enrollment student at Fullerton College where I earned my AA before transferring to CSUF for my BA and MA, and finally CSUSB for my doctorate. I am a proud husband, dad, dog lover, coffee addict, movie buff, and comic book nerd. My favorite part of teaching is helping students realize that if they work hard and stick to it, they can become amazing writers—even if they think they're bad at English. I also coordinate the Honors Program and I love helping students engage in academics and research and transfer to competitive universities.

Associate Professor, English
Daniel.Hogan@rcc.edu

Dr. Audrey Holod

Dr. Holod's educational background includes degrees in English Literature, English Composition & Rhetoric, and Adult Education. Although she was born and raised in Southern California, she has also had the opportunity to live and teach abroad. When she is not teaching, she enjoys traveling and learning about health and nutrition.

Assistant Professor, English
audrey.holod@rcc.edu

Amanda Howard

Native to Riverside, and a former student of RCC. I love to read, write, and share my love of English with my students. I received my BA from UCR and my MA from CSU Fullerton.

Associate Professor, English
amanda.howard@rccd.edu

Robert Hyers

I earned an M.F.A in Fiction Writing and have several short story publications. My teaching is informed by Queer and Marxist theories. I use liberation pedagogy, a type of teaching which believes that through the exploration and discussion of current issues in class, students can be empowered to, in solidarity, change the world for the better.

Associate Professor, English
Robert.Hyers@rcc.edu

Edna James

I have an MA in English with an emphasis in American Literature, a BA in English for Single subject teaching with an emphasis in creative writing, and a CLAD (Cross-cultural, Language, and Academic Development) teaching credential, all from San Diego State University. In addition to teaching, I have worked as a news reporter, photographer, researcher, and report writer for private investigators. I love a good puzzle and finding a solution. When I'm not reading a good mystery, you might find me working on one of my own or walking the complex streets of Riverside with my dog, Ryder.

Associate Professor, English
Edna.James@rccd.edu

Dr. Tammy Kearn

Dr. Kearn is a native Californian and grew up in the local mountains, graduating from Big Bear High School. She earned her AA degree from Chaffee College, then earned a BA and MA in English from CSUSB, and finally a PhD in English from UCR. She is married and is mother to two grown daughters and grandmother to one adult grandson, the loves of her life. She's been teaching English at RCC for 30 years and loving it just as much today as that very first day. In her free time, she enjoys body building, hiking, biking, and trying out new healthy recipes (and sometimes not-so-healthy recipes). She's looking forward to meeting you!

Professor, English
tammy.kearn@rcc.edu

Dr. Michael Kent

Hello, I was born in Hollywood, CA, but I don't think that I am a movie star. I am married and I have grandchildren and a cat. I have been teaching English composition for about thirty years, and I have a PhD.D in English literature.

Professor, English
michael.kent@rccd.edu

Denise Kruizenga-Muro

I have a bachelor's degree in English and a master's degree in composition and rhetoric, both from CSU San Bernardino. I have been teaching in Southern California since 1996 and as the lead instructor at RCC since 2008. I am currently in the third year of a doctoral program in higher education administration at St. Cloud State University.

Associate Professor, English
Denise.Kruizenga-Muro@rcc.edu

Ryan Peckinpaugh

Ryan Peckinpaugh has been teaching English at RCC since 2015. He received his MFA from the University of California, Riverside. Along with teaching, Ryan is also an accomplished screenwriter. He optioned his first script to Disney in 2018, and his latest script will begin production in 2022. When he's not writing, grading stacks of essays, or dropping eye-rolling dad puns during an English lecture, Ryan also enjoys watching baseball and spending quality time with his wife and dogs.

Associate Professor, English
Ryan.Peckinpaugh@rccd.edu

Shirley A. Regis

Hi, my name is Shirley A. Regis. I was born and raised in Fontana, California. The colleges that I attended and or attend are Chaffey College, California State University San Bernardino, and Liberty University Online. I am currently pursuing my doctorate. Over the years, I have written my Master's thesis and become a member of the academic organization Alpha Chi. My hobbies include, playing with my pug dog, hiking, boogie boarding, reading, drawing, painting, photography, visiting museums, spending time with family and friends, and writing. This is all I am.

Associate Professor and Doctoral Candidate, English
shirley.regis@rccd.edu

Dr. Miguel Reid

Dr. Reid grew up in Chicago, Detroit, Miami, and L.A. and has taught English at over a dozen universities and colleges in California and overseas. Currently, he teaches English to students from all around the world, is an advisor for the Ujima student leadership club, and enjoys teaching an Umoja English class that combines Hip Hop music and writing.

Professor of English/ESL
miguel.reid@rcc.edu

Ivan Rios

Ivan is the former lead editor of the Pomona Valley Review. They received their bachelors and masters from Cal Poly Pomona. Their family is from Colima, Mexico. On their free time, Ivan spends time with his one year old daughter, playing pinball, bowling, and playing video games with their family.

Professor, English
ivan.rios@rccd.edu

Scott Russell

During his eight years as Creative Director for Peter Green Design, and twelve years owning his own media company, Scott Russell has worked as a film director, producer, photographer, designer, art director, creative director, editor, and writer, with clients including Fox Kids, Warner Brothers, Disney Imagineering, Buena Vista Home Video, Saban, The History Channel, Warner Interactive, Sony Pictures and many others. Scott has mentored with Group 101 Films, and the California Museum of Photography. He has written for film and television, magazines, video games and comic books. He has produced over fifty short films, and his first feature film Exquisite Corpse is currently being distributed through Vantage Media. He's just finished his first novel, and has studied Martial Arts since he was a kid. Professor Russell has taught Writing and Media Arts classes for twelve years, at several colleges. He lives with his dog Watson in Riverside.

Professor, English
Ryan.Peckinpaugh@rccd.edu

Jo Scott-Coe, MA MFA

Jo Scott-Coe has been a professor at RCC for fourteen years. She enjoys teaching English 1B, creative writing, and women's literature, but her first love is helping students navigate the research process in English1A. She is the author of three nonfiction books, most recently, More than a Victim: Kathy Leissner Whitman, the Texas Sniper's Wife, forthcoming from the University of Texas Press in Fall 2023. Her favorite writers include John Edgar Wideman, Richard Rodriguez, Octavia Butler, Richard Sipe, and Nathaniel West. When she is not working, she likes to bike, experiment with new recipes, and spend time with family and friends. In 2016-17, Scott-Coe was named RCCD's 57th Distinguished Faculty Lecturer in part for her research on the connection between domestic violence and mass shootings.

Professor of English
Assistant Department Chair English and Media Studies
jo.scott-coe@rcc.edu

Dr. Kathleen Sell

Dr. Kathleen Sell, Professor of English and Humanities, has been at RCC since 1996 and has served in a variety of capacities in addition to teaching not only composition classes but Survey of British Literature, Shakespeare, Intro to Mythology, and World Religions. She served as founding coordinator of the RCC Honors Program from 2005-2011, has served on two negotiating teams, served on Academic Senate and Curriculum Committee, and is currently chair of the department of English and Media Studies. She is also a certified yoga instructor an avid reader of mystery novels, an adventurous cook, and traveler

Professor of English
Department Chair English
kathleen.sell@rcc.edu

Wendy Silva

Wendy L. Silva (she/her, they/them) is a Professor of English at Riverside City College who studied creative writing, with an emphasis in poetry, at UC Riverside (BA) and the University of Idaho (MFA). She identifies as a queer, Latinx woman and is the proud daughter of Mexican immigrants. Wendy is passionate about teaching because she enjoys learning about her students' stories, helping them navigate the world of higher education, and showing them the power language has to form connections and create change in the world.

Assistant Professor, English
wendy.silva@rcc.edu

Christina D. Short

Professor Short attended UC Riverside and Chapman University. She is devoted to literature and writing.

Associate Professor, English
christina.short@rccd.edu

Sophia Tay

Growing up in a bilingual household, helping learners with the English language is second-nature to me. So, I majored in English, receiving a bachelor's degree in English from UCR and later, a master's degree from Cal Poly Pomona in Composition and Rhetoric. When not working with students, I enjoy reading the latest news or novel, baking, and crafting.

Associate Professor, English
Sophia.Tay@rccd.edu

Star Taylor

I am a Riverside and IE native; I was raised here, went to school here, work here, and my husband and I are raising our daughter here. When I was in high school, the thought of becoming a college professor never crossed my mind, for I did not know much about college and planning a career because I am a 1st generation student like most whom I teach. I am proud to say my entire teaching career has been at the community college level where I am able to serve students during their most impressionable years and be a familiar face to my African American students who may never come across another face that looks like theirs. I take my job and that it entails, seriously, and I am not just talking about the teaching aspect of my job; I am talking about the student advocacy part. It should be at the heart of everyone in education to make decisions that are in the best interest of all of our students and not the most privileged of our students.

Associate Professor, English
star.taylor@rcc.edu

Renee Vas

Hello! Prior to teaching at RCC, I worked as a special education specialist for K-12 charter schools, providing learning opportunities and services to students with Individualized Education Plans. Before that, I was a Resource Specialist for grades K-6 at Washington Elementary School in Riverside. I have a BA in Human Development with a concentration in Education from University of California Riverside. I also hold a Multiple Subject Teaching Credential, a Special Education Specialist Credential, a Resource Specialist Certificate, and a Reading Specialist Certificate. In addition, I have an MS in Education with a concentration in Reading from Cal State Fullerton. I enjoy hiking, hanging out at the beach, and playing with my puppy Willow.

Associate Professor, Reading
renee.vas@rcc.edu