Athletic Facilities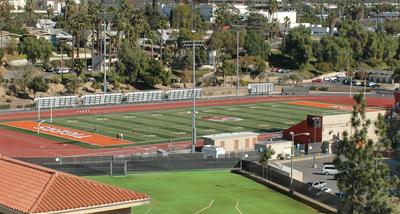 Athletic Facilities
The Samuel C. Evans Complex is located across Magnolia Avenue from the College itself.
The complex was refurbished in a joint effort between the Riverside Community College District, the city of Riverside, and the Tiger Backers, a support group of the College.

Their combined efforts have left the College and the city of Riverside with an outstanding baseball/softball facility. The $1 million-plus project bolstered the College's softball and baseball programs. "It is, without a doubt, one of the finest facilities in Southern California," Softball Coach Michelle Daddona said.

The complex has three times hosted the California Community Colleges State Softball Championships.

"The facility provides our players with the right atmosphere needed to be successful," Baseball Coach Dennis Rogers said. "First, a player wants to play in a quality program, but the same player also wants to play in a quality environment. And this complex provides just that."
Rental Rate
| | | |
| --- | --- | --- |
| Direct Cost per hour | Fair Market Value per hour | Maximum Capacity |
| $200 | $300 | 100 |
Rental Rate
| | | |
| --- | --- | --- |
| Direct Cost per hour | Fair Market Value per hour | Maximum Capacity |
| $230 | $460 | 500 |
Rental Rate
| | | |
| --- | --- | --- |
| Direct Cost per hour | Fair Market Value per hour | Maximum Capacity |
| $52 | $78 | 30 |
Rental Rate
| | | |
| --- | --- | --- |
| Direct Cost per hour | Fair Market Value per hour | Maximum Capacity |
| $230 | $460 | 45 |
Wheelock Gym offers a regulation basketball floor or it can accommodate two smaller sized floors. THe Gym offers both stadium and bench seating as well as team and locker rooms. With capacity to seat nearly 2,000 spectator, the Gym is a perfect venue for games and tournaments.
Rental Rate
| | | |
| --- | --- | --- |
| Direct Cost per hour | Fair Market Value per hour | Maximum Capacity |
| $300 | $450 | 969 |
Wheelock Stadium and Field. These structures are among the oldest structures on campus. The core of the stadium was built in 1921 as part of the high school campus. The high school and the college continued to share the athletic facilities until 1965 when the Poly high school campus was moved to another location.
Rental Rate
| | | |
| --- | --- | --- |
| Direct Cost per hour | Fair Market Value per hour | Maximum Capacity |
| $405 | $605 | 2000 |
Athletic Facilities Reservation
Please complete the Use of College Facilities application to request for use of athletic facilities. Request must be submitted at least 14 days in advance and cancellations must be made no later than 48 hours prior to event date. Non-profit organizations wishing to submit a request to waive or reduce facilities fees should do so 6 weeks prior to event date to allow ample time for consideration. Large scale events are subject to additional planning time and mandatory pre-event meetings. Staff fees, parking, and technical support may apply. All deposits and payments will be made according to board policies AP 6700.
The combination of our professional staff and beautiful campus will make your event a memorable success. If you are interested in hosting your event at Riverside City College and would like an event quote please contact the Facilities Access and Utilization Coordinator at (951) 222-8498 or email facilitiesuse@rcc.edu.
Contact Us
If you're interested to get more information, please contact us
Phone: (951) 222-8498
Email: facilitiesuse@rcc.edu